An entertaining game on the prairies last night saw the Edmonton Oilers fill the net in the second period and then hold until overtime against the Winnipeg Jets. The home side won in extra time (seconds after Connor McDavid drilled a post) and the Oilers headed home for a game tonight against the reeling Philadelphia Flyers. That single point earned last night in Manitoba is important and could be vital by the time this season's done. 
THE ATHLETIC!
The Athletic Edmonton is going to bring it all season long. Proud to be part of a lineup that is ready to cover the coming year. Outstanding coverage from a large group, including Daniel Nugent-Bowman and Jonathan Willis, Lowetide, Minnia Feng and Pat McLean. If you haven't subscribed yet, now's your chance. Outstanding offer is here.
OILERS AFTER 33
Oilers in 2015: 14-17-2, 30 points; goal differential -13

Oilers in 2016: 16-12-5, 37 points; goal differential +4

Oilers in 2017: 14-17-2, 30 points; goal differential -9

Oilers in 2018: 17-12-3, 37 points; goal differential +1
Hitchcock's Oilers are 8-2-2 now, 18 points out of a possible 24 points. Music! Don't worry about teams in front of Edmonton, if they don't come back to the pack then the script is already written. Edmonton's current trajectory over 82 games: 44-31-7, 95 points. 
OILERS IN DECEMBER
Oilers in December 2015: 6-2-0, 12 points; goal differential +1

Oilers in December 2016: 3-2-3, nine points; goal differential 0

Oilers in December 2017: 5-3-0, 10 points; goal differential +7

Oilers in December 2018: 5-1-1, 11 points; goal differential +6
Oilers burned a lot of daylight in November, important to take full advantage of what has been a fabulous first half of December. Previous McDavid teams have stumbled and injuries have hit the defense. This weekend is going to be a big damned deal.
WHAT TO EXPECT FROM DECEMBER
At home to: Vegas (Expected 0-1-0) Actual (1-0-0)

On the road to: Dallas, St. Louis (Expected 1-1-0) (Actual 1-1-0)

At home to: Minnesota, Calgary (Expected 1-1-0) (Actual 2-0-0)

On the road to: Colorado, Winnipeg (Expected 1-1-0) (Actual 1-0-1)
At home to: Philadelphia (Expected 1-0-0) (Actual 0-0-0)

On the road to: Vancouver (Expected 1-0-0) (Actual 0-0-0)

At home to: St. Louis, Tampa Bay, Vancouver, San Jose, Winnipeg (Expected 2-2-1) (Actual 0-0-0)

Overall expected result: 7-6-1, 15 points in 14 games

Current results: 5-1-1, 11 points in seven games
I have both weekend games as wins, of course this was long before the injuries to Oscar Klefbom and Kris Russell. Philadelphia has been rotten to the core but tonight's game might be a 'save the coach' moment for the Flyers. On the other hand, their goalies are not in Edmonton.
DEFENSE, LAST NIGHT

Nurse-Larsson went 8-19 in 22:13, going 4-10 shots, 0-1 goals and 0-5 HDSC. Nurse had vapor lock on the Perreault goal, and was late reacting on the winner. Tying goal was a bit of bad luck (puck came off the back of the net in a timely fashion for Winnipeg) but Nurse didn't get there in time to stop the pass out front. Larsson played well considering he was defending so much, clearly missed Oscar Klefbom.
Gravel-Benning went 6-21 in 11:52, going 5-13 shots, 0-2 goals and 1-6 HDSC. Ehlers goal went in off Gravel's skate, no fault just bad luck. I thought Gravel got himself out of position early on the Laine goal and never recovered completely.
Gravel-Wideman went 3-7 in 5:49, 1-3 shots, no goals and 1-2 in HDSC.
Garrison-Wideman went 3-3 in 3:54, 2-3 shots, 1-0 goals and no HDSC. That's some good third pairing work, but both men performed with other defenders.
Garrison-Benning were 6-12 in 3:33, 4-5 shots, 1-0 goals and 1-1 HDSC.
Ehlers-Scheifele-Wheeler went 16-4 in 13:16, 1-0 goals, 8-2 shots and Hawaii 5-0 in HDSC against Nurse-Larsson. That was a hard match against Winnipeg's top line, although Gravel (WPG line went 6-1 with a goal), Benning (8-6 Winnipeg, 1-1 goals) both played close to five minutes against them 5-on-5.
Cam Talbot stopped 35 of 40, .875. He could be blamed on the winner but in reality was a major reason the team even got to overtime. HDSC were 17-6 Jets. Shiza.
NaturalStatTrick and NHL.com.
FORWARDS, LAST NIGHT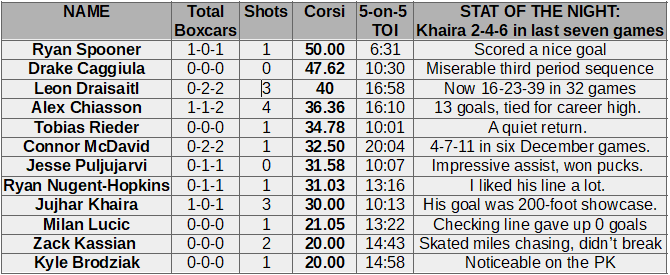 Caggiula-Spooner-Rieder went 6-3 in 4:24, 4-2 shots, 1-0 goals and 0-1 HDSC. Spooner was the best player on the line, he scored a goal and had the puck heading in a good direction. Caggiula's inability to complete a pass (several times!) resulted directly in a goal against. That shift should be infamous (tying goal). Rieder didn't have a massive impact, to my eye. Trio went 2-4 in 3:31 against Kulikov-Myers (third pair). 
Chiasson-McDavid-Draisaitl went 12-21 in 16 minutes, 8-12 shots, 1-1 goals and 2-4 HDSC. Getting the puck up to the forwards was difficult all night, but McDavid had several incredible moments where he did it all himself. Draisaitl's assist on Spooner's goal was impressive, McDavid to Chiasson a massive goal that ensured a point. Went 4-15 against Chiarot-Byfuglien in 10:27, 0-1 goals. Also went 8-8 in 8:19 against Morrissey-Trouba (1-0 goals), I thought the Jets handled this line as well as possible.  
Khaira-Nuge-Puljujarvi were 6-13 in 8:06, 3-7 shots, 1-1 goals and 2-1 HDSC. The goal involved all three men working hard and smart on the cycle, and a little luck. Khaira intercepted a pass in Edmonton's own zone and then scored the goal later in the shift. Impressive. Loved Puljujarvi's work on the line, Nuge as mentor is having an impact on both men. Went 1-7 in 5:06, 2-9 against Kulikov-Myers. 
Lucic-Brodziak-Kassian bent but did not break, going 4-15 in 13:15, 3-3 shots, no goals and 0-3 HDSC. Hitchcock is using this line as the No. 2 line currently. Incredible. Line lost possession battle against all comers, but didn't give up a goal. 3-6 against Kulikov-Myers. 
FORWARDS, 5-ON-5 PER 60
We've talked about this before, ideally your top line is over 2.00/60, with the second line pushing for that number but definitely over 1.80 or so. For me, if the third line can push over 1.50 that's good production and same for anyone on the No. 4 line. Here's the numbers this morning, Hitchcock is working miracles by night with Jujhar and hopefully Puljujarvi soon. 
No. 1 line: Draisaitl (2.72); McDavid (2.70); Chiasson (1.84)
No. 2 line: Nuge (1.99); Khaira (1.84); Puljujarvi (0.77)
No. 3 line: Brodziak (0.96); Lucic (0.65); Kassian (0.57)
No. 4 line: Caggiula (1.53); Spooner (1.02); Rieder (1.46)
MCDAVID ON, MCDAVID OFF
One of Hitchcock's keys so far has been his impressive ability to get the Oilers at something close to par with McDavid off the ice. The injuries to Klefbom and Russell are going to impact, so we're likely to see a dip in totals in the coming weeks. Here are the current numbers via NaturalStatTrick:
McDavid On through November 19: Corsi 5-on-5 (340-309, 52.39%); Shots 5-on-5 (204-175 53.83%); Goals 5-on-5 (17-12, 58.62%).
McDavid On since Hitchcock arrived: Corsi 5-on-5 (219-203, 51.9%); Shots 5-on-5 (112-112 50%); Goals 5-on-5 (10-6, 62.5%).
McDavid played 20 games under McLellan (through November 19) and 11 so far under Hitchcock. The Corsi and shot differential were greater under TMac, goal share larger under Hitchcock. The Corgi's under Hitch, at least partly in my opinion, can be traced to double shifting and extended play. I think this is a compromise that makes sense for all involved. 
Oilers with McDavid off through November 19: Corsi 5-on-5 (551-576, 48.89%); Shots 5-on-5 (296-307, 49.09%); Goals 5-on-5 (16-27, 37.21%).
Oilers with McDavid off since Hitchcock arrived: Corsi 5-on-5 (339-371, 47.7%); Shots 5-on-5 (177-175, 50.3%); Goals 5-on-5 (14-12, 53.8%).
Hitchcock's Corsi Oilers at 5-on-5 have taken a beating lately, owing to the McDavid illness game and the road trip just completed. Still, the shot differential is better (over 50 percent without McDavid is something we've discussed for coming on four years) and the goal differential is miles better compared to the McLellan Oilers. 
We are heading for a wobbly period sans Klefbom and Russell, but I wanted to post these numbers after a dozen Hitchcockian games. I don't know if this can sustain, the roster badly needs another quality blue (come on, Sekera!) but I'm fully onboard with Hitchcock's tweaks and deployment. 
CALEB JONES
We should see Jones tonight or Sunday in Vancouver, wouldn't surprise me at all to see Hitchcock dress seven defensemen tonight and double shift 97, 29 and or 93. Caggiula and Wideman could take a seat based on my view of them last night, veteran coaches do like to see players in practice before getting into a game, though. 
LOWDOWN WITH LOWETIDE
At 10 this morning, we officially kick off the weekend (and since it's Christmas, the celebrating followed by taking uber or cab) and it's going to be grand. TSN1260, scheduled to appear:
Steve Lansky, BigMouthSports. Favorite part of Christmas, can Hitchcock get the Oilers into the playoffs?
Matt Iwanyk, TSN1260. Is it time to add on defense, or can Hitchcock find a way to win without Klefbom and Russell?
FC Edmonton cast of dozens. The signings continue and your Eddies are beginning to come into view. 
10-1260 text, @Lowetide on twitter. Talk soon!