The Edmonton Oilers are 9-2-2 with Ken Hitchcock as coach, and the mind cannot resist wandering. Is this the real life? Is this just fantasy? Should you save your pennies for playoff tickets? If the Oilers lose tomorrow night in the shadow of Chilliwack, does it mean the beginning of the end? Does it mean two weeks until this blog's first look at the 2019 draft? If Oilers fans find true hope, will the Hockey Gods punish them again?
The Oilers under Todd McLellan were a lot like the Kinks—plenty to like, but never the band you anticipate, never the group who produces that must-have album (they did, Something Else, but for some reason no one noticed). The Beatles were sunshine and good times, the Stones were the moon and all the things that happen at 3am. The Kinks? Neither fish nor foul. Just like the Oilers these many years, until Hitchcock, Koskinen and the rise of the post-game media avail.
Ken Hitchcock is giving this team a personality, giving the fans something to hold on to, and giving this organization a complete makeover. Ken Hitchcock makes sense. He's cocaine verbal in a homogenized world. He delivers. Every damned time.
THE ATHLETIC
The Athletic Edmonton is going to bring it all season long. Proud to be part of a lineup that is ready to cover the coming year. Outstanding coverage from a large group, including Daniel Nugent-Bowman and Jonathan Willis, Lowetide, Minnia Feng and Pat McLean. If you haven't subscribed yet, now's your chance. Outstanding offer is here.
OILERS AFTER 33
Oilers in 2015: 14-17-2, 30 points; goal differential -13

Oilers in 2016: 16-12-5, 37 points; goal differential +4

Oilers in 2017: 14-17-2, 30 points; goal differential -9

Oilers in 2018: 18-12-3, 39 points; goal differential +4
The 2018 McDavids are now putting in a genuine effort in the race to be considered the best of His Oilers teams. Part of that is McDavid (on pace for 122 points, 48 goals) and part of it is the .930 train in goal, Mikko Koskinen. The current Oilers project to 82, 45-30-7, 97 points.
OILERS IN DECEMBER
Oilers in December 2015: 6-2-0, 12 points; goal differential +1

Oilers in December 2016: 3-2-3, nine points; goal differential 0
Oilers in December 2017: 5-3-0, 10 points; goal differential +7

Oilers in December 2018: 6-1-1, 13 points; goal differential +9
Whatever happens after this, I know, I know, we'll never forget. The 2018 McDavid Oilers grabbed 13 of a possible 16 points, have three locks for the All-Star game (McDavid, Draisaitl, Koskinen) and a guy making less than $700,000 on pace for 35 goals.
WHAT TO EXPECT FROM DECEMBER
At home to: Vegas (Expected 0-1-0) Actual (1-0-0)

On the road to: Dallas, St. Louis (Expected 1-1-0) (Actual 1-1-0)

At home to: Minnesota, Calgary (Expected 1-1-0) (Actual 2-0-0)

On the road to: Colorado,Winnipeg(Expected 1-1-0) (Actual 1-0-1)

At home to: Philadelphia (Expected 1-0-0) (Actual 1-0-0)

On the road to: Vancouver (Expected 1-0-0) (Actual 0-0-0)

At home to: St. Louis, Tampa Bay, Vancouver, San Jose, Winnipeg (Expected 2-2-1) (Actual 0-0-0)

Overall expected result: 7-6-1, 15 points in 14 games

Current results: 6-1-1, 13 points in eight games
Absolutely Sweet Marie in December, I estimated 15 points for the entire month and Edmonton is within two points after eight games. Six games left and this team has a chance to tear up the blacktop and push to the top of the division. No losing streaks, no less than zero. Just an entertaining three hours of hockey followed by the Answer Man in the postgame. Is Hitchcock available for financial planning, life advice and marriage counselling? What does he have to say about pipelines?
DEFENSE, LAST NIGHT

Gravel-Jones went 11-10 in 10:51, 4-6 shots, no goals and 1-2 HDSC. Gravel stepped up, especially on the PK. Jones played a calm, controlled game in his debut, just one giveaway. Went 3-6- in 3:57 against Voracek-Couturier-Simmonds, 2-3 shots, no goals, 1-1 HDSC. I liked this pairing and believe they should stay together, maybe get more playing time.
Garrison-Benning were 5-7 in 11:19, 3-3 shots, 1-0 goals and 0-3 HDSC. This pairing posted 5-6 shots and 2-0 goals in the last two games. Unlikely combination, early results solid. Went 4-6 in 7:07 against the Couturier line, 1-0 goals and 1-2 HDSC.
Nurse-Larsson went 12-22 in 17:43, 7-12 shots, 2-1 goals and 1-7 HDSC. Larsson made a poor play on the GA (had the puck and didn't get it out) but also scored and played a solid game. Nurse was also in photo on the goal but Larsson was a bigger factor. Hitchcock suggests Nurse gets better the more he plays, a wrinkle I had not heard before. Pairing is getting caved in shots and Corsi, that will need to change. Played four fewer minutes as a pair than the Winnipeg game. Went 6-9 in 7:52, 4-6 shots, 1-1 goals and 0-4 HDSC against JVR-Giroux-Konecny.
Mikko Koskinen stopped 29 of 30, .967. He's fantastic.
NaturalStatTrick and NHL.com.
FORWARDS, LAST NIGHT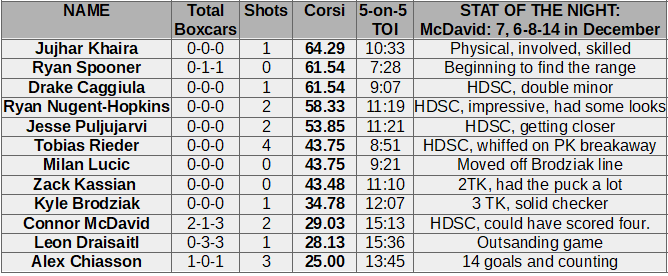 Khaira-Nuge-Puljujarvi were 7-4 in 10:24, 4-2 shots, no goals and 2-1 in HDSC. Although they didn't score, the line was a pain and I think it might have been the best game by the trio. Went 7-3 against Provorov, 4-1 shots and 2-1 HDSC. This is going to be a good line. Puljujarvi is now a man possessed on the forecheck, Hitchcock has gotten to him. Poor poor pitiful NHL blue, you have no idea what you're in for over the next 15 winters.
Lucic-Spooner-Caggiula went 6-0 (Lucic, 4:49) and 8-4 (Caggiula, 7:28) on a line that finally appears to be finding the range. Lucic moving on to the line (it's the No. 4 line) seemed to spark something and the results were solid. Went 4-4 in 3:52 against Hagg-Gudas. Milan's passing is still erratic, but he has been throwing in some gems in the last 10 days.
Rieder-Brodziak-Kassian were 7-6 (Rieder, 6:25) and 8-13 (Kassian, 10:28). Line was 0-3 HDSC. Went 3-5 against Gostisbehere. Also saw a spike from the shuffle. Rieder is money on breakaways but forgot to pay the toll this time and whiffed on the chance. He's back now, I believe.
Chiasson-McDavid-Draisaitl went 9-22 in 14:33, 5-15 shots, 2-1 goals and 0-8 HDSC. What a crazy night. Hahaha. Hockey is such a silly game. Line outscores team 2-1 and gives up tons of great chances but it doesn't matter because hockey is going to hockey. Went 5-10 against Gostisbehere.
THE WHO, BY NUMBERS
Connor McDavid is now tied for No. 2 in NHL scoring (32, 19-29-48).
Leon Draisaitl is now tied for No. 7 in NHL scoring (33, 16-26-42).
Alex Chiasson is now tied for No. 28 in goals (14).
Darnell Nurse is now tied for No. 20 among blue in even-strength points (13)
Mikko Koskinen's .930 save percentage is No. 2 in the NHL.