After a blazing run that began the moment Ken Hitchcock arrived as Oilers coach, the team finally arrives at what can be described as a leisurely week. A game Tuesday against the addled St. Louis Blues, then a pre-Christmas Saturday challenge against the Tampa Bay Lightning. The Oilers surely would have preferred a win on the coast last night, but are 9-3-2 under Hitch and that's outstanding. 
THE ATHLETIC
The Athletic Edmonton is going to bring it all season long. Proud to be part of a lineup that is ready to cover the coming year. Outstanding coverage from a large group, including Daniel Nugent-Bowman and Jonathan Willis, Lowetide, Minnia Feng and Pat McLean. If you haven't subscribed yet, now's your chance. Outstanding offer is here.
OILERS AFTER 34
Oilers in 2015: 14-18-2, 30 points; goal differential -17

Oilers in 2016: 17-12-5, 39 points; goal differential +5

Oilers in 2017: 15-17-2, 32 points; goal differential -8
Oilers in 2018: 18-13-3, 39 points; goal differential +3
Opportunity missed by Edmonton and the Canucks seem to have this team's number, at least on the coast (three Van wins in Van since fall 2017). You know, sometimes good things can come from a loss like this one, suspect the team thinks they left some points on the table last night in Gastown. 
OILERS IN DECEMBER
Oilers in December 2015: 6-3-0, 12 points; goal differential -3

Oilers in December 2016: 4-2-3, 11 points; goal differential 0

Oilers in December 2017: 6-3-0, 12 points; goal differential +8

Oilers in December 2018: 6-2-1, 13 points; goal differential +8
The December swoon never came, this is just Edmonton's second regulation loss in what has been a magical month. Whatever frustration you feel about last night's game, this month has been very generous to the Oilers. There are five games left, and one of them is at home against Vancouver. I'll bet McDavid sets his jaw around breakfast of game day for that one. 
WHAT TO EXPECT FROM DECEMBER

At home to: Vegas (Expected 0-1-0) Actual (1-0-0)

On the road to: Dallas, St. Louis (Expected 1-1-0) (Actual 1-1-0)

At home to: Minnesota, Calgary (Expected 1-1-0) (Actual 2-0-0)

On the road to: Colorado,Winnipeg(Expected 1-1-0) (Actual 1-0-1)

At home to: Philadelphia (Expected 1-0-0) (Actual 1-0-0)

On the road to: Vancouver (Expected 1-0-0) (Actual 0-0-0)

At home to: St. Louis, Tampa Bay, Vancouver, San Jose, Winnipeg (Expected 2-2-1) (Actual 0-0-0)

Overall expected result: 7-6-1, 15 points in 14 games

Current results: 6-2-1, 13 points in eight games
You'd have to think the Blues game Tuesday will find the Oilers as the overwhelming favourite, and then vice versa on Saturday against the Lightning. Projecting the current record over 82 games, Edmonton is on track to finish 43-31-8, 94 points. I had this team 90-94 points, so the current pace represents expectation. I did not anticipate a coaching change or Mikko Koskinen, let alone Alex Chiasson. 
DEFENSE, LAST NIGHT

Gravel-Jones skated in ideal weather with no static at all, just those two and the breeze. Holy hell what a possession evening. Pairing went 20-1 in 12:54, 9-0 shots and 3-0 HDSC. Went 10-0 in 5:45 against Motte-Beagle-Virtanen. Jones impressed the hell out of me, transporting the puck, getting back quickly on plays and jumping into the play (he a nice look late but fanned on it). I think we might see more minutes from this duo as time goes by, and Jones might want to rent week to week as opposed to day to day. Impressive. 
Nurse-Larsson were 13-14 in 18:39, 6-9 shots, 2-0 goals and 2-2 HDSC. I thought they were solid 5-on-5, perhaps lacking creativity in the period when Edmonton was chasing and needed tape to tape on the fly outlet passes. Pairing was 0-2 shorthanded, I think the goalie gave back a little of what he'd taken from the league in that discipline. Went 1-5 in 8:52 against Leivo-Pettersson-Boeser, 2-0 goals. Larsson made a heart attack pass back to Koskinen that was dangerous and then his puck over glass early in the third killed any momentum. A fine player, not a fine game last night. 
Garrison-Benning were the weak link among pairings, but didn't give up any 5-on-5 goals. Pairing went 8-15 in 10:19, 3-9 shots and 1-0 goals. Benning did his usual MacGyver scrambling, Garrison is a slow train coming and going. Went 5-10 in 6:07 against Eriksson-Horvat-Roussel. 
Mikko Koskinen stopped 26 of 29, .897. He has been so outstanding on the penalty kill, but that did not happen last night. Best to get it all out in one game. Koskien wasn't sharp. He would need to do this many times before losing his grip on next season's starting job in my opinion.
NaturalStatTrick and NHL.com. 
FORWARDS, LAST NIGHT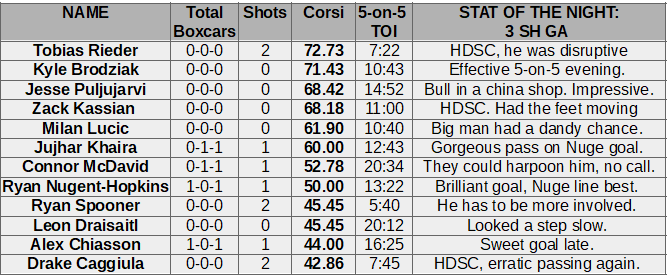 Lucic-Brodziak-Kassian went 15-6 in 10:18, a rocking chair evening on the coast. Went 8-4 shots, no goals, one HDSC as a line. Were 12-2 against the Beagle line, 10-4 against Hutton-Gudbranson. Lucic was in scoring situations and that's progress, Kassian had a breakaway and was hauled down, no penalty. Weird. Brodziak played double the minutes (overall) Spooner did, that's an area Peter Chiarelli needs to address. 
Chiasson-McDavid-Draisaitl went 15-15 in 18:03, Chiasson played 11:13 and Puljujarvi played 4:57 with the captain. I talked about this on the weekend over at The Athletic, I think that's the long game (getting JP onto the No. 1 line). Hitchcock's comments after the game about McDavid were on point, and I'm glad the coach made them. The game was played under old west outlaw rules. Went 14-15 against Edler-Tanev, 11-16 against Horvat. Chiasson has 15 goals, is on pace for 40+, and is one of four Oilers who should be under consideration for the All-Star game (97, 29, Koskinen, Chiasson). 
Khaira-Nuge-Puljujarvi had a helluva night, such a fun line.  Went 6-3 in 9:54, that's low event and low minutes for the line. Were 3-1 shots and 1-0 goals, would have liked to see them more 5-on-5. Went 5-2 against Hutton-Gudbranson. Khaira's touch passing is a key to this unit's success, Nuge's release is about 1.5 heartbeats quicker this season, and Puljujarvi was a ramrod all night long. This line, should they stick together, could be a large mittful come playoff time. Puljujarvi didn't get a point, but he looks like a different player under Hitch: Aggressive on the forecheck, aggressive in front of the net, aggressive along the wall, aggressive during the anthem. Music! 
Caggiula-Spooner-Rieder went 5-5 in 5:24, 5-4 shots and 1-0 HDSC. Went 5-1 against Pouliot-Stecher. I think these three have to get together and figure out a way to get more accomplished offensively. There is talent on this line but they are going to have to earn extra playing time. Not seeing enough from the unit. 
THE STANDINGS
That impressive run under Hitch (9-3-2 in 14) has Edmonton in a playoff spot despite last night's loss. One thing I believe to be important, and something we need to monitor, is the possession, shot and goal share under Hitchcock. You obviously want to be over 50 percent in all categories, here's what has been happening since November 20 (and in brackets McLellan's numbers through November 19):
Corsi for 5-on-5: 49.15 (50.17)
Shots for 5-on-5: 49.24 (50.92)
Goals for 5-on-5: 60.42 (45.83)
Shooting % 5-on-5: 8.9 (6.6)
Save % 5-on-5: .9435 (.9191)
PDO: 103 (98.5)
Some will argue regression, others will argue Hitchcock, I'll suggest both have been factors in this impressive recent run. Regression is no ordinary word, and I do think the Hitchcockian totals may see a dip in goal differential based on possession numbers. No doubt in my mind Hitch has this team playing better, but a game like last night, where the fourth line and third pairings spring a leak, suggests there is much work to do. 
HOLD THAT TIGER
I think Ken Hitchcock did the wise thing with his words last night, more shaming the league than specifically targeting the referees. The benefits of doing it include letting McDavid know you've got his back, calling out the blood thirsty hockey men (anyone over 112 years old, that's about 70 percent of the governors) and perhaps reminding the refs to watch about the neutral zone and the 'give and hold' on those plays. 
Does it go any good? No idea. I do know that Connor McDavid got some support last night and the fans like the coach sticking up for his guy after a generation of turning the other cheek. How could the calls get any worse?
LOWDOWN WITH LOWETIDE
Andy McNamara, TSN4Downs. Browns win in prime time, Eagles win over Rams, Steelers beat Patriots and a big game between the Saints and Panthers tonight. 
Jason Gregor, TSN1260. Oilers lose on the coast, are in a playoff spot, and Caleb Jones NHL debut impressive. 
Jason Rogers, Japers Rink and NBC Washington. Alexander Ovechkin and all of his goals. 
10-1260 text, @Lowetide on twitter. See you on the radio!