The Edmonton Oilers are 9-3-2 under Ken Hitchcock and the team will be looking for win No. 10 in its fifteenth game with the new coach. That's some impressive track record and the team is in a playoff position this morning. A win tonight should keep them there through the Christmas break. At the same time, Hitchcock is regaling the masses daily with his stunning verbal.
An example from yesterday: "(Puljujarvi) is a tremendous forechecker, he's now playing through people, the next step is scoring on the chances he gets, but he's on the ice for +6 or +7 scoring chances for and against every night now. He's creating chances with his work and his reach, and I said this before, he's got an unbelievable stick, which he hides and then exploits on people and that's why you see on all these turnovers." 
THE ATHLETIC!
The Athletic Edmonton is going to bring it all season long. Proud to be part of a lineup that is ready to cover the coming year. Outstanding coverage from a large group, including Daniel Nugent-Bowman and Jonathan Willis, Lowetide, Minnia Feng and Pat McLean. If you haven't subscribed yet, now's your chance. Outstanding offer is here.
OILERS AFTER 35
Oilers in 2015: 15-18-2, 32 points; goal differential -15

Oilers in 2016: 18-12-5, 41 points; goal differential +6

Oilers in 2017: 16-17-2, 34 points; goal differential -7

Oilers in 2018: 18-13-3, 39 points; goal differential +3
The entire division is on a heater, so a win tonight is vital. Edmonton needs to grab as many points before the end of the month, they'll be at Game 39 on January 1. Can the team get to 45 points by the New Year?
OILERS IN DECEMBER
Oilers in December 2015: 6-3-1, 13 points; goal differential -4

Oilers in December 2016: 5-2-3, 13 points; goal differential +1

Oilers in December 2017: 7-3-0, 14 points; goal differential +10

Oilers in December 2018: 6-2-1, 13 points; goal differential +8
All four Decembers in the McDavid era have been productive, although not all of them have a happy ending. Edmonton has done so many good things this month, important to finish strong.
WHAT TO EXPECT IN DECEMBER
At home to: Vegas (Expected 0-1-0) Actual (1-0-0)

On the road to: Dallas, St. Louis (Expected 1-1-0) (Actual 1-1-0)

At home to: Minnesota, Calgary (Expected 1-1-0) (Actual 2-0-0)

On the road to: Colorado,Winnipeg(Expected 1-1-0) (Actual 1-0-1)

At home to: Philadelphia (Expected 1-0-0) (Actual 1-0-0)

On the road to: Vancouver (Expected 1-0-0) (Actual 0-0-0)

At home to: St. Louis, Tampa Bay, Vancouver, San Jose, Winnipeg (Expected 2-2-1) (Actual 0-0-0)

Overall expected result: 7-6-1, 15 points in 14 games

Current results: 6-2-1, 13 points in eight games
Edmonton reaches my projection for the team with a win tonight, meaning five free games to make some hay. I think the Tampa Bay, San Jose and Winnipeg games are going to be difficult, important to get a result from at least one of them. 
HITCHCOCK'S OILERS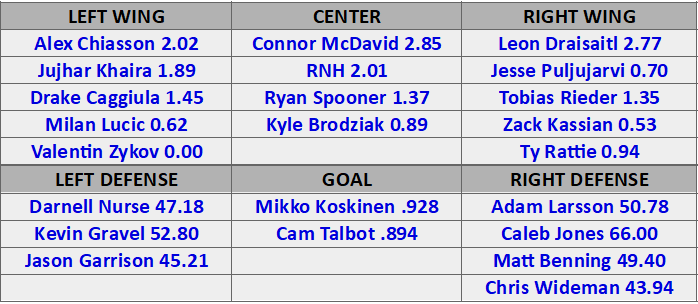 Forwards have 5-on-5 points per 60, defensemen have Corsi 5-on-5 percentage, goalies save percentage. 
The top line has a trio over 2.00/60, that's some major league choogling. That second line is also coming into view.
Khaira is beyond reasonable expectations now, he was always a tough one to track offensively. From BCHL to Michigan Tech to Everett and then Oklahoma City, he played for some truly defensive coaches and then didn't play a lot. I'm not sure he is a 1.89/60 player 5-on-5, but I do know he meant to pass that puck to Nuge on Sunday and it was a dandy. 
Hitchcock's comments re: Puljujarvi are on point, the next step is offense. If he can get the big Finn at 1.75/60 or better, this forward group would be in alignment. 
The defense is missing Oscar Klefbom, Kris Russell and Andrej Sekera. That's a lot of quality unavailable. 
Nurse-Larsson are hanging in while playing big minutes. Nurse's goal differential under Hitchcock (13-10) is miles better than shot share and Corsi (about 47 percent), same goes for Larsson under the new coach (12-8, also 47 percent). Regression would be a bitch, and untimely, should it come during the time Oscar is away. 
Gravel-Jones appears to be a Godsend, early days of course. Hitchcock had a fabulous quote on Jones yesterday, it is below. 
Matt Benning is 9-3 goal differential under Hitchcock. 
HITCH TALKS CALEB
"I really like him. I see something really special and what I see is composure under fire. He does not panic when the puck is up for grabs. He doesn't panic in high traffic with the puck and I think that's something growth-wise that is really special that not many players have and to me if he's going to grow from that, that's a hell of a hockey player."
If I'm the Edmonton Oilers amateur scouting staff, I'm a little misty this morning. Time and again over many years the club would draft prospects who would come through the system only to be stymied by the head coach due to sins real and imagined. Hitchcock appears to be finding useful pieces everywhere, from Khaira to Puljujarvi and now Jones. That's part of my story at The Athletic this morning. 
LOWDOWN WITH LOWETIDE
We are one week from Christmas! Chatter today and the rest of the week will focus on the Oilers but also prospects and the WJ's. It all starts at 10 Edmonton time, TSN1260, and scheduled to appear:
Jonathan Willis, The Athletic. Hitchcock's impact on the team and how young players being deployed by the great coach. 
Andrew Peard, Oil Kings PBP. The man, the myth, the legend discusses the Oil Kings. 
Simon Boisvert, Prospect Insider. Can Caleb Jones keep this up? What is Simon seeing from Khaira and Puljuj's usage under Hitchcock. Is there anyone else in Bakersfield who can help?
Text 10-1260, twitter is @Lowetide. Talk soon!