The power play was poor and the lines didn't rhyme but the Oilers were tied after two periods and gave up a trey in the third. We've talked about regression, and that's part of the explanation. I think those heavy minutes by the skilled men have taken a toll, and the down time that arrives starting today is probably a big part of the cure. I predicted 90-94 points and they're on track for 91 points. This is us. 
This is the point in the season where this blog traditionally makes a decision. I write the words, but the heartbeat of this space lies in the comments and the people who keep the lights on 24-7, 365. I believe, personally, the next two months should be 75 percent playoffs and trade deadline, 25 percent draft. You? Please let me know. 
THE ATHLETIC!
The Athletic Edmonton is going to bring it all season long. Proud to be part of a lineup that is ready to cover the coming year. Outstanding coverage from a large group, including Daniel Nugent-Bowman and Jonathan Willis, Lowetide, Minnia Feng and Pat McLean. If you haven't subscribed yet, now's your chance. Outstanding offer is here.
OILERS AFTER 35
Oilers in 2015: 15-18-2, 32 points; goal differential -15

Oilers in 2016: 18-12-5, 41 points; goal differential +6

Oilers in 2017: 16-17-2, 34 points; goal differential -7

Oilers in 2018: 18-14-3, 39 points; goal differential +1
The 2018 crew is now a hair behind the 2016 playoff McDavids, but easily in range. The complete record, if this is a true north on this year's club, would be 42-33-7, 91 points. There is a heartbeat here, don't lose hope. Also know, and please understand this, the Hitchcock Oilers feature youngsters (Puljujarvi, Khaira, Jones) who are pushing into prominent roles—it's a major positive for this organization. 
OILERS IN DECEMBER
Oilers in December 2015: 6-3-1, 13 points; goal differential -4

Oilers in December 2016: 5-2-3, 13 points; goal differential +1

Oilers in December 2017: 7-3-0, 14 points; goal differential +10

Oilers in December 2018: 6-3-1, 13 points; goal differential +6
Funny, these long Decembers do give reason to believe, but the 2018 edition, with the Hitchcock verbal, has been settin' the woods on fire leading up to Christmas. The team has stumbled in the last two games, Saturday may make it three. Is this the point in the season where the team loses touch with the playoffs? 
WHAT TO EXPECT IN DECEMBER
At home to: Vegas (Expected 0-1-0) Actual (1-0-0)

On the road to: Dallas, St. Louis (Expected 1-1-0) (Actual 1-1-0)

At home to: Minnesota, Calgary (Expected 1-1-0) (Actual 2-0-0)

On the road to: Colorado,Winnipeg(Expected 1-1-0) (Actual 1-0-1)

At home to: Philadelphia (Expected 1-0-0) (Actual 1-0-0)

On the road to: Vancouver (Expected 1-0-0) (Actual 0-0-0)

At home to: St. Louis, Tampa Bay, Vancouver, San Jose, Winnipeg (Expected 2-2-1) (Actual 0-1-0)

Overall expected result: 7-6-1, 15 points in 14 games

Current results: 6-3-1, 13 points in nine games
With four games left in the month, this edition of the Oilers needs just two points to reach my expectations at the beginning of December. I like their chances of reaching the goal, but you'd like to see a couple of wins in the last stretch. Last night was probably Edmonton's best chance.
DEFENSE, LAST NIGHT

Nurse-Larsson went 13-14 in 14:07, 5-6 shots, no goals and 1-5 HDSC. Larsson wasn't sharp with the puck on his stick but defended well 5-on-5 to my eye. Had a golden scoring chance on a McDavid pass that left him all alone in front. Nurse was physical but did not help on a power play that looked a little nervous and on a penalty-kill that allowed a fatal goal. Pairing went 8-7 in 7:58 against Schwartz-Schenn-Tarasenko, 1-3 HDSC. I think they played well. 
Gravel-Jones were 6-11 in 12:40, 2-5 shots, 1-1 goals and 0-3 HDSC. Perron's shot was a good one, Jones didn't defend it especially well. Gravel was a little like Larsson, good overall but too many giveaways. Went 5-6 in 2:01 against Maroon-Bozak-Thomas. 
Garrison-Benning went 9-11 in 6:46, 8-9 shots, 0-1 goals and 2-2 HDSC. Benning was chasing on the winning goal, Garrison got walked and it was a complete breakdown with everyone waiving their sticks but getting nothing done. Went 4-0 in 4:22 against Sundqvist-Barbashev-Nolan. 
Cam Talbot stopped 26 of 29, .897. He looked as he has under Hitchcock, capable but getting results that are not Koskinen-level. 
NaturalStatTrick and NHL.com.
FORWARDS, LAST NIGHT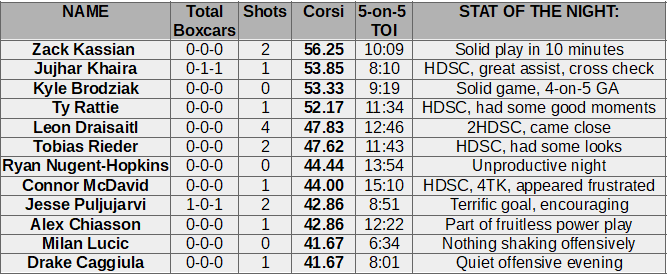 Caggiula-Khaira-Puljujarvi went 4-6 in 5:33, 4-4 shots, 1-1 goals and 1-2 HDSC. The goal was terrific, Khaira with the hard work and the deft pass, Puljujarvi with that great shot we don't see enough. It was an encouraging game for the duo, Caggiula looked quiet compared to the other two men on this line. Went 3-1 against Butler-Dunn. Khaira is going to get a fine and possibly some time off for that crosscheck that cost him a bunch of pims. Bad timing for him and the team, otherwise I don't mind the big man sending notice he's going to aggressively seek ice (he reacted to a crosscheck sent his way, but was also looking for access to the slot). JP didn't handle the sequence on the winning goal well at all, but credit where due he was in a position to help (more than we can say for Garrison's partner). 
Lucic-Brodziak-Kassian were 8-7 in 8:19, 3-4 shots, no goals and 0-2 HDSC. The line dropped Lucic for Khaira for a time and went 3-0 in 1:40. I thought Brodziak did some good checking and Kassian was his usual self 5-on-5, but Lucic faded. Based on his 5-on-5 icetime, looks like Hitchcock felt the same way. Khaira had one nice pass to Brodziak, otherwise quiet. 
Rieder-Nuge-Rattie went 8-11 in 9:43, 3-3 shots, 0-1 goals and 1-2 HDSC. It went as we suspected, Nuge looked far better with Khaira and Puljujarvi and this line (with Rieder and Rattie) was matzah balls. Hitchcock is trying to spread out the scoring, but getting a second line (Khaira-Nuge-Puljujarvi) who can score is spreading out the scoring. Line went 6-6 against Edmondson in 6:21, 3-6 against Parayko in just over five minutes. 
Chiasson-McDavid-Draisaitl went 9-12 in 11:48, 5-8 shots, no goals and 1-3 HDSC. They look tired to my eye, not sharp and especially on the power play. Went 6-10 against Edmondson, 9-10 against Parayko. Lots of promising passes but nothing rhymed for the line. McDavid rang the crossbar on a chance that looked like a dead end. He's so incredible. 
THE KIDS ARE ALRIGHT
Many years ago, Bill James wrote a chapter about the Minnesota Twins in one of his annual abstracts. Summary: It didn't look too good when those young kids arrived and kicked the ball all over the yard, but just a few years later the organization won it all. The emergence of Frank Viola, Kent Hrbek, Gary Gaetti and Tom Brunansky in 1982 gave the club an enormous lift, later aided by the addition of Kirby Puckett (1984) and some astute trade additions.
This is the hope for the Edmonton Oilers, who have the greatest gift of this generation and require quality to surround him. This is the hope for Jesse Puljujarvi, Jujhar Khaira and Caleb Jones today. It is the hope for Kailer Yamamoto, Ethan Bear, Joel Persson and Tyler Benson tomorrow. 
Edmonton is in a playoff spot now, today. The Oilers would likely have spent Christmas in the playoffs with a win last night, now it's probable Christmas morning finds them on the outside. 
Single losses aren't fatal, even two in a row won't keep Edmonton from being in a playoff race. However, long losing streaks are going to find one or two of these Pacific Division teams in the coming weeks, and the Oilers built the foundation for one on the weekend and last night. Shame on the moon. 
Even if this team misses the playoffs, there are things to be won. If Puljujarvi, Khaira and Jones emerge as legit producers in substantial roles, that's a victory for this organization. The biggest Hitchcock contributions, perhaps even bigger than the 9-4-2 record (long term), may be the emergence of these young men and more behind them. Seriously. It's an important part of team building, and Edmonton has been throwing away too many pieces that arrive from the minors over many years. That may end up being the grandest legacy of Hitchcock's time in the organization: A re-set on the value placed of the team's own prospects. It will be a massive contribution. 
LOWDOWN WITH LOWETIDE
At 10 this morning, TSN1260, we're getting ready for Christmas and placing on eye on WJ's and college football. Scheduled to appear:
Bruce McCurdy, Cult of Hockey. Bruce will help us make sense of last night's loss (his postgame review is here) and we'll chat about the next steps for this organization. 
Guy Flaming, The Pipeline Show. The WJ's are coming up right away, we'll talk about Canada and the other favourites, and some of the new flavor this Christmas. 
Jon Campbell, Oddshark. College bowl games are underway and man there are a lot of them, plus Oilers and NFL. 
10-1260 text, @Lowetide on twitter. 90 minutes with a bullet!