I am not, by nature, a bloodthirsty sort. I did spend much of my youth watching the golden age of heavyweight boxing, the big, bad Bruins and Roller Derby on television (holy hell that was a time).
Jujhar Khaira earned a suspension, that was a mammoth crosscheck from a strong, strong man. Here's the thing: He's skilled, has good hands and passing skills, and getting to the front of the net might actually pay off. I'm not condoning what he did, but it probably helps him moving forward. Playing with abandon and an edge is always in style, and driving to the front of the net works. Khaira is the latest example of 'wait five years' before making a call on a player. The big item is this: The Oilers were patient this time, Khaira is emerging in Edmonton, rather than Minnesota or Columbus. More please.  
THE ATHLETIC!
The Athletic Edmonton is going to bring it all season long. Proud to be part of a lineup that is ready to cover the coming year. Outstanding coverage from a large group, including Daniel Nugent-Bowman and Jonathan Willis, Lowetide, Minnia Feng and Pat McLean. If you haven't subscribed yet, now's your chance. Outstanding offer is here.
THE CURRENT OILERS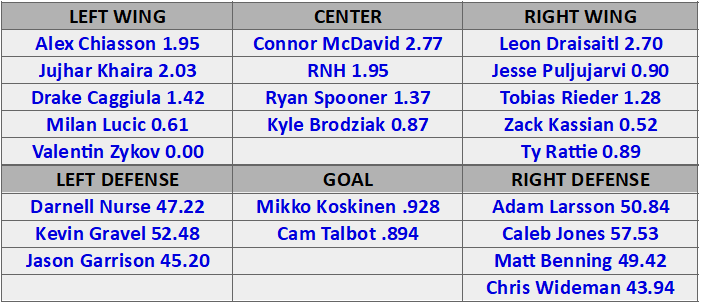 The numbers at mid-season are fascinating. Connor McDavid and Leon Draisaitl are runaway trains and Alex Chiasson is having a career year alongside them. 
There is a second line here, ladies and men. Ryan Nugent-Hopkins is posting some excellent offense so far this year away from 97. His work recently with youngsters Jesse Puljujarvi and Jujhar Khaira is borderline remarkable. 
Ryan Spooner didn't get into the last game, but with the suspension to Khaira he'll likely draw in. Drake Caggiula and Tobias Rieder aren't far from reasonable offense from third liners. 
Darnell Nurse and Adam Larsson have another month (or so) as top pair, it's vital they hang around 50 percent in possession. Edmonton is getting caved lately in shot share, important to outlet with finesse. 
Kevin Gravel and Caleb Jones have been a Godsend for this team. 
Jason Garrison is giving everything he can but that third pairing isn't getting it done. I believe in Matt Benning. I think the team needs to tweak the third pairing. 
Mikko Koskinen has to be in the mix for first half MVP, his performance (11 first-half wins in 17 games) has Edmonton in a playoff spot this morning. 
CHIARELLI SINCE KEITH GRETZKY ARRIVED
Keith Gretzky on the draft: "When you have the job, it's your list. When we put our list together, all the scouts have worked all year. They've gone to 200 games in a year, if a player is on our list it's because we want him, nobody else."
Keith Gretzky was hired in August of 2016, in the days that immediately followed the drafting of Jesse Puljujarvi and the trading of Taylor Hall. In the 2+ seasons he has been a part of the organization, the team has been aggressive in procurement up and down the line.
The two drafts since Gretzky arrived have yet to bear fruit, but Evan Bouchard and Kailer Yamamoto are two of the team's top prospects. The second and third-round selections are matriculating and we'll see around the end of the decade or early next.
THE CHIARELLI-GRETZKY FREE AGENT SIGNINGS2
2017: Ty Rattie, Jussi Jokinen, Yohann Auvitu

2018: Alex Chiasson, Tobias Rieder, Kyle Brodziak, Kevin Gravel, Mikko Koskinen, Jason Garrison, Jakub Jerabek
The team had zero free-agent money in year one and very little last summer. Many (certainly me) wondered why the team spent so much money (from a very small budget) on Koskinen, but that turned out beyond belief. Alex Chiasson is another fantastic value deal, the group signed over the summer have had impressive impact and I don't think anyone can reasonably argue otherwise. 
THE CHIARELLI-GRETZKY TRADES
Brandon Davidson for David Desharnais

Jordan Eberle for Ryan Strome

Jussi Jokinen for Mike Cammalleri

Mark Letestu for Pontus Aberg

Patrick Maroon for pick used on Cooper Marody
Ryan Strome for Ryan Spooner
Sixth-round pick for Chris Wideman
Everyone has an opinion on a trade, here's mine on this group. I liked the Desharnais addition, felt Chiarelli should have been more aggressive at the deadline, but the deal itself helped the club in an important area.
The Eberle trade is the big issue, because Edmonton didn't have (and still doesn't have) a replacement talent for the hole created. If you were going to trade two years of Eberle for five years of Strome, there needed to be another deal to bring in the new Eberle, and of course Strome needed to fill a need.
The best deal could have been Aberg but the organization moved away from him like a bullet leaves a gun. Too bad, he sure looks good in Anaheim. Many people talked about his sleeping in and missing practice as costly, but the last line of the sentence turned out to be "for the Oilers" and that's a fact.
I think Marody represents good value for a few months of Maroon, his pass last night on the winner was outstanding. I don't know when or where he'll land but in my opinion the young man could help the Oilers power play now, today.
Strome for Spooner didn't make a lot of sense, because Spooner is a lefty playmaker and the Oilers have several elite players of this type. It never made sense to me, although in my opinion Spooner is an NHL player (just not being utilized properly because the team has his skills duplicated several times over).
As a group, these trades are decidedly unimpressive. The addition of Keith Gretzky has helped (in my opinion) in drafting and free agency, although it's not certain he has a lot to do with the free agent aspect.
What's the conclusion? I think avoiding the trade route is probably wise for this organization. It can be done, Lou in New Jersey made few trades over decades and Kevin Cheveldayoff in Winnipeg does the same thing in modern times.
You'd like to have that option, but the Oilers haven't established any kind of track record that would leave one confident in the team's next trade.
FIVE YEARS
Five years into Jujhar Khaira's pro career, he was not close to being an established NHL player. In fact, his NHL totals (25, 1-2-3) suggested the team was looking at an offensively challenged fourth liner who might have trouble keeping up.
Since then, Khaira is 102, 13-21-34 and has a 5-on-5 per 60 number (1.58) that is solid and improving (he's at 2.03/60 this year). Khaira is one of the 1994's Peter Chiarelli mentioned over a year ago, and may represent the highest NHL ceiling in that group (although Caggiula and Benning also remain in the race).
When we talk about prospects in the final two years of their junior careers, or in their entry deals, it's important to keep in mind prospects don't develop in a straight line. I've been reading online that Ethan Bear has fallen off and can't be considered a strong future option, and that Kailer Yamamoto's career is off to a horrible start at the pro level and that will impact his NHL future.
Prospects don't work that way, they really don't work that way at all. There are thousands of examples over a hockey lifetime. Jujhar Khaira is one.
LOWDOWN WITH LOWETIDE
A fun show today, we'll dig down in some interesting areas and have our first real chat about the 2019 draft. At 10 this morning, TSN1260, scheduled to appear:
Andy McNamara, TSN4Downs. We'll chat NFL weekend and playoff implications, and why no one wants to play the Browns.
Bill Hoppe, Olean Times-Herald. What is going on with Patrik Berglund?
Corey Pronman, The Athletic. World Juniors, plus a quick look at the 2019 NHL draft.
10-1260 text, @Lowetide on twitter. See you on the radio!