The Edmonton Oilers have many miles to go before anyone mistakes them for a strong Stanley Cup contender. There is the opportunity for growth this season exists on many levels, including emerging talents (Puljujarvi, Khaira, Jones), problems solved (for now) via free agency (Mikko Koskinen, Alex Chiasson) and a farm team that has already delivered some help, with more possibly on the way. What is needed? More quality draft picks.
THE ATHLETIC
The Athletic Edmonton is going to bring it all season long. Proud to be part of a lineup that is ready to cover the coming year. Outstanding coverage from a large group, including Daniel Nugent-Bowman and Jonathan Willis, Lowetide, Minnia Feng and Pat McLean. If you haven't subscribed yet, now's your chance. Outstanding offer is here.
OILERS 2019 DRAFT PICKS
First round—No. 17 overall.
Second round—No. 48 overall.
Third round—No. 77 overall (from NY Islanders, for Brandon Davidson).
Third round—No. 79 overall.
Fourth round—No. 110 overall.
Fifth round—Hayden Hawkey (selection, tentatively No. 141 traded to Montreal)
Sixth round—No. 172 overall.
Seventh round—No. 203 overall.
Edmonton is slated to pick middle of each round based on current standings, it would be only the second time this decade the club would select outside the top 10 overall. Small victories are big steps.
PROSPECTS, BY POSITION AND TYPE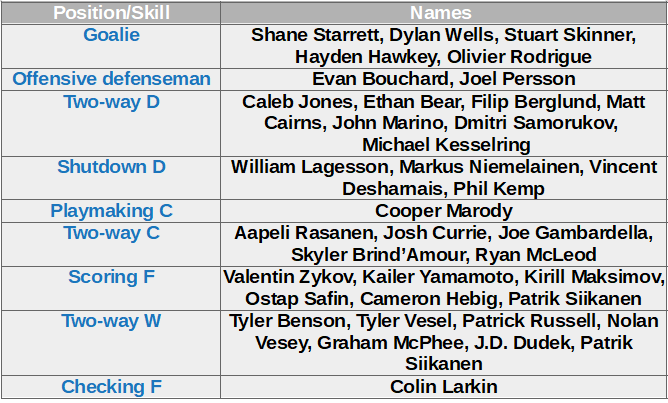 Your mileage may vary in terms of player type (or position) but the idea here is to house the entire group and then get some idea about areas of strength.
I believe the Oilers have some of these positions well covered. They include goalies, offensive defensemen and shutdown blue. I further believe that Marody satisfies the need for a playmaking center, considering the quality at the position in the NHL.
My vote for 'need' is scoring forwards and two-way forwards. Teams don't draft for need, per se, but all things being equal it would be a fine idea to add some prospects to give Yamamoto, Hebig and Maksimov a push.
Going into the draft, I think Edmonton might be focused on big forwards and snipers, and might add a goalie and a member of the U.S. National Team (as they do).
THE 2019 TOP 20 (FIRST EDITION)
LC Jack Hughes, U.S. National Development Team (USHL). A brilliant offensive player, cerebral, quick and highly skilled.
R Kaapo Kakko, Turkku (Sm-Liiga). A big power forward with tons of talent who is emerging in real time.
R Dylan Cozens, Lethbridge (WHL). Size, skill and he can skate. Range of skills, accurate shooter.
RC Kirby Dach, Saskatoon (WHL). A dynamic player with size and tremendous skill, has speed, wingspan and an excellent release.
R Vasili Podkolzin, St. Petersburg (MHL). Smart player with tons of offensive ability, but also possesses good two-way instinct.
L Arthur Kaliyev, Hamilton (OHL). He's a fantastic scoring prospect. Good not great skater.
LC Trevor Zegras, U.S. National Development Team (USHL). Undersized and highly skilled, elusive and aggressive with very good speed.
L Jakob Pelletier, Moncton (QMJHL). Undersized skill winger with two-way ability.
LC Peyton Krebs, Kootenay (WHL). Skill forward who can score, he has quick feet and good hands.
LC Ryan Suzuki, Barrie (OHL). Great vision, skill, tremendous passer. If he were faster, he'd be top five.
R Cole Caufield, U.S. National Development Team (USHL). He's small, fast and a ridiculous scorer. Quick release, accurate.
LD Bowen Byram, Vancouver (WHL). Explosive speed is his top attribute but he's also excellent with the puck and owns a heavy shot.
LC Alex Turcotte, U.S. National Development Team (USHL). A strong two-way reputation, he is skilled and an excellent skater. Injuries a worry.
LD Cam York, U.S. National Development Team (USHL). The latest impact puck mover out of the USHL, great speed, passing and creativity.
L Matthew Boldy, U.S. National Development Team (USHL). Bigger winger with skill, he's strong on the puck and can score goals.
RC Raphael Lavoie, Halifax Mooseheads (QMJHL). Big center with a long reach, and a plus shot.
LD Thomas Harley, Mississauga (OHL). Good size, speed and he's posting impressive numbers. Spiking as we speak.
LC Alex Newhook, Victoria (BCHL). Terrific scorer with playmaking skilled and dogged determination on the backcheck. High end potential.
LD Matthew Robertson, Edmonton (WHL). Big two-way defenseman with good speed and some offense.
LD Philip Broberg, AIK (Allsvenskan). He's big and can skate, while also displaying puck moving ability.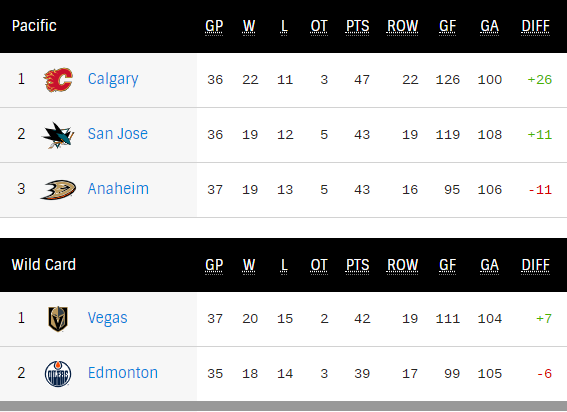 FOUR FOR THE OILERS
Among the group above, Arthur Kaliyev is ranked far below my number, he would be the No. 1 target for Edmonton at No. 17. I also like Cole Caufield. Here are four more I like who didn't make my top 20:
RC Brett Leason, Prince Albert (WHL). He'll play for Canada at the WJ's, and was eligible for the 2018 draft (HockeyProspect.com had him No. 208). Leason has a first-round buzz, would be considered a reach for No. 17 at this time.
R Bobby Brink, Sioux City (USHL). Undersized winger with outstanding speed and playmaking ability. Scoring goals at a rapid clip this season (15 in 18 games).
RD Lassi Thomson, Kelowna (WHL). One of the better skating defensemen in this year's draft, he's a two-way player whose speed helps in transportation and retrieval.
L Michal Mrazik, Rogle (Swedish Jr). Zero buzz on a big PF who can skate well and is a first-shot scorer.
NEW LINES
Ken Hitchcock changed the lines at practice yesterday, moving Jesse Puljujarvi and Ryan Nugent-Hopkins to the McDavid line and tweaking all four units. About the JP move, he said "I know if I get him up tempo-wise, with the way his conscience is on the ice defensively, he's going to make a good teammate. So, why not play him with the fastest player on the team and maybe the League and see if he can keep up?"
Nuge—McDavid—Puljujarvi
Rieder—Draisaitl—Chiasson
Lucic—Khaira (Spooner)—Rattie
Caggiula—Brodziak—Kassian
I like the lines, but suspect it'll result in the McDavid trio being the one reliable offensive trio. If the team can find a way to make this work, music! I remain convinced Khaira—Nuge—Puljujarvi is the answer.
LOWDOWN WITH LOWETIDE
It's Friday, just before Christmas! At 10 this morning, we hit the air for some jocularity. Scheduled to appear:
Steve Lansky, BigMouthSports. We'll chat biggest sports stories of the year and Christmas memories.
Frank Seravalli, TSN. Once the trade window opens again, will Philadelphia or St. Louis be first out of the gate?
Matt Iwanyk, TSN1260. Are the new lines the right thing to do? Why did St. Louis show up against the Oilers and play so poorly against Calgary and Vancouver?
10-1260 text, @Lowetide on twitter. Happy Ho-Ho!