The first time the Lightning met the Oilers, Edmonton got cranked 6-1. It was October 20, 1992, Rob Ramage and Roman Hamrlik were active from the blue and Craig Simpson was the lone Edmonton scorer.
Your Edmonton Oilers never do things the easy way. On Tuesday, the club was as flat as a Coca-Cola you left on the ledge of your childhood home in 1975—if that pop was still waiting for you today. Yeah. Facing the thoroughly mediocre St. Louis Blues, this was a major whiff. These Oilers are so much better than they showed in the middle of the week.
Tonight, the Oilers play the Tampa Bay Lightning, the best team in the league. The team will play well, but the visitors will likely prove to be too much. We'll all say, swear to God, "if only they brought that effort against St. Louis" and we'll be right. I hope they prove me wrong.
THE ATHLETIC!
The Athletic Edmonton is going to bring it all season long. Proud to be part of a lineup that is ready to cover the coming year. Outstanding coverage from a large group, including Daniel Nugent-Bowman and Jonathan Willis, Lowetide, Minnia Feng and Pat McLean. If you haven't subscribed yet, now's your chance. Outstanding offer is here.
OILERS AFTER 36
Oilers in 2015: 15-18-3, 33 points; goal differential -16

Oilers in 2016: 18-12-6, 42 points; goal differential +5

Oilers in 2017: 17-17-2, 36 points; goal differential -5

Oilers in 2018: 18-14-3, 39 points; goal differential +1
The 2018 team is on track for 82, 42-33-7, 91 points and currently sits No. 8 in the Western Conference. If the team wins tonight, the Oilers will spend Christmas in the playoffs (sounds like a Dolly Parton song). If not, one or both Vancouver and Dallas could pass them tonight.
OILERS IN DECEMBER
Oilers in December 2015: 6-3-2, 14 points; goal differential -5

Oilers in December 2016: 6-2-3, 15 points; goal differential +2

Oilers in December 2017: 7-4-0, 14 points; goal differential +9

Oilers in December 2018: 6-3-1, 13 points; goal differential +6
December hit a bump but remains a solid month for the team. October's record (6-4-1) is similar to the current December record. November's record (6-7-1) remains a possible duplicate depending on tonight and the final week of the month.
WHAT TO EXPECT IN DECEMBER
At home to: Vegas (Expected 0-1-0) Actual (1-0-0)

On the road to: Dallas, St. Louis (Expected 1-1-0) (Actual 1-1-0)

At home to: Minnesota, Calgary (Expected 1-1-0) (Actual 2-0-0)

On the road to: Colorado,Winnipeg(Expected 1-1-0) (Actual 1-0-1)

At home to: Philadelphia (Expected 1-0-0) (Actual 1-0-0)

On the road to: Vancouver (Expected 1-0-0) (Actual 0-1-0)

At home to: St. Louis, Tampa Bay, Vancouver, San Jose, Winnipeg (Expected 2-2-1) (Actual 0-1-0)
Overall expected result: 7-6-1, 15 points in 14 games

Current results: 6-3-1, 13 points in nine games
There are four games left in the month, I had the team getting 15 points from 14 games. At this point, reasonable for the rest of this month is probably 1-3-0 based on injuries and recent performance. That would put Edmonton at 19-17-3, 41 points after 39 games. It would put Edmonton on an 86-point trajectory. The loss to St. Louis puts pressure on the team to win one of the games against the Lightning, Sharks or Winnipeg.
The other day I wrote a quick item on being patient with prospects. I said "I've been reading online that Ethan Bear has fallen off and can't be considered a strong future option, and that Kailer Yamamoto's career is off to a horrible start at the pro level and that will impact his NHL future. Prospects don't work that way, they really don't work that way at all. There are thousands of examples over a hockey lifetime."
We can measure progress and there is plenty this season. I like to measure even-strength points, that's where the future recalls dwell. Age is also a factor, let's run the numbers for the Condors forwards (even strength).
Cooper Marody (21) 15, 6-8-14 (.933)
Joe Gambardella (24) 25, 10-7-17 (.680)
Patrick Russell (25) 18, 3-8-11 (.611)
Kailer Yamamoto (20) 9, 2-3-5 (.556)
Tyler Benson (20) 25, 2-9-11 (.440)
Cameron Hebig (21) 25, 5-6-11 (.440)
The most important number here is Benson's GP total. The rest? We don't know what we don't know, although the Edmonton Oilers have actual talent in the AHL and some of them are entry prospects. That's news. By the way, Dylan Wells has a .921 save percentage after four AHL games.
Benson is an interesting case. Among players in the AHL who are less than 21 years old (according to prospect-stats.com), he ranks No. 9 in points, tied for No. 2 in primary assists, No. 1 in shots per game. That shot total is interesting, because Benson has scored only three goals so far this season.
A year ago, final year in the WHL, Benson scored 27 goals on 232 shots (11.6 percent). He has three goals this year on 66 shots, leaving his AHL shooting percentage currently at 4.5 percent.
OILERS LINEUP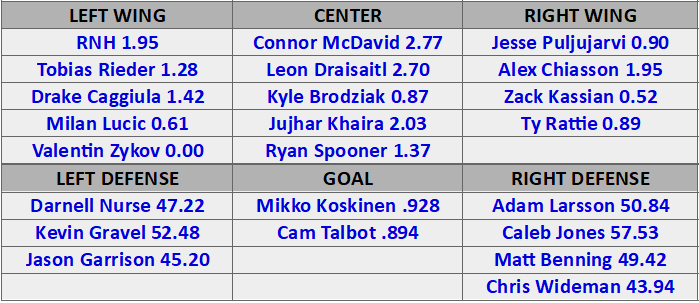 Spooner is likely to replace Khaira for the first game of his suspension tonight, leading me to believe McDavid will be double shifting and seeing time with Lucic-Rattie.
Yesterday's media avail was fascinating, Hitchcock continues to preach about Puljujarvi and his positives. I'm no fortune teller, but can say that if you wanted to write a book about how to 'pump up a struggling blue-chip prospect' Hitchcock is giving you the story in real time.
JP's offensive numbers and NHL equivalencies have never been jaw dropping, but it's also true he played in the Sm-Liiga at a very young age and time on ice was a factor there. In Bakersfield he didn't play with a center the calibre of Cooper Marody (as a for instance) and he never found a real home on any line in the Todd McLellan era. Here are his NHLE's by season:
Age 16: 12.45
Age 17: 13.31
Age 18: 27.67
Age 19: 25.23 (actual NHL numbers extrapolated to 82 games)
Age 20: 13.67 (actual NHL numbers extrapolated to 82 games)
That number at 20 is likely to change in a quick hurry. If JP gets 5-on-5 time with McDavid for the next 20 games, and remains on the No. 2 power play, we are going to see his boxcars (currently 24, 3-1-4) spike in a big way. I'm excited to see how the young man performs. I think it is overdue.