The Edmonton Oilers held a playoff position for close to two weeks leading up to last night's loss against the Tampa Bay Lightning—technically the team remains tied for the No. 8 (and final) spot. Oilers fans hope the team will see the Western Conference's first division (top 8) again this season and there are reasons to believe. Better health among the defensemen would improve things and a stumble or two from the teams ahead of them would be a Godsend. This isn't what anyone was hoping for at Christmas, but there are 46 games to go and this team is in the race.
THE ATHLETIC
The Athletic Edmonton is going to bring it all season long. Proud to be part of a lineup that is ready to cover the coming year. Outstanding coverage from a large group, including Daniel Nugent-Bowman and Jonathan Willis, Lowetide, Minnia Feng and Pat McLean. If you haven't subscribed yet, now's your chance. Outstanding offer is here.
OILERS AFTER 36
Oilers in 2015: 15-18-3, 33 points; goal differential -16

Oilers in 2016: 18-12-6, 42 points; goal differential +5

Oilers in 2017: 17-17-2, 36 points; goal differential -5

Oilers in 2018: 18-15-3, 39 points; goal differential -1
Ths 2018 Oilers are losing touch with the 2016 Playoff McDavids, but that might be a short term situation. I think Ken Hitchcock has a better idea about his team now and we might see some changes in the everyday lineup. The team is on pace that would see the season end at 82, 41-34-7, 89 points. I predicted 90-94 points. That would represent a 12-16 point year-over-year improvement. That's significant.
OILERS IN DECEMBER
Oilers in December 2015: 6-3-2, 14 points; goal differential -5

Oilers in December 2016: 6-2-3, 15 points; goal differential +2
Oilers in December 2017: 7-4-0, 14 points; goal differential +9

Oilers in December 2018: 6-4-1, 13 points; goal differential +4
Amazing that all four December McDavids started like a house on fire and then faded heading into Christmas. The performance last year in the late December period and into January included some of the most galling hockey in memory. Avoiding that kind of stretch will be vital for the organization.
WHAT TO EXPECT FROM DECEMBER
At home to: Vegas (Expected 0-1-0) Actual (1-0-0)

On the road to: Dallas, St. Louis (Expected 1-1-0) (Actual 1-1-0)

At home to: Minnesota, Calgary (Expected 1-1-0) (Actual 2-0-0)

On the road to: Colorado,Winnipeg(Expected 1-1-0) (Actual 1-0-1)

At home to: Philadelphia (Expected 1-0-0) (Actual 1-0-0)

On the road to: Vancouver (Expected 1-0-0) (Actual 0-1-0)

At home to: St. Louis, Tampa Bay, Vancouver, San Jose, Winnipeg (Expected 2-2-1) (Actual 0-2-0)

Overall expected result: 7-6-1, 15 points in 14 games

Current results: 6-4-1, 13 points in 10 games
Three losses in a row have December resembling the first two months of the season and we certainly shouldn't expect a wildly different result in the coming games. A healthy Klefbom is the great hope now, the Oilers need to be within range on the day he returns.
DEFENSE, LAST NIGHT

Nurse-Larsson were 19-18 in 19:40, 10-15 shots, 0-3 goals and 4-9 HDSC. Nurse played 27 minutes and pinched in bad spots. He's playing too much. I thought Larsson played well despite the minus 4. Pairing went 10-13 in 11:18 against Point-Kucherov-Johnson with the Lightning line scoring thrice while the pairing was on the ice.
Garrison-Benning went 10-14 in 11:30, 5-11 shots, no goals and 2-0 HDSC. De facto third pairing is low on the coach's trust meter but the overall numbers were okay on the night. Went 1-4 in 3:37 against Palat-Stamkos-Gourde.
Gravel-Jones were 14-20 in 16:04, 5-12 shots, 1-1 goals and 1-5 HDSC. Faced Miller-Cirelli-Killorn, going 3-12 in 7:51, 0-7 shots, 0-1 goals and 1-3 HDSC. A team can get a lot from a season outside the playoffs, increasingly I believe Caleb Jones is one. Gravel got caught on the power play goal, but I'm not certain he made the wrong decision. Sometimes you have to give the other man his due.
Mikko Koskinen stopped 37 of 41 at 5-on-5, .902, 39 of 44 (.886) overall. He was easily one of Edmonton's best players.
FORWARDS, LAST NIGHT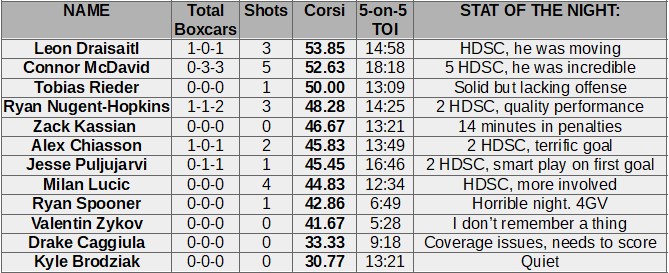 Rieder-Draisaitl-Chiasson went 12-11 in 11:45, 5-7 shots, no goals and 1-4 in HDSC. Leon needs a better left winger, but the line held its own. Both Leon and Chiasson scored on the power play, so the overall thrust of the evening was productive. I like Rieder's game but the Oilers need more torque on this line. Went 8-5 in 7:01 against McDonagh-Cernak, 4-2 shots and 6-3 scoring chances (no goals). Went 5-6 in 6:28 against Hedman-Stralman, 1-5 shots and 1-2 HDSC. I like this line, needs more skill on left wing.
Nuge-McDavid-Puljujarvi were 14-14 in 13:55, 8-13 shots and 1-3 in goals, 2-5 HDSC. The first goal was beautiful, Puljujarvi with a deft chip pass to Nuge, to 97, to Nuge, goal. Music! The evening changed for the line when JP mishandled the puck at the Lightning blue (a Nurse pass that was a dart) and it ended up in a goal against. These things happen, no biggie, but Pulju's game changed afterward. He didn't sulk, I'd say he tried too hard, but the result was turnovers and eventually a move down the depth chart in-game. What rotten damned luck, the young man looked fine until then. McDavid committed a sin on at least one later goal, he's been tighter on those this season. Went 9-1 against McDonagh-Cernak, 6-1 shots but no goals and only 1-0 HDSC. I'd absolutely bring the line back for the game after Christmas.
Caggiula-Spooner-Zykov went 6-8 in 6:01, 2-6 shots, 0-1 goals and 1-4 HDSC. Spooner was awful, turning over the puck seemingly each time he touched it. Oilers missed Khaira. Caggiula was out of position at times and not strong enough to hold his position at others. I don't remember a lot from Zykov so can't comment on his game.
Lucic-Broziak-Kassian went 8-16 in 11:04, 5-11 shots, no goals and 2-2 HDSC. I consider success for this line an evening with zero goals against, but the 'keeping the puck 200 miles from the Oilers net' storyline has faded. I didn't like Brodziak's game (looked a little late) but Lucic had some looks and Kassian looked good with Leon and Rieder (5-0 Corsi events 5-on-5) in about 2.5 minutes.
OILERS TODAY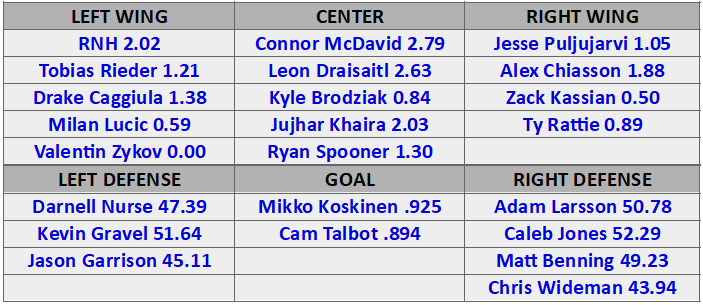 It's fairly easy to answer Hitchcock's "who's helping and who's hurting" statement from last night, the numbers don't lie.
Connor McDavid, Leon Draisaitl, Ryan Nugent-Hopkins are the heart of the order among forwards, with Alex Chiasson (scored No. 16 last night) also in the picture. I believe Jujhar Khaira is an actual NHL player, Jesse Puljujarvi belongs on this roster and that Tobias Rieder, Kyle Brodziak and Zack Kassian are NHL players. That's nine out of 14 forwards.
Drake Caggiula is worth the investment in my opinion, I know many don't agree and that's fine, too. For me, any player who has 17 goals in his last 82 games with this team should be part of the 14 forwards until someone better comes along.
That leaves us with four forwards who are not contributing: Milan Lucic (big contract, sunk cost), Ty Rattie (I like him but his skills are duplicated), Valentin Zykov (hasn't moved the needle) and Ryan Spooner (persona non grata based on most recent showing).
Among the blue, the three men injured (Oscar Klefbom, Kris Russell and Andrej Sekera) are NHL players. Adam Larsson belongs in this group and Darnell Nurse and his 22:59 TOI per night is an NHL player.
Matt Benning and Kevin Gravel are good enough to play on this team and I suspect several others. I'd put them in the Caggiula category, in that you can send them away the moment a superior option arrives. I don't think that time is now.
That leaves us with Jason Garrison and Chris Wideman, who are both in danger of being waived as the veterans get healthy.
Mikko Koskinen and Cam Talbot are NHL goalies.
So that leaves as the "outsider" group: Milan Lucic, Ty Rattie, Valentin Zykov, Ryan Spooner, Jason Garrison, Chris Wideman.
SPOT CARRIER
When I started in radio, everyone I knew used the phrase 'spot carrier' which was slang for running a non-sponsors commercial during a sponsored event to separate the news from the sports, give the presenters a chance to change places, and keep the format structure intact. This happened often back in the day, as Safeway or Woodward's Food Floor (as examples) would sponsor the 8am news, but only Tuesday through Friday (Monday was not viewed as a strong advertising day). The station was running a commercial in a prominent position, but the client involved paid no extra fee for the push, as the major consideration was the physical transaction of news to sports. The radio station needed that commercial to be played there, it was important to have something the audience would recognize as part of the format (otherwise you could play a song) and give the old as dirt newsman a chance to haul his carcass out of the way for the badly dressed sports reporter.
That's kind of what Lucic, Rattie, Zykov, Spooner, Garrison and Wideman are at this time. It doesn't mean they'll always be that way, someone from that list might have a substantial career ahead of them, here or in another town.
Right now, they're seat fillers, like at the Juno Awards. When Tyler Benson and Cooper Marody and Kailer Yamamoto are ready, we'll see the team say goodbye to Zykov and Rattie (but not Lucic). As Jones proves himself more and more NHL-ready, then Jason Garrison and Chris Wideman lose their holds on NHL jobs. It's kind of cruel, that's why I'm talking spot carriers instead of Grandma not being able to keep up on the long journey across the North American heartland to the other coast. The Oilers are still building, and yes the process is moving slower than it should because the general manager has acquired several unproductive veterans, but it also takes time for seeds to grow under the warmth of the sun and the summer rains.
We are here. Bob was tweeting last night about a Yamamoto recall, that might be your next step. Every swinging dick knows what the problem is, the mind bending issue is how to get out of this mess. The answer my friend, is here. Same as it ever was.