Since we have a few minutes, I thought it might be an idea to have a conversation about quality of prospects. For instance, while we all have our favourites, how many current Oilers prospects (eligible for the Calder) can be considered locks for NHL careers? How many would be considered 'unavailable at any price' by the team? My guess is one.
At the NHL level, Edmonton has a rather large list of forwards (and some blue) who are trying to get established as NHL players. I'm not talking about Jesse Puljujarvi or Caleb Jones, I'm talking older men like Drake Caggiula, Jujhar Khaira, Matt Benning and Valentin Zykov. We usually ask ourselves 'who will emerge from this group as a bona fide NHL player?' but the better question might be 'are any of these prospects actually good enough to survive in the NHL for 500 games?' For me, the answer among Oilers hopefuls is mostly no, and a large reason why we are here.
THE ATHLETIC!
The Athletic Edmonton is going to bring it all season long. Proud to be part of a lineup that is ready to cover the coming year. Outstanding coverage from a large group, including Daniel Nugent-Bowman and Jonathan Willis, Lowetide, Minnia Feng and Pat McLean. If you haven't subscribed yet, now's your chance. Outstanding offer is here.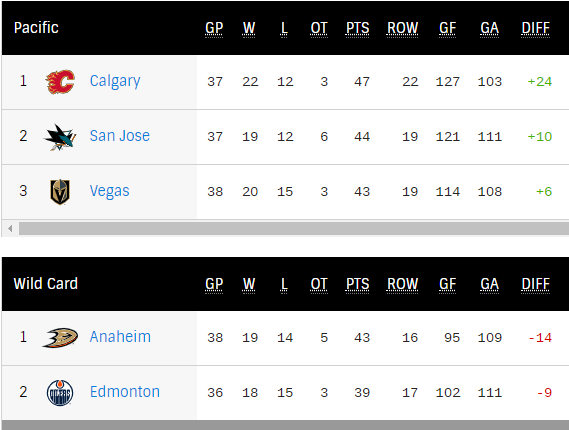 The Oilers will spend Christmas in the playoffs! In 2016, the team was in second place in the Pacific on Christmas morning, one point behind San Jose. Last year? Sixth in the Pacific. This is progress and a little luck, I'm sure Oilers fans will take it.
RUE THE POO
In March of 2008, I wrote the following about young Oilers prospect Marc Pouliot:
He has some traction again as an NHL player (he must love spring) and may have done enough in the last 13 games since his callup (1-5-6, +5) to be considered in the mix for the big club next season. In his brief NHL career (76gp, 6-12-18) he has not established himself as an offensive option worthy of minutes on the skill lines but seems to have found a role on the 3/4 lines by doing the right things and playing a more physical game.
Pouliot has had a nice AHL career (this would have to be considered less than a compliment since these guys don't want to have AHL careers) including being a very valuable rookie for Hamilton in 05-06. Here, let's run his AHL seasons:
05-06 (age 20) 65gp, 15-30-45 -7 .692ppg
06-07 (age 21) 33gp, 14-17-31 -2 .939ppg
07-08 (age 22) 50gp, 20-22-42 -9 .840ppg
We didn't have access at that time, but the Pouliot 2007-08 NHL numbers were good. Here's a 'modern' view on an old timey season from a distant Oilers draft pick (numbers via NaturalStatTrick).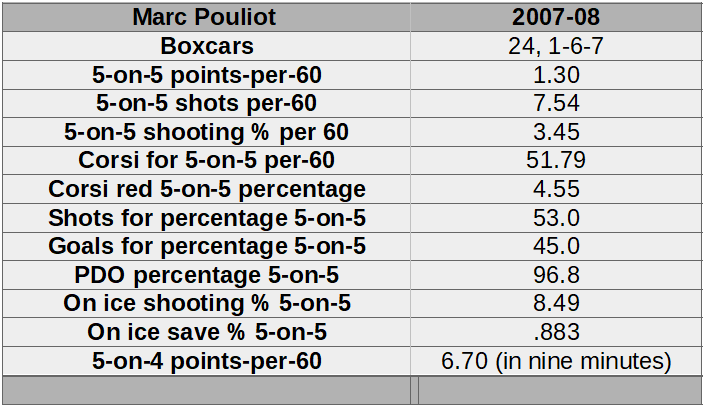 That's a solid player card, but he lacks offense and MAP was a first-round selection. At the time of his draft (2003), the Oilers were still ensconced in an era of drafting mediocre offensive players (the "in search of MacT" years). Pouliot was 22 that season and spent most of the season in the minors after splitting 2006-07 between the AHL and NHL.
He didn't make it, for all kinds of reasons, and there is evidence both prospect and team contributed to the eventuality. Pouliot's offensive ability was shy, the Oilers continued drafting that way for the rest of the decade and into the next.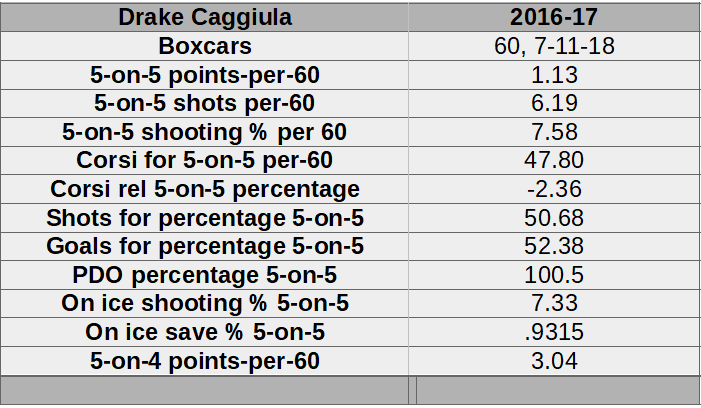 This is Caggiula in 2016-17, also 22. Although he isn't a perfect comp for Pouliot, he once again points out the lack of offensive ability in the Oilers young hires. It's a thing. Caggiula is a lesser possession player than Pouliot at the same age, so Pouliot (in my opinion) is a better prospect at 22 (even before we discuss McDavid's zooms).
Here's the thing, though. Caggiula is one of the Oilers most successful young scorers, averaging 14.29 goals per 82 games. He's bested men like Anton Slepyshev, Iiro Pakarinen, Anton Slepyshev, Valentin Zykov in his Oilers seasons.
I've been thinking about the Oilers and offense this week. The assumption is 'well, they have finally figured out how to draft skill' and maybe that's true, but even when they get it right (Pontus Aberg) there seems to be a break in the chain. Is this fixable?
AIM HIGHER
Pouliot's scouting final mark from Red Line Report is one of the best that fine publication has ever delivered. Smart, sassy and damning:
Pouliot is considered a very good two way player. He pays attention to his own end of the ice which is surprising for a Quebec League player. He also played for a bad team in the Rimouski Oceanic. Scouts reportedly would only go to see him play and the assessment was a question: how much better could he have been if he had some wingers to play with? There also were some questions as to whether he was taking some nights off. Still, there are those who think he is an exceptional talent and could be a solid second line center in the NHL. Pouliot played for Team Canada at the recent WJC's. He recorded only 2 goals, but had 9 points in 7 games. He scored 32 goals in his second year in the QMJHL last year. Look for him to increase those numbers next season.
Now, to be clear, Red Line are the world's hardest markers (called Ales Hemsky 'no balls'). That said, the scouting report above included enough storm clouds to make one wonder why the Oilers looked past the available talent and chose him. Note: MP had a string of injuries, those maladies no doubt contributed to his career trajectory.
NHL EQUIVALENCIES
I don't run these much anymore, mostly because I don't have time. That said, we have a little window of opportunity here and I thought it might be an idea to see how things are progressing. The NHLE's also make the point of this article (Cooper Marody is looking like a real NHL talent) so it's a good place to run the equivalencies. By the way, using the NHLE's of their time (God bless you, Gabriel Desjardins), Pouliot's draft day NHLE was 27.6. Here are this year's Oilers.
Cooper Marody 47.3
Kirill Maksimov 36.5
Ryan McLeod 31.1
Joe Gambardella 30.1
Tyler Benson 29.1
Kailer Yamamoto 27.9
Cam Hebig 27.6
Ostap Safin 21.0
Tyler Vesel 12.1
Skyler Brind'Amour 8.2
Graham McPhee 6.9
Aapeli Rasanen 5.4
If we use Pouliot as the arbitrary line in the sand, then Marody, Maksimov, McLeod, Gambardella, Benson and Yamamoto have a chance. I think Marody is underrated by many fans, likely because his first NHL trips have been pedestrian. Suspect he's exactly the player I'm trying to find in the first segment of this morning's conversation. Marody's math is screaming 'NHL skill player' and even though it's a small sample, he spiked a year ago too. Please baby Jesus, don't let him be another Pontus Aberg.
DEFENSE NHLE
Evan Bouchard 36.7
Joel Persson 28.2
Caleb Jones 22.8
Filip Berglund 16.9
Ethan Bear 15.2
Dmitri Samorukov 15.0
William Lagesson 12.8
Vincent Deslauriers 10.1
Mike Kesselring 8.7
Matthew Cairns 6.3
Phil Kemp 5.7
Markus Niemelainen 4.44
John Marino 4.2
The lock among Oilers prospects is Evan Bouchard, his ability to move the puck expertly badly needed on this Edmonton team. Joel Persson is the other offensive defenseman, I keep wondering if the club brings him over later this campaign to have a look. Caleb Jones played well and based on play in the NHL, everyone has to be pleased with his progress.
Dmitri Samorukov and Phil Kemp will join Evan Bouchard at the WJ's this week, Oilers fans will get a look at a possible future on the blue line.
WHAT DOES IT ALL MEAN?
When I was a kid, growing up Jehovah's Witness, it was routine to see a Watchtower or Awake! magazine with the title "bringing you good news about this system of things!" and I think there is good news coming here. I don't know how many or how high, but between the current amateur scouting staff, some astute trades and Woodcroft's magic in Bakersfield, some of these fellows look wildly out of place compared to the Oilers own AHL past. Merry Christmas, I think.
LOWDOWN WITH LOWETIDE
A tremendously busy Christmas Eve morning show today, we get rolling at 10 on TSN1260. Scheduled to appear:
Mark Masters, TSN. An up close look at the World Juniors.
Eric Fawcett, Gator Country. What we can look forward to from the NBA on Christmas day.
Jason Gregor, TSN1260. Oilers will wake up on Christmas day inside the playoffs, but with injuries depleting the defense. How can they cobble together a working V-6?
Andy McNamara, TSN4Downs. Cleveland wins! Eagles win! The playoff picture and more.
10-1260 text, @Lowetide on twitter. Merry Christmas, best of the season to those who do not celebrate. And if you know any Jehovah's Witness kids, please be kind. It's a tough time of year for those little ones. By the way, you can give a gift to a Jehovah's Witness kid this week, if it is given in friendship. That is all.