You can't go fast enough to get there early. Oilers fans, impatient for midnight at the oasis that is downtown Edmonton in the moments after a playoff win, are screaming for a hurricane blue who can slice and dice on the power play, or a powderfinger sniper on the wing who can cash cherry passes from the great McDavid. Management has to be sure in the knowledge that the best way to add is by scouting, amateur procurement and strong moves that don't make headlines. That's the play here.
THE ATHLETIC!
The Athletic Edmonton is going to bring it all season long. Proud to be part of a lineup that is ready to cover the coming year. Outstanding coverage from a large group, including Daniel Nugent-Bowman and Jonathan Willis, Lowetide, Minnia Feng and Pat McLean. If you haven't subscribed yet, now's your chance. Outstanding offer is here.
OILERS AFTER 37
Oilers in 2015: 15-19-3, 33 points; goal differential -18

Oilers in 2016: 19-12-6, 44 points; goal differential +6

Oilers in 2017: 17-18-2, 36 points; goal differential -6

Oilers in 2018: 18-15-3, 39 points; goal differential -1
The 2016 McDavid caravan shines like a diamond, but this year's team has a chance to climb closer. The building of this team's defense since 2015 summer reminds me of that Kate Bush song Running up that Hill and man, they are slammed against the sea wall this evening. A win tonight would put Edmonton on a 82gp, 42-33-7, 91-point trajectory.
OILERS IN DECEMBER
Oilers in December 2015: 6-4-2, 14 points; goal differential -7

Oilers in December 2016: 6-2-4, 16 points; goal differential +1
Oilers in December 2017: 7-4-1, 15 points; goal differential +8

Oilers in December 2018: 6-4-1, 13 points; goal differential +4
In all four McDavid seasons, the Oilers began December like a house on fire and slowly faded to Christmas. Family pressures? Influenza? General malaise from the increasingly wintry weather? Get someone on that, please and thanks.
WHAT TO EXPECT IN DECEMBER
At home to: Vegas (Expected 0-1-0) Actual (1-0-0)

On the road to: Dallas, St. Louis (Expected 1-1-0) (Actual 1-1-0)

At home to: Minnesota, Calgary (Expected 1-1-0) (Actual 2-0-0)

On the road to: Colorado,Winnipeg(Expected 1-1-0) (Actual 1-0-1)

At home to: Philadelphia (Expected 1-0-0) (Actual 1-0-0)

On the road to: Vancouver (Expected 1-0-0) (Actual 0-1-0)

At home to: St. Louis, Tampa Bay, Vancouver, San Jose, Winnipeg (Expected 2-2-1) (Actual 0-2-0)

Overall expected result: 7-6-1, 15 points in 14 games

Current results: 6-4-1, 13 points in 11 games
This Oilers team has been close to my projection for their monthly total for over a week now and perhaps they'll match it tonight. It isn't too late to turn December into a season changer. Three wins in a row looks impossible now, but these Oilers often play up to their competition.
Bouchard is going to be a feature player for Canada at the World Juniors, that means lots of exposure. He made some gorgeous passes last night, also hooked a Dane on a breakaway (difficult pass to him and then jailbreak at opponent's blue) which drew a penalty shot. During the Top 20 prospect series for The Athletic, I wrote about Bouchard needing "a quicker pace in specific moments of the game as he moves into the NHL full-time next fall." I think that's going to be his area to work on this year and then into his NHL career. He's a real talent, the only question is ceiling.
I received a couple of dm's last night, worried about Bouchard's playing time (13:17, the lowest total of any Canadian defenseman) and wondering if it was performance based. My answer: I doubt it, more likely they decided to rotate all seven defenders. But it could be dissatisfaction from the coach and that's fine too. Bouchard has things to work on, just like all of these kids.
I'm also getting feedback about his foot speed. The first time I posted a list on this blog for the 2018 draft (here) I ranked Bouchard No. 21, saying "two-way player, big numbers, his first-step quickness is average and he's one of the oldest players in the draft." At that time, several of you reached out to me and asked why he was ranked so low. I re-stated what I wrote but also redoubled my efforts to find out about his skating. I asked Brock Otten, I asked several scouting services and two NHL scouts. The consensus my questions generated is closely reflected in this passage from HockeyProspect.com:
Although a transitional defenseman with good overall speed, his skating stride is awkward. He still generates power and manages to shift-gears quickly, allowing him to cut-wide on defenders and create additional offensive-chances.
He needs urgency in some situations, without losing those calm feet and cool demeanor with the puck on his stick. Nobody asked me, but my advice is to enjoy him at this level. He'll have to work on things like puck retrieval in the NHL next season but he can't do that tonight. Among men his age, he's a special talent. I know Oilers fans as a group have an ongoing expectation of impending doom, but that's my advice to you.
I had Samuel Fagemo No. 33 on my final list because of his shooting skills. His scouting reports suggested speed was an issue (doesn't have great top speed) but he has one dominant skill. This year, he's in the SHL and has five goals in 21 games. He's averaging 10 shots per 60 minutes (including all disciplines) and a 10 percent shooting percentage. He's playing for Sweden at the WJ's. I hope he gets drafted.
OILERS WITHOUT 97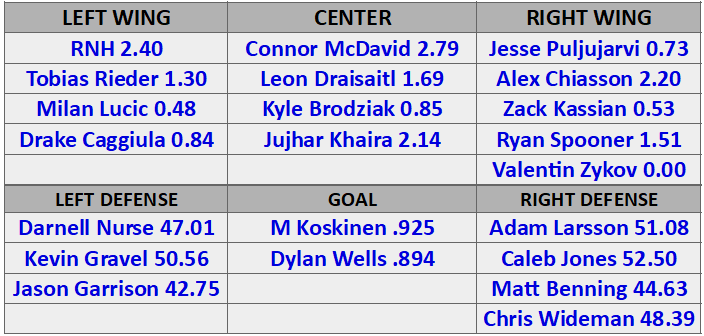 JT Black asked to see Oilers without McDavid, so here it is. McDavid's number is McDavid's number, all others without.
RNH, Chiasson and Khaira lead the way, Draisaitl and Spooner (!!) the only other men above 1.50/60 at 5-on-5.
Rieder hasn't delivered a lot of offense but his number without 97 isn't out of line with career numbers at 5-on-5.
Kailer Yamamoto (0.76 without McDavid), Cooper Marody (0.00) and Patrick Russell (0.00) may also see Edmonton before season's end.
The defensemen are listed with Corsi for 5-on-5 without McDavid, all stats via NaturalStatTrick.
Adam Larsson shines, the big Swede has been solid despite some wobble during the year. Of course time away from McDavid means softer minutes for Larsson, so his number shouldn't be a surprise.
Kevin Gravel and Caleb Jones are an emerging story, as reflected here.
Darnell Nurse is playing big minutes currently but his possession number has been underwater pretty much all year. He is struggling as a fill-in for Klefbom this season.
Matt Benning is heavily reliant on McDavid for possession success.
MIKKO KOSKINEN
Koskinen has posted six games in which his save percentage was less than .900, including the last two (losses to Vancouver and Tampa Bay). There is a group of Oilers fans who believe Koskinen may falter ala Anders Nilsson a few years back, and perhaps (goes the thinking) this is the time for the cracks and holes to appear. I'm more bullish on the netminder, tonight is a huge game for Koskinen (should he start) and for the Oilers. A win, and the three-game slide fades into distant memory.
LOWDOWN WITH LOWETIDE
At 10 this morning, TSN1260, we're back with a full boat of guests. Scheduled to appear:
Daniel Nugent-Bowman, The Athletic. Oilers are back and getting ready for a huge game. Will we see Russell activated, Yamamoto recalled? Plus Ty Rattie (0.58) and his journey back to the starting lineup under Ken Hitchcock.
Jon Abbott, TSN1040 Vancouver. PBP voice at the World Juniors will walk us through a wild opening night for Canada.
Frank Seravalli, TSN. It's go time for several NHL teams looking to push for a playoff spot, including Philadelphia, St. Louis, Carolina and Edmonton.
10-1260 text, @Lowetide on twitter. Talk soon!