The Oilers were gunned down 4-0 at even strength in the first period last night, allowing fans to free their minds and think about the bigger picture, about the good things emerging in real time. Among the positives: Caleb Jones is taking more icetime and handling it well; the power play seems to have some impressive new wrinkles and the team had tremendous push back after the game was out of reach. You'd rather have the two points, but there were some positives.
THE ATHLETIC!
The Athletic Edmonton is going to bring it all season long. Proud to be part of a lineup that is ready to cover the coming year. Outstanding coverage from a large group, including Daniel Nugent-Bowman and Jonathan Willis, Lowetide, Minnia Feng and Pat McLean. If you haven't subscribed yet, now's your chance. Outstanding offer is here.
OILERS AFTER 37
Oilers in 2015: 15-19-3, 33 points; goal differential -18
Oilers in 2016: 19-12-6, 44 points; goal differential +6
Oilers in 2017: 17-18-2, 36 points; goal differential -6
Oilers in 2018: 18-16-3, 39 points; goal differential -3
It was a disappointing night, the game got out of hand late in the first period and Mikko Koskinen is now struggling. I've been arguing the Oilers should keep their powder dry, suspect that's an easier argument to win this morning. And yet…..these are the Oilers.
If the team continues on this route, it would finish the season 40-36-6, 86 points. It would be an 8-point improvement year-over-year, while still qualifying as a disappointment.
OILERS IN DECEMBER
Oilers in December 2015: 6-4-2, 14 points; goal differential -7
Oilers in December 2016: 6-2-4, 16 points; goal differential +1
Oilers in December 2017: 7-4-1, 15 points; goal differential +8
Oilers in December 2018: 6-5-1, 13 points; goal differential +2
The Oilers have given much of it back now, the Hitchcock era that started so well now 9-6-2. Thing is, the coach is still making sense and the defense will get healthy. As I've been saying for some time now, this team won't be good enough to chase down contenders from behind. They don't have the horses. These four losses in a row over Christmas will cost them. The only question is how much? Stay tuned.
WHAT TO EXPECT FROM DECEMBER
At home to: Vegas (Expected 0-1-0) Actual (1-0-0)
On the road to: Dallas, St. Louis (Expected 1-1-0) (Actual 1-1-0)
At home to: Minnesota, Calgary (Expected 1-1-0) (Actual 2-0-0)
On the road to: Colorado,Winnipeg(Expected 1-1-0) (Actual 1-0-1)
At home to: Philadelphia (Expected 1-0-0) (Actual 1-0-0)
On the road to: Vancouver (Expected 1-0-0) (Actual 0-1-0)
At home to: St. Louis, Tampa Bay, Vancouver, San Jose, Winnipeg (Expected 2-2-1) (Actual 0-3-0)
Overall expected result: 7-6-1, 15 points in 14 games
Current results: 6-5-1, 13 points in 12 games
There isn't much left to say. Are they trying their best? Yes. Slow start and some wobbly defense and goaltending (make no mistake, the Oilers were awful at times in the first period) meant no reward. They need better health, better players, more good forwards, so they can win this game next December.
DEFENSE, LAST NIGHT

Jones-Benning were strong, going 17-4 in 14:13, 9-1 shots and no goals, 2-1 HDSC. Jones has speed, but it's more than that, he has adjusted quickly to the pressure of the NHL. He and Benning were very good, going 10-1 in 5:33 against Goldobin-Pettersson-Boeser. They were even 2-0 in HDSC against them! (McDavid helped).
Gravel-Wideman were 9-7 in 8:40, 3-6 shots, 0-1 goals and 0-2 HDSC. Imagine this team with a full boat and this pairing wouldn't play, although that's unfair to Gravel who has been a good soldier. Went 6-2 in 5:18 against Eriksson-Horvat-Virtanen.
Nurse-Larsson went 19-20 in 21:58, 11-9 shots, 0-2 goals and 3-4 HDSC. Some bad luck and wobbly goaltending behind them, but both men were ineffective on available pucks and loose on coverage. This team misses Oscar Klefbom in a gigantic way. Went 6-7 in five minutes against Goldobin-Pettersson-Boeser, 0-2 goals. This pairing is getting too much share in terms of 5-on-5 minutes.
Mikko Koskinen struggled, stopping two of six (.333), while Cam Talbot was solid in relief, stopping all 14 shots (including four HDSC).
NaturalStatTrick and NHL.com.
FORWARDS, LAST NIGHT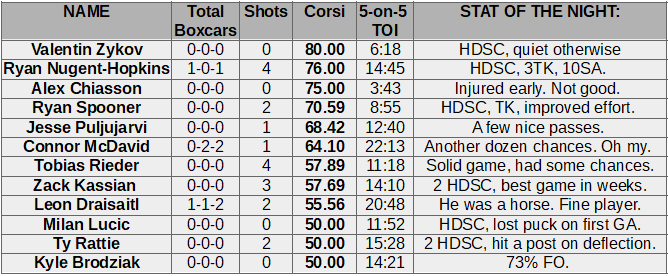 Lucic-Nuge-Puljujarvi went 4-2 in 5:04 (Lucic), 9-3 in 9:58 (Puljujarvi), 10-3 in 5:19 (Spooner), 2-2 in 4:04 (Rieder), 9-2 in 3:28 (Zykov). Nuge: 3-1 shots, 0-1 goals (with Rieder and Puljujarvi) and 1-1 HDSC. The only point for the line came from the center on the power play. Line went 14-3 in 9:40 against Hutton-Gudbranson, the puck heading in a good direction. GA for this line was the the Pettersson goal. Hitchcock mentioned in the postgame he thought things got better when Lucic joined Nuge and Pulju, suspect we may see that trio on Saturday. I was hoping to see Khaira alongside Nuge and JP.
Zykov-Spooner-Rattie went 1-1 in 2:19, they didn't play as a unit for long, owing to the Chiasson injury. Valentin-Spooner were 11-3 in 5:49, seemed to have some life (especially when playing with Nuge for 3:28, had 3-0 HDSC).
Chiasson-McDavid-Draisaitl went 18-13 in 18:07 (Draisaitl), 12-10 in 12:31 (Rattie), 8-2 in 3:18 (Pulju) and 3-1 in 3:43 (Chiasson). Went 8-10 shots, 0-1 goals and 2-6 HDSC. Line did most of their damage at 5-on-4. Went 9-8 in 12:03 against Edler-Tanev. McDavid had a tough time with Roussel, and went 0-1 in goals against him, 2-2 shots. McDavid isn't getting the calls and physically challenging these agitators isn't working, time for a brand new plan. The 5-on-4 success is a nice start. I thought Jesse played well with 97.
Lucic-Brodziak-Kassian went 14-11 in 12:49, 10-6 shots, 0-2 goals and 2-3 HDSC. Kassian is too good for this line, when he plays like he did last night. I think we've seen the last of this trio for a time, Hitch seemed to indicate same in the postgame.
THIS TIME ISN'T LIKE THE OTHER TIME
The four-game losing streak may have some believing this winter is similar to the last one, but I'm here to tell you it is not—at least not yet. Last year, the team twice lost 5-0 (December 31 to the Jets, January 2 to the Kings) and then topped it off with a mind-numbing loss to the Sabres on January 23. I wrote the following, next day:
The Edmonton Oilers can't possibly be this bad. What a ghastly performance last night. There were times in the past, when this team, outgunned from man 1 through man 21, would at least work their collective nuts off for 60 minutes. Whatever happened to this team, enough. This team is unwatchable, incomprehensible and, incredibly, incapable, despite having the best player on the planet.

Last night, this edition of the Oilers set their collective jaws and went about doing the work of getting back into the game. I give them credit, the final two periods showed some real effort. You'd like to see the losing streak end on Saturday, suspect we might be looking at some time in January for the next win. Perhaps they'll surprise us.
HOW SAUSAGE GETS MADE
It takes forever and there are false positives all over hell's half acre. That's what happens when you're looking for a decade solution to a current problem. Here are the scoring totals for Edmonton's young wingers October-December 1995:
Todd Marchant 39, 7-6-13
Miro Satan 26, 5-6-11
Marius Czerkawski 29, 3-5-8
Kirk Maltby 39, 2-6-8
Dean McAmmond 11, 3-2-5
Ryan Smyth 23, 1-2-3
Jason Bonsignore 20, 0-2-2
Tyler Wright 20, 1-0-1
Dennis Bonvie 8, 0-0-0
That's a lot of talent trying to find its way into regular duty in the NHL, I count eight men who enjoyed NHL careers plus a helluva go-cart driver. Not bad. It didn't look so promising on December 31, 1995.
HOW SAUSAGE GETS MADE, 2018
Jujhar Khaira 33, 2-11-13
Drake Caggiula 28, 7-3-10
Jesse Puljujarvi 26, 3-2-5
Ty Rattie 21, 2-2-4
Kailer Yamamoto 12, 1-1-2
Cooper Marody 6, 0-0-0
Patrick Russell 6, 0-0-0
Valentin Zykov 5, 0-0-0
It's easy to watch a game like last night and come away thinking Jesse Puljujarvi should be traded today. It's folly. He may not work out, he may emerge with holes in his game (I still don't know how many goals per 82 games he'll score, the current number is 11) or he may be a modern power forward for 15 years. You can't Satan him now, it's too damned dangerous. I encourage you to look at some of the numbers from 1995, some of those players had been knocking on the door for 2+ seasons, and then revisit the current names. There's a reason 'how sausage is made' doesn't get a lot of views, but it's still damned important.
It's vital that we understand that every offensive opportunity Jesse Puljujarvi experiences, every sortie Caleb Jones defends, is getting each man closer to his destination. It's easy to be critical, hell the year Ryan Smyth scored two goals no one could have predicted he would pop 39 the following year. Kids will surprise you. Take it from a parent.
LOWDOWN WITH LOWETIDE
A short week ends with a terrific group of guests, it'll be wildly entertaining if the host doesn't screw it up. At 10, TSN1260, scheduled to appear:
Steve Lansky, Big Mouth Sports. World Juniors, Oilers, Lansky's rocking new year!
Kris Abbott, OddsShark.com NFL and College bowl games.
Matt Iwanyk, TSN1260. Is it coaching or personnel when it comes to the Edmonton Oilers?
10-1260 text, @Lowetide on twitter. See you on the radio!