Ken Hitchcock said "The start? We had one player show up to play, Darnell Nurse. Was our best player by a mile. He was one of the most competitive players on the ice, and that's all we had. We didn't compete. Their best players were their best players. We didn't compete. This is on everybody. Everybody. When you have one player competing at a high level in a game like this, it can't be accepted. There's been too much of this go on in the first 41 games. We win one, and then we take our foot off the gas and that's exactly what we did, but when one guy is at that level, and everyone else is struggling even to compete for a puck, come on. It's what happens when you don't show up."
Ken Hitchcock then said "We're a situation motivated team. The situation motivates us. It has to come from within the locker room. So, you or I or anyone else can bark or bitch or scream and yell all we want, but it has to come from inside the locker room. The situation is motivating us, I've only been here 20 games, and I see the situation motivates. We lose, we get embarrassed, we get motivated. It isn't a playoff attitude and we have to change. This can't be acceptable, when you have one player that's that far ahead of everyone else, that can't be acceptable."
"I don't know what it is, we'll figure it out. I've said enough, I'll get myself in even further trouble, this isn't acceptable."
THE ATHLETIC!
The Athletic Edmonton is going to bring it all season long. Proud to be part of a lineup that is ready to cover the coming year. Outstanding coverage from a large group, including Daniel Nugent-Bowman and Jonathan Willis, Lowetide, Minnia Feng and Pat McLean. If you haven't subscribed yet, now's your chance. Outstanding offer is here.
OILERS AFTER 42
Oilers in 2015: 17-22-3, 37 points; goal differential -22
Oilers in 2016: 21-14-7, 49 points; goal differential +5
Oilers in 2017: 18-21-3, 39 points; goal differential -21
Oilers in 2018: 19-19-3, 41 points; goal differential -10
Ken Hitchcock is 10-9-2 as Oilers coach, but 8-2-1 before Klefbom's injury and 2-7-1 with the Swedish defenseman out. That's a major story this season, along with Koskinen's outstanding first half and the McDavid/Draisaitl/Nuge performances up front. Another major story? How this team reacts after the dressing down Hitchcock gave them. I think that might have been the last good bullet he had in the chamber. If the Oilers fall flat against Ducks fall flat tonight, a lot of people are going to lose their jobs over the next six months.
OILERS IN JANUARY
Oilers in January 2016: 2-1-0, four points; goal differential 0

Oilers in January 2017: 2-1-0, four points; goal differential 0

Oilers in January 2018: 1-2-0, two points; goal differential -8

Oilers in January 2019: 1-1-0, two points; goal differential -3
WHAT TO EXPECT IN JANUARY
On the road to: Arizona, Los Angeles, Anaheim, San Jose (Expected 2-2-0) (Actual 1-1-0)

At home to: Florida, Arizona, Buffalo (Expected 1-1-1) (Actual 0-0-0)

On the road to: Vancouver (Expected 0-1-0) (Actual 0-0-0)

At home to: Calgary, Carolina, Detroit (Expected 1-1-1) (Actual 0-0-0)

Overall expected result: 4-5-2, 10 points in 11 games

Current results: 1-1-0, two points in two games
There is still, incredibly, time. However, I do think the bigger problem is that the Oilers are trying to make a connection that isn't there. Whenever I write "don't trade picks and prospects trying for eighth place" there's at least one person who responds "the Oilers are going to waste another year of McDavid!" and my answer is this: Do you want to waste one more, or four more?
DEFENSE, LAST NIGHT
Nurse-Larsson went 11-7 in 15:22, 4-5 shots, 0-1 goals and 1-2 HDSC. They were the best pairing on the night, but also spent 10 minutes with McDavid and that's a helluva foot on the scale. Were 10-3 in 7:09 against Kovalchuk-Kopitar-Brown, but did give up the goal to that unit in garbage time. Both men made mistakes we've seen too many times this year: Larsson stood up in the neutral zone but allowed to many horses behind him and became a spectator. Nurse recognized his man too late and represented nothing more than window dressing on the goal.
Jones-Gravel went 6-4 in 12:36, 4-3 shots, no goals and 1-0 HDSC. I generally liked the pairing, Jones got walked on the first goal but you're fine with it because the young man has played so well. It was striking to witness because he has been so mistake free. Went 1-5 in 7:28 against Leipsic-Carter-Iafollo.
Manning-Petrovic were 6-4 in 6:54, 0-3 shots, 0-2 goals, 0-1 HDSC. Manning's pinch was epic, but not the good epic, while Petrovic wasn't much use on the Toffoli goal. I don't think we'll see this pairing tonight. Slow, slower, slowest.
Mikko Koskinen stopped five of eight shots, Cam Talbot 14 of 15.
NaturalStatTrick and NHL.com.
FORWARDS, LAST NIGHT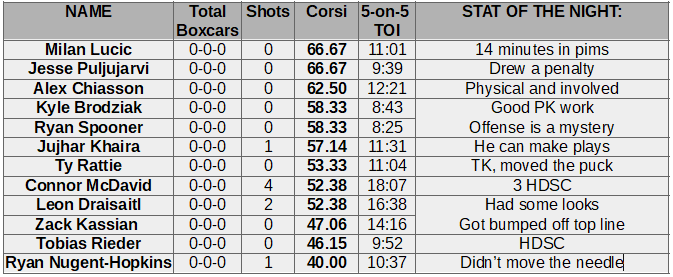 Spooner-Brodziak-Rattie were 5-2 in 5:10 and 2-1 shots, 0-1 goals. I thought Rattie moved the puck well and had some moments, but this trio didn't move the needle.
Lucic-Khaira-Puljujarvi went 6-2 in 6:42 (Lucic) and 3-3 in 7:25 (Puljujarvi, also 0-2 goals). The line was also in photo twice as a group, the most memorable moment Puljujarvi drawing a penalty by moving his legs.
Draisaitl-McDavid-Kassian went 10-8 in 15:36 (Draisaitl, 0-1 goals), 4-4 in 9:19 (Kassian) and 4-1 in 5:07 (Chiasson). I thought McDavid and Draisaitl were the actual best players, but Hitch didn't mention them in his chat.
Rieder-Nuge-Chiasson were 6-6 in 7:46, Rattie had a dandy chance but not much else shaking. Both Rattie and Pulju saw time with 93, perhaps one will be alongside tonight.
COMMENTS
I'm writing this at 8:26, just before publishing. The great thing about Hitch's comments is also the bad thing about Hitch's comments: There isn't much else to say. Even if you believe this roster is horribly flawed (it is), even if you believe the McDavid On-Off number hasn't improved one iota (it has not), you have every right to expect the Oilers to work hard and smart every night.
There are men who played last night who may not be in the NHL next season. I wonder what those men are thinking this morning as they wake up to another day.