The Edmonton Oilers had one weird weekend in California. Absolutely indifferent in Los Angeles, the team played what might have been its worst game of the season. After a searing post-game scrum from Ken Hitchcock, and what must have been a night of tossing and turning, the team delivered a 4-0 win that featured Cam Talbot, a goal from Connor McDavid, secondary scoring and 24 blocked shots. It was 2016-17 all over again.
Don't kid yourself, this roster has major issues. The Ducks had 39 shots, Edmonton only 24. It's no way to builder a contender, but at the midway point of the season the Oilers are in playoff contention and (apparently) Oscar Klefbom four weeks or less away from return.
THE ATHLETIC!
The Athletic Edmonton is going to bring it all season long. Proud to be part of a lineup that is ready to cover the coming year. Outstanding coverage from a large group, including Daniel Nugent-Bowman and Jonathan Willis, Lowetide, Minnia Feng and Pat McLean. If you haven't subscribed yet, now's your chance. Outstanding offer is here.
OILERS AFTER 42
Oilers in 2015: 17-22-3, 37 points; goal differential -22
Oilers in 2016: 21-14-7, 49 points; goal differential +5
Oilers in 2017: 18-21-3, 39 points; goal differential -21
Oilers in 2018: 20-19-3, 43 points; goal differential -6
Edmonton is 11-9-2 under Ken Hitchcock, that game was a bit of deja vu for Oilers fans. It also felt fabulous to win in Anaheim against the usual suspects, that kind of win against that team in California will never get old. Team is on track for 82, 39-37-6, 84 points. Not playoffs, but an improvement season over season.
OILERS IN JANUARY
Oilers in January 2016: 2-1-0, four points; goal differential 0

Oilers in January 2017: 2-1-0, four points; goal differential 0

Oilers in January 2018: 1-2-0, two points; goal differential -8

Oilers in January 2019: 2-1-0, two points; goal differential +1
Edmonton is two points behind Anaheim for the final playoff spot, and what's more the team remains in playoff contention. The game in San Jose is now huge, but all of the games are big until the team makes the playoffs or is out of contention.
WHAT TO EXPECT FROM JANUARY
On the road to: Arizona, Los Angeles, Anaheim, San Jose (Expected 2-2-0) (Actual 2-1-0)

At home to: Florida, Arizona, Buffalo (Expected 1-1-1) (Actual 0-0-0)

On the road to: Vancouver (Expected 0-1-0) (Actual 0-0-0)

At home to: Calgary, Carolina, Detroit (Expected 1-1-1) (Actual 0-0-0)

Overall expected result: 4-5-2, 10 points in 11 games

Current results: 2-1-0, two points in two games
A big win last night, but the hit on McDavid will be the topic of discussion. I'm not as bloodthirsty now (the big, bad Bruins were my favourite team back in the day, for many reasons) but would have welcomed a specific response. Nurse did flatten Adam Henrique, but that McDavid blind side deserved an answer. In a 4-0 game, it was a little surprising no Oilers player stood up and made an example of Lindholm. Can't have players hitting 97 from behind with no answer.
DEFENSE, LAST NIGHT

Jones-Larsson went 12-19 in 16:45, 7-8 shots, 2-0 goals and 5-4 HDSC. I thought they were both effective (score effects were fully in play for at least 40 minutes). Went 3-12 in 7:55 against Cogliano-Kesler-Silfverberg. Jones is well inside the top four D now, uncertain what happens when Klefbom returns but Hitchcock has more options because Jones is bona fide.
Nurse-Russell were 15-30 in 19:22, the No. 1 pairing based on usage. Were 8-14 shots, 1-0 goals and 5-5 in HDSC. Went 4-14 in 7:36 against Ritchie-Getzlaf-Kase, including 1-0 goals. Both men can cause an argument among Oilers fans at 500 feet, but on this night there was chaos but no goals allowed.
Gravel-Petrovic went 5-18 in 10:06, 3-7 shots, 2-4 HDSC. Went 4-5 in 4:52 against Cogliano-Kesler-Silfverberg. I thought this pairing was calm compared to the third pairing one night ago.
Cam Talbot stopped all 39 shots he faced. He was the No. 1 star on merit and should he return to previous Talbotian form, that's a big damned deal.
FORWARDS, LAST NIGHT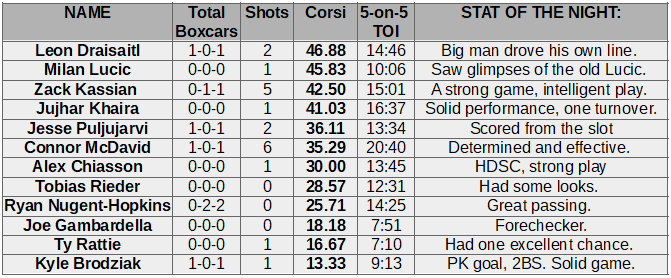 Rieder-Draisaitl-Chiasson went 6-9 in 9:48, 2-6 shots no goals and 2-3 HDSC. Draisaitl played with 97 (1-0) and spent time with Puljujarvi, Nuge, Khaira, Kassian, Lucic and others. Went 7-10 in 7:07 against Lindholm-Montour.
Khaira-McDavid-Kassian were 14-22 in 15:52, 8-11 shots, no goals and 4-5 HDSC. Went 11-17 in 10:13 against Fowler-Manson. I'm not sure about either winger as a long-term solution this high on the roster, but they both made plays and kept the puck moving in a good direction.
Lucic-Nuge-Puljujarvi were 9-19 in 11:22, 5-3 shots, 1-0 goals and 1-1 HDSC. All three men played well, Lucic was a bandit on the Leon goal, Nuge had two assists, and JP scored a goal from the slot (that's going to be his home until 2038). Went 5-10 in 5:52 against Lindholm-Montour.
Gambardella-Brodziak-Rattie were 2-6 in 5:21, 1-0 HDSC. The line performed well in limited minutes. I like Gambardella as a forechecker and his speed is a big help. Brodziak played his best games in some time. Rattie is there to add speed, but I think he would be better served with a more offensive center.
OILERS CURRENT ROSTER

These articles arrive with some frequency, Oilers fans have endured about two dozen since McDavid's lottery. I have interviewed Lyle Richardson many times, he's a credible individual and he takes great pains to credit sources and to let you know when he's speculating. The item on McDavid is pure speculation riffing off Bruce Arthur's comments the other day.
Here's the thing: Connor McDavid, like impact hockey players before him, isn't wired to ask for a trade. He's focused on winning with the Edmonton Oilers, proof of that was the eight-year contract signed not that long ago. Now, there is responsibility attached from the organization's side, they are absolutely charged with building a Stanley Cup contender.
Rick Nash played nine years with Columbus, through several incarnations of Blue Jackets. Once the team had arrived at its 'new rebuild' for the fifth time, he said 'maybe you can let me off at the next stop' and it happened just that way. Nash was 28 the first time he played a game for the New York Rangers. Connor McDavid turns 22 in a week.
There's a certain melancholy that washes over me, reading discussion of Connor McDavid leaving so soon. It's miles away to be sure, but Oilers history suggests this young man won't spend his entire career in this northern town. We can't go surfing, because it's 20 below.