Lots of post-game chatter suggesting the Oilers rode lack of attention to detail and bad luck to a 7-2 loss in northern California last night. I think the problem is a little more basic. Just as Doug Flynn, Jim Wohlford and Dan Driessen infiltrated the Montreal Expos team that won 90 games in 1980, so too the presence of lesser lights is a massive drag on Connor McDavid. It's hard to soar as eagles when you're surrounded by turkeys. Edmonton lost every five-minute segment in that game, even when down by a mile. The Sharks were having fun all night long.
There was luck involved, you can make a case (I will not) that's a game they were going to lose no matter, reminding me of the Casey Stengel quote. Ol' Casey used to say there are 50 games you're going to win for various reasons (opponent starts a rookie, their great SS makes three errors, etc), 50 games you're going to lose no matter what (you start a rookie, your SS makes three errors). It's what you do in the other 54 (Stengel's era) that tell you if you've won the pennant. In hockey terms, that's 25/25/32. There's a case to be made for last night's game fitting the description, but bottom line for me is Edmonton simply doesn't consistently compete against many NHL teams based on overall talent.
THE ATHLETIC!
The Athletic Edmonton is going to bring it all season long. Proud to be part of a lineup that is ready to cover the coming year. Outstanding coverage from a large group, including Daniel Nugent-Bowman and Jonathan Willis, Lowetide, Minnia Feng and Pat McLean. If you haven't subscribed yet, now's your chance. Outstanding offer is here.
OILERS AFTER 43
Oilers in 2015: 17-23-3, 37 points; goal differential -23
Oilers in 2016: 21-15-7, 49 points; goal differential +3
Oilers in 2017: 18-22-3, 39 points; goal differential -24
Oilers in 2018: 20-20-3, 43 points; goal differential -11
The goal differential took a beating and the Oilers remain three full wins shy of the playoff McDavid group. We might see some forwards shuffled in the next day or so, if only a recall of Marody and a demotion of Gambardella. Not enough pop in the lineup.
OILERS IN JANUARY
Oilers in January 2016: 2-2-0, four points; goal differential -1
Oilers in January 2017: 2-2-0, four points; goal differential -1
Oilers in January 2018: 1-3-0, two points; goal differential -11
Oilers in January 2019: 2-2-0, four points; goal differential -4
WHAT TO EXPECT FROM JANUARY
On the road to: Arizona, Los Angeles, Anaheim, San Jose (Expected 2-2-0) (Actual 2-2-0)
At home to: Florida, Arizona, Buffalo (Expected 1-1-1) (Actual 0-0-0)
On the road to: Vancouver (Expected 0-1-0) (Actual 0-0-0)
At home to: Calgary, Carolina, Detroit (Expected 1-1-1) (Actual 0-0-0)
Overall expected result: 4-5-2, 10 points in 11 games
Current results: 2-2-0, four points in four games
The first four games went according to Hoyle, and now we come to an area of the schedule where I confess to be less than convinced about the group. If I was a believer, these projections would read something like 4-1-2. Alas, I am predicting 2-3-2. This is it, ladies and men. If this Oilers team can grab nine or ten points from the rest of the month, they'll be in the race.
DEFENSE, LAST NIGHT

Gravel-Petrovic went 4-3 in 3:52, 2-2 shots, no goals and 1-0 HDSC. I thought Petrovic did a helluva job tackling Sorensen, but the referee threw a flag and it as a penalty shot.
Gravel-Larsson went 0-5 in 5:40, 0-4 in shots, no goals. What a crazy night.
Nurse-Russell went 5-12 in 11:42, 3-5 shots, 0-1 goals and 1-2 HDSC. Nurse had his issues, Russell had a tough game doing the swim.
Jones-Russell went 3-2 in 2:46, 2-2 shots, 0-1 goals and both men looked very poor on the goal against.
Jones-Larsson went 5-19 in 13:36, 2-9 shots, 0-2 goals and 1-1 HDSC. Both men were chasing but they also had some terrible luck. Shiza happens.
Cam Talbot stopped 13 of 17, .765. Mikko Koskinen stopped 16 of 19, .842. Neither man can be blamed, but neither man can be given credit for making a difference.
NaturalStatTrick and NHL.com.
FORWARDS, LAST NIGHT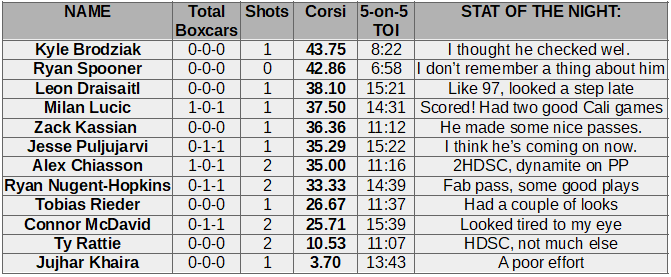 Spooner-Brodziak-Kassian were 6-6 in 6:07, 4-6 shots, 0-1 goals and 2-3 HDSC. Brodziak and Kassian were noticeable on the PK.
Draisaitl-McDavid-Chiasson went 6-8 in 8:11, 2-8 shots, 0-3 goals and 2-5 HDSC. Hitchcock said it after the game, when your best players and pulling the puck out of their own net thrice you're going to have a helluva time winning the game. Rattie was 5:09 with Leon.
Lucic-Nuge-Puljujarvi were 5-8 in 12:43, 4-5 shots, 1-0 goals and 1-3 HDSC. Nice to see all three men get points, I suspect we'll see this line on Thursday.
Khaira-McDavid-Kassian were 1-6 in 2:46, Khaira and the captain 1-18 in 6:34. I have no words. That's impossible. Seriously. Connor McDavid 1-18 Corsi events is as rare as Aurora noise reaching the human ear.
HARD TARGET SEARCH
It's very clear now, the Edmonton Oilers are going balls out to make the playoffs this spring. That's going to mean at least one major trade and we might see a massive, franchise-altering deal depending on how things rhyme. Will the Oilers land on the good side of the next trade by Peter Chiarelli?
I mentioned in yesterday's blog the Oilers "assets out" list probably included the 2019 first-round pick, Jesse Puljujarvi, Jujhar Khaira, Matt Benning and Zack Kassian. The top of my list was confirmed yesterday, so let's spend some time shopping for return today.
RW Brendan Gallagher, Montreal Canadiens. He's on pace for another 30-goal season and would bring forechecking ability and gritty play. I imagine the Habs might be interesting in the first-round pick, and Jesse Puljujarvi may also be in play based on recent reports about his being available.
RW Mark Stone, Ottawa Senators. The Sens would have to retain like madmen and take on someone like Spooner, and I imagine someone would have a better offer for Ottawa. Edmonton could acquire Stone soon and then deal him at the deadline if they're out the playoff race, although that's a dangerous game with this management group.
LW Mike Hoffman, Florida Panthers. He has a limited NMC, uncertain if Edmonton is on his no-trade list. He would be an ideal addition on McDavid's portside.
LC Brayden Schenn, St. Louis Blues. He has this and next year at just over $5 million, Jesse Puljujarvi has been mentioned as a player of interest in Missouri. I don't know that a first-round pick is of interest and am certain other teams would have more attractive packages to offer.
Any other names? Gallagher is the first one I thought of, I'll have a few more for you tomorrow.
CURRENT OILERS ROSTER