We've reached the point in the season where the blog will go "split screen" in coverage. It coincides with my work at The Athletic (my Winter Top 20, the complete edition, is published there today) as we incorporate the draft and prospect pipeline into the mix.
The Oilers begin a vital homestand—six of the next seven are at home, most against mid-level opposition. I think Edmonton needs 10 points. One question I have that pertains to the big club: How many current Condors will see action in the NHL while the season holds playoff hopes?
THE ATHLETIC!
The Athletic Edmonton is going to bring it all season long. Proud to be part of a lineup that is ready to cover the coming year. Outstanding coverage from a large group, including Daniel Nugent-Bowman and Jonathan Willis, Lowetide, Minnia Feng and Pat McLean. If you haven't subscribed yet, now's your chance. Outstanding offer is here.
OILERS AFTER 44
Oilers in 2015: 17-23-4, 38 points; goal differential -24

Oilers in 2016: 22-15-7, 51 points; goal differential +4

Oilers in 2017: 18-23-3, 39 points; goal differential -25

Oilers in 2018: 20-20-3, 43 points; goal differential -11
I think we're probably safe in estimating the Oilers coming in between 80-88 points, meaning an improvement year over year while finishing shy of the playoffs. It's going to be a strange lead up to the deadline, the team apparently eager to add help for a playoff run. I think we might see that rare "buy in January, sell in February" run by Edmonton.
OILERS IN JANUARY
Oilers in January 2016: 2-2-1, five points; goal differential -2

Oilers in January 2017: 2-3-0, four points; goal differential -3

Oilers in January 2018: 1-4-0, two points; goal differential -12

Oilers in January 2019: 2-2-0, four points; goal differential -4
The month is starting out reasonably well for the team and I do like the fact the goal differential isn't bleeding as much as we might have worried after that long losing streak at the end of December. A big game tonight, but you know that's true tonight and every night the team still has a pulse.
WHAT TO EXPECT IN JANUARY
On the road to: Arizona, Los Angeles, Anaheim, San Jose (Expected 2-2-0) (Actual 2-2-0)

At home to: Florida, Arizona, Buffalo (Expected 1-1-1) (Actual 0-0-0)

On the road to: Vancouver (Expected 0-1-0) (Actual 0-0-0)

At home to: Calgary, Carolina, Detroit (Expected 1-1-1) (Actual 0-0-0)

Overall expected result: 4-5-2, 10 points in 11 games

Current results: 2-2-0, four points in four games
If the Oilers are going to make the playoffs, and they have a chance, then a strong run through to the all-star break is vital. I have them grabbing six more points this month, my guess is they'll need 10.
HITCHCOCK'S FRINGE PLAYERS
When a new coach arrives on the scene, two things we should pay attention to are usage of roster players and previously fringe or minor league players getting a push. Ken Hitchcock has been around for 23 games (11-10-2) and here are some players who have been moving up and down the depth chart during the Hitchcock era. Increased playing time in bold: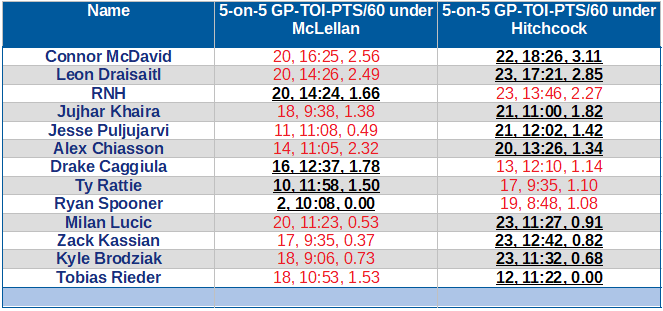 Fascinating look at the changes we've seen up front. Hitchcock backed Ty Rattie off 183 seconds, Spooner 80, Nuge 38, Caggiula 27 compared to McLellan's usage.
Hitchcock increased Leon's time 175 seconds, Brodziak 146, Chiasson 141, Kassian 127, McDavid 121, Khaira 82, Puljujarvi 54, Rieder 29 and Lucic 4 seconds.
Funny thing: Nuge is flourishing with the reduction in playing time. McDavid, Draisaitl, Khaira, Puljujarvi, Lucic and Kassian have also increased offensive production in the new Hitch system. The Pulju spike is especially encouraging.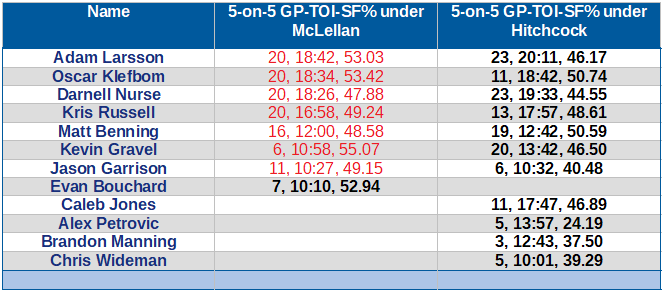 Massive change in less than two months. Part of this came due to injuries, but the emergence of Caleb Jones is at least one chapter in this season. I wonder if he would be averaging 17:47 under McLellan? I'm not sure. Larsson, Nurse, Russell are also up, in part because Klefbom has been injured (Russell too) during the last 23 games.
How much can you overhaul a six-man defense in the middle of a season? Newcomers Jones, Petrovic, Manning give the team a much different look. Gravel has also emerged as a regular under Hitchcock.
By the way, Matt Benning's shot share has increased under the new coach.
STREETS OF BAKERSFIELD
Kailer Yamamoto is on IR currently and the Oilers badly need scoring. The play here is a recall, which would allow the team to rest both Ryan Spooner and Joe Gambardella (as opposed to just one of them).
Cooper Marody is the obvious choice, but Hitchcock saw Marody for two games when the coaching shuffle took place. I expect the coach either doesn't think Marody can play center or doesn't think he can help at this time. Or both.
So, who else is there? I'm going to suggest the organization plans to keep Tyler Benson on the farm all year. Cameron Hebig? He has 10 goals, five on the power play. Can he move the needle in the NHL? I don't think Daryl Katz and Peter Chiarelli are going to place their big bet on Hebig.
CONDORS FORWARDS, 5-ON-5 PTS PER GAME
Joe Gambardella .64
Cooper Marody .61
Patrick Russell .54
Jesse Puljujarvi .50
Brad Malone .44
Tyler Benson .39
Cameron Hebig .36
Kailer Yamamoto .36
Josh Currie .33
Tyler Vesel .28
If you subscribe to the idea that a prospect should flourish before getting a recall, then Gambardella and Marody are the only considerations. Among AHL forwards who have played 20 or more games this season, Gambardella is No. 14 in points per game, Marody No. 21.
What does this mean? A trade. Edmonton is trading for a skill forward in the coming days. Mike Hoffman plays tonight for the Panthers, perhaps he's in play.