Ken Hitchcock's post-game avail last night was golden. He said "we were exhausted. This is the worst-case scenario. Four-game road trip, travel all day, come back and play." He also said "these games can really help you moving forward as a team because it's damn impressive what they did."
Aside from his coaching ability, Ken Hitchcock has created a storyline, a sideshow, that gives everyone a glimpse into the day-to-day of this team. It reminds me so much of Craig MacTavish, and I think elevates the experience. The transcript is here.
THE ATHLETIC!
The Athletic Edmonton is going to bring it all season long. Proud to be part of a lineup that is ready to cover the coming year. Outstanding coverage from a large group, including Daniel Nugent-Bowman and Jonathan Willis, Lowetide, Minnia Feng and Pat McLean. If you haven't subscribed yet, now's your chance. Outstanding offer is here.
OILERS AFTER 44
Oilers in 2015: 17-23-4, 38 points; goal differential -24

Oilers in 2016: 22-15-7, 51 points; goal differential +4

Oilers in 2017: 18-23-3, 39 points; goal differential -25

Oilers in 2018: 21-20-3, 45 points; goal differential -11
The point total has Edmonton on pace to finish 82, 39-37-6, 84 points. That isn't a playoff team, in fact it's just six points clear of last year's disappointing season. It is, however, survival while Klefbom is out. Also, it's a new, different year. Edmonton is just two points out of the No. 8 spot in the Western Conference. Someone is going to get hot and blow away the competition. That's why I think the Oilers are going to trade for an established scoring forward in the coming days.
OILERS IN JANUARY
Oilers in January 2016: 2-2-1, five points; goal differential -2

Oilers in January 2017: 2-3-0, four points; goal differential -3

Oilers in January 2018: 1-4-0, two points; goal differential -12

Oilers in January 2019: 3-2-0, six points; goal differential -4
This edition of the McDavid Oilers has more points after five January games than previous editions. Avoiding a losing streak in January will be a key for this club's playoff chances.
WHAT TO EXPECT FROM JANUARY
On the road to: Arizona, Los Angeles, Anaheim, San Jose (Expected 2-2-0) (Actual 2-2-0)

At home to: Florida, Arizona, Buffalo (Expected 1-1-1) (Actual 1-0-0)

On the road to: Vancouver (Expected 0-1-0) (Actual 0-0-0)

At home to: Calgary, Carolina, Detroit (Expected 1-1-1) (Actual 0-0-0)

Overall expected result: 4-5-2, 10 points in 11 games

Current results: 3-2-0, six points in five games
The schedule sets up for the Oilers to win seven or eight games in January, but I don't think we're seeing a team destined to go on what the kids call a "heater" any time soon. Then again, this is the same team that has in fact delivered two massive 10-game segments earlier in the year.
DEFENSE, LAST NIGHT

Nurse-Russell were 18-15 in 20:40, 7-7 shots, 2-0 goals and 2-1 HDSC. It was a decidedly successful evening for the pairing, Nurse went 1-1-2 and is on pace for 41 points. Went 10-14 in 15:34 against Huberdeau-Barkov-Malgin. That's a hard match. Lordy. Nurse had eight shots and played 31:40.
Jones-Larsson went 12-14 in 13:52, 4-11 shots, 0-3 goals and 3-5 HDSC. Jones got walked on the first goal, the other two were weird luck and own goal. Still this pairing is starting to leak, it's good news Klefbom is going to be ready to skate with the team by the weekend. Timeline is still post All-Star game for return. Jones-Larsson were 8-3 in 8:09 against Hoffman-Borgstrom-Dadanov.
Gravel-Benning were 2-9 in 11:06, 2-4 shots, no goals and no HDSC. I think Hitchcock's third pairing is supposed to skate around and make sure nothing happens. Went 1-6 in 6:07 against Vatrano-Lammiko-Brouwer.
Cam Talbot stopped 27 of 30, .900. I wouldn't be at all surprised if he starts on Saturday.
NHL.com and NaturalStatTrick.
FORWARDS, LAST NIGHT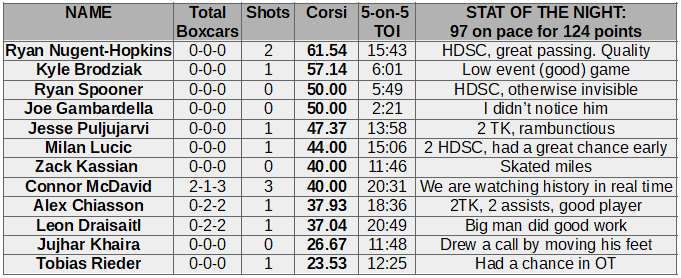 Lucic-Nuge-Puljujarvi were 8-5 in 8:28, 4-3 shots, no goals and 3-0 HDSC. I have to say this line has some appeal although the possession number (47 percent) is low the trio is 2-0 in GF in 52 minutes. Were 7-4 in 7:22 against Yandle-Pysyk.
Lucic-Brodziak-Spooner were 6-4 in 3:22, 2-1 shots, no goals and 1-0 HDSC. Gambardella played two minutes on the line as well.
Draisaitl-McDavid-Chiasson were 7-12 in 13:19, 3-6 shots, 2-0 goals and 0-1 HDSC. McDavid is beyond reason as a hockey player. You can't just order up a damned goal you know, and yet, last night, Draisaitl to McDavid and it's money. Again. McDavid was 13-17 in 16:28 (2-1 goals) against Matheson-Ekblad, these two teams play enjoyable games. The hit by McDavid on Ekblad got Denis Potvin's attention but it wasn't anything at all.
Rieder-Khaira-Kassian went 3-7 in 7:07, 3-6 shots, 0-1 goals and 0-1 HDSC. Went 0-9 in 5:28 against the made up names Bogdan Kiselevich and MacKenzie Weegar. As if.
THE NEW LINES
Connor McDavid spent 6:34 with Nuge and Chiasson (a goal and 7-6 Corsi, 2-1 goals, all of this 5-on-5); Leon spent five minutes with Jesse (3-2 in 5:18, 2-3 shots); Khaira spent 3:25 with Lucic and Kassian (1-4 Corsi, 1-0 shots). I think that's the line shuffle Hitch was talking about, honestly the feed was so poor I went to the Panthers broadcast online and found it impossible to accurately track the goings on.
TAKEAWAYS
They never held the lead during the game, and won the damned thing. They looked bagged. Edmonton needs more scoring support on the wings. This January push is going to be aided by the schedule. It's vital the Oilers take advantage.