Buffalo scored first, that often means a long night of poor behaviour by adults in my house, possibly yours too. Zack Kassian had a major impact on the game early, as the frustrated veterans came through in a big way in a big game. Milan Lucic scored the fifth and sixth goals, sparking a prolonged period of applause and merriment. It was a pleasing night for everyone, and gives the club some momentum heading into what is a very important week ahead.
THE ATHLETIC!
The Athletic Edmonton is going to bring it all season long. Proud to be part of a lineup that is ready to cover the coming year. Outstanding coverage from a large group, including Daniel Nugent-Bowman and Jonathan Willis, Lowetide, Minnia Feng and Pat McLean. If you haven't subscribed yet, now's your chance. Outstanding offer is here.
OILERS AFTER 46
Oilers in 2015: 18-23-5, 41 points; goal differential -24
Oilers in 2016: 24-15-7, 55 points; goal differential +6
Oilers in 2017: 19-23-3, 41 points; goal differential -26
Oilers in 2018: 22-21-3, 47 points; goal differential -7
That's a fabulous recovery in goal differential, and in a season that grows more bizarre by the day, your Edmonton Oilers are in a playoff spot this morning. Oh sure, Minnesota has played one fewer game, plus Anaheim and Vancouver are right there. That said, the team has clawed its way back into the race and it's mid-January.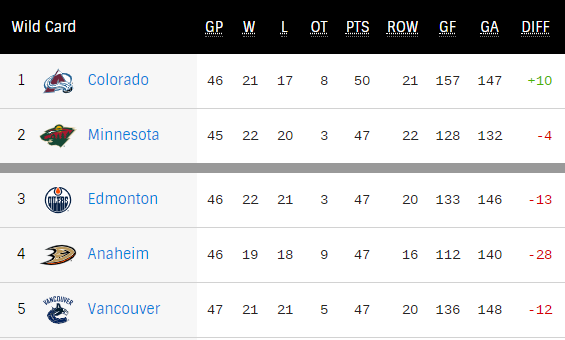 OILERS IN JANUARY
Oilers in January 2016: 3-2-2, eight points; goal differential -2
Oilers in January 2017: 4-3-0, eight points; goal differential -2
Oilers in January 2018: 3-4-0, six points; goal differential -10
Oilers in January 2019: 4-3-0, eight points; goal differential 0
The first half of January is over, marked by inconsistency and opportunities missed. Edmonton has eight points, the goal differential is zero and as mentioned the playoffs are in view.
WHAT TO EXPECT IN JANUARY
On the road to: Arizona, Los Angeles, Anaheim, San Jose (Expected 2-2-0) (Actual 2-2-0)
At home to: Florida, Arizona, Buffalo (Expected 1-1-1) (Actual 2-1-0)
On the road to: Vancouver (Expected 0-1-0) (Actual 0-0-0)
At home to: Calgary, Carolina, Detroit (Expected 1-1-1) (Actual 0-0-0)
Overall expected result: 4-5-2, 10 points in 11 games
Current results: 4-3-0, eight points in seven games
The Oilers are close to reaching my expectations for the month, with four games to go. As we have seen many times this season, the way forward is clear for this team. Can they break on through to the other side?
DEFENSE, LAST NIGHT

Manning-Benning went 7-8 in 12:22, 4-4 shots, 1-0 goals and 0-1 HDSC. The shot total is way too high (40 SA/60 based on last night) but the pairing did some good things. Manning was physical, Benning got pucks out for the most part. Were 1-6 in 5:42 against Larsson-Girgensons-Okposo, 0-3 shots.
Jones-Larsson went 14-26 in 17:55, 9-17 shots, 2-0 goals (I know) and 2-2 HDSC. SA/60 was 87 (!!!! OH MY GOD) for the pair. Despite the numbers, I thought both men did some good things. Larsson was calm, physical and picked good times to pinch/jump into the play. Jones did some rookie things but also showed some calmness in trying situations. I think the game is beginning to slow down for him. Went 4-10 in 6:43 against Skinner-Eichel-Reinhart, 1-0 goals, and that trio and fanfreakingtastic. If you're wondering about a solution, thy name is Klefbom. Jones is a rookie, people.
Nurse-Russell were 7-21 in 15:01, 7-14 shots, 3-1 goals and 4-5 HDSC. These are all over the top numbers, way too much happening for anyone to be happy. They survived and Nurse picked up yet another point. Went 3-14 in 7:54 against Skinner-Eichel-Reinhart (also 1-0) on a night when both defensemen needed to have their heads on a swivel. The pairing's SA/60 was 56 on the night (!!!) but they did play the most against the big line.
Mikko Koskinen stopped 41 of 43 shots, .953. He looked fabulous after an uneven start.
NaturalStatTrick and NHL.com.
FORWARDS, LAST NIGHT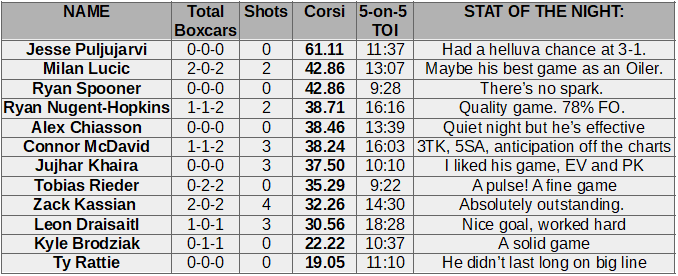 Spooner-Khaira-Puljujarvi were 6-6 in 7:52, 3-4 shots, no goals and 2-2 HDSC. I liked the line, but they need a driver. Were 6-2 in 4:43 against Dahlin-Bogosian. Khaira was passing well and had some looks, three shots on goal is a good number for him. Jesse had a terrific chance in the first period, but he also interrupted plays often and moved the puck well. He's getting there, I hope he gets there here.
Lucic-Nuge-Kassian were 9-15 in 12:07, 6-11 shots, 3-1 goals and 2-0 HDSC. Kickass line did terrific things all night. Very impressive. Went 5-11 in 7:06 against Beaulieu-Scandella. Lucic turned back the clock, I'll give him credit for turning his game around. Hitchcock saw it a few games ago, moving the big man up the depth chart. It has paid off in a big way. Now, history suggests Lucic won't sustain this level so enjoy it. Lucic was always one of my favourite players, so last night was a real treat. Kassian was even better, he is a bull in a china shop early and it contributed to Edmonton winning the game. Nuge was Nuge, the big story came from the wingers.
Draisaitl-McDavid-Chiasson went 10-21 in 15:27, 9-13 shots, 1-1 goals and 1-4 HDSC. Looked disjointed at times but there's so much quality. Went 6-12 in 10:43 against McCabe-Ristolainen. McDavid and Draisaitl didn't need to score on this night, but did anyway. The McDavid goal was memorable only because he added comedy to his arsenal. My goodness he is an amazing hockey player. Anticipation off the charts, speed that still shocks the eye and hands so fast goalies break ankles routinely. .
Rieder-Brodziak-Rattie were 4-11 in 7:52, 3-5 shots, 2-0 goals and 2-2 HDSC. Rattie wasn't in on any of this, he seems to have missed all the juicy goodness on all the lines (Kassian was the man). Great to see Rieder display those skills we know he possesses, I thought Brodziak had a fine game as well.
HITCH
On Lucic: "For me it's five games in a row he's been like this. He's really playing well. He looks like the player who was around two or three years ago."
I expect we'll see that trade here in the next couple of days (St. Louis?) but if Lucic could score 10 goals between now and the end of the season it would be a gigantic help. The nature of these hot streaks is they end, but three goals in four games stands out in a big way for the gigantic winger. I'm happy for him, hope it continues for weeks.

Some changes for the forwards, nice step forward for Lucic, Kassian and Rieder. Puljujarvi has quietly pulled up his socks as well, I thought he could have scored or grabbed an assist last night. He's in the play enough to gather points now.
LOWDOWN WITH LOWETIDE
A fun morning after a seven-goal performance, love these shows because everyone is happy! At 10 this morning, TSN1260:
Jonathan Willis, The Athletic. Last night's game, the big trade to come and the playoffs.
Keegan Matheson, Baseball Toronto. The Jays and their winter of acquisition.
10-1260 text, @Lowetide on twitter. Talk soon!