The Edmonton Oilers best players were their best players, they received secondary scoring and some outstanding saves from their goalie. All that and it still took overtime and a shootout to best the Vancouver Canucks. One of the keys was a solid first period, something that the team hasn't always delivered this year.
Ken Hitchcock: "I thought we played a great first period, one of the best first periods we've played in a long time on the road."
THE ATHLETIC!
The Athletic Edmonton is going to bring it all season long. Proud to be part of a lineup that is ready to cover the coming year. Outstanding coverage from a large group, including Daniel Nugent-Bowman and Jonathan Willis, Lowetide, Minnia Feng and Pat McLean. If you haven't subscribed yet, now's your chance. Outstanding offer is here.
New Lowetide: The Oilers' way forward and the smartest route to finding an impact winger this summer.
New Daniel Nugent-Bowman: Goalless Tobias Rieder hopes to follow Zack Kassian and Milan Lucic and end his offensive funk.
Jonathan Willis: Why the Oilers should make a decision on Peter Chiarelli this week.
Lowetide: The Edmonton Oilers appear to be mere hours from doing something overbold
Lowetide: Complete Oilers top 20 prospects, Winter 2018
Lowetide: Oilers No. 10 prospect Winter 2018: Dylan Wells.
Lowetide: Oilers No. 9 prospect Winter 2018: Joel Persson.
Lowetide: Oilers No. 8 prospect Winter 2018: Kirill Maksimov.
Lowetide: Oilers No. 7 prospect Winter 2018: Caleb Jones.
Lowetide: Oilers No. 6 Prospect winter 2018: Cooper Marody.
Lowetide: Oilers No. 5 Prospect winter 2018: Ethan Bear.
Lowetide: Oilers No. 4 Prospect winter 2018: Ryan McLeod.
Lowetide: Oilers No. 3 Prospect winter 2018: Tyler Benson.
Lowetide: Oilers No. 2 Prospect winter 2018: Kailer Yamamoto.
Lowetide: Oilers No. 1 Prospect winter 2018: Evan Bouchard.
OILERS AFTER 47
Oilers in 2015: 19-23-5, 43 points; goal differential -22
Oilers in 2016: 25-15-7, 57 points; goal differential +7
Oilers in 2017: 21-23-3, 45 points; goal differential -24
Oilers in 2018: 23-21-3, 49 points; goal differential -7
The 2016 playoff team is long gone, but this year's model has a decided edge over the non-playoff clubs. The McDavid ON/OFF is miserable (we'll get to it in a minute) but it's okay to be pleased your team has a chance at the playoffs. Larry Brooks has the Oilers interested in Mats Zuccarello here.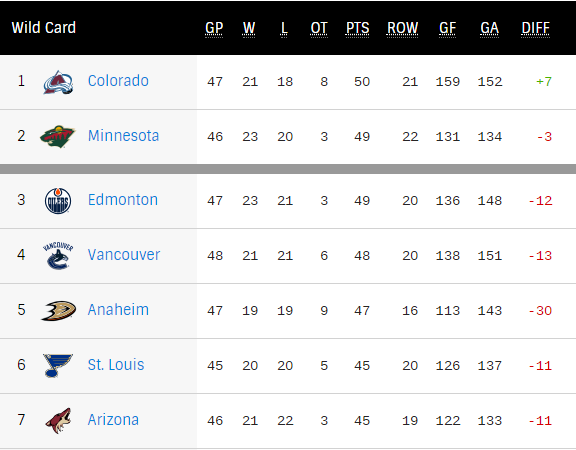 OILERS IN JANUARY
Oilers in January 2016: 4-2-2, 10 points; goal differential 0
Oilers in January 2017: 5-3-0, 10 points; goal differential 0
Oilers in January 2018: 4-4-0, eight points; goal differential -8
Oilers in January 2019: 5-3-0, 10 points; goal differential 0
They're marching in lock step with the 2016 and 2017 teams in terms of points and goal differential. I don't really know what that means, but it's a curio.
WHAT TO EXPECT FROM JANUARY
On the road to: Arizona, Los Angeles, Anaheim, San Jose (Expected 2-2-0) (Actual 2-2-0)
At home to: Florida, Arizona, Buffalo (Expected 1-1-1) (Actual 2-1-0)
On the road to: Vancouver (Expected 0-1-0) (Actual 1-0-0)
At home to: Calgary, Carolina, Detroit (Expected 1-1-1) (Actual 0-0-0)
Overall expected result: 4-5-2, 10 points in 11 games
Current results: 5-3-0, 10 points in eight games
I honestly thought they'd lose that game. Sincerely. Vancouver has a veteran defenseman and they're a miserable lot, but their goalie is quality. It helped Vancouver was gifted the officiating team that was unaware the pick play is a penalty. Edmonton has covered my bet with three games to spare. They did something similar in December and then didn't turn a wheel for the rest of the month. We'll see how they shine.
DEFENSE, LAST NIGHT

Manning-Benning were 10-3 in 8:49, 7-2 shots, no goals and 2-1 HDSC. I know they're the whipping boys but those are good numbers. It helped they played 4:09 with McDavid (3-1 shots) but the numbers away were also solid. Manning needs to handle the "puck flipped up in the air coming toward you oh my GOD what will it do" play and he played a saloon door with seconds left and offered no help on a fantastic Vancouver opportunity. Duo went 4-0 in 3:28 against rat finks Roussel-Sutter-Virtanen.
Jones-Larsson were 16-13 in 16:01, 8-7 shots, 0-1 goals and 3-3 HDSC. The GA was on Jones, the pass out front in that situation is too damned dangerous. I think Larsson hammered the puck because he felt back pressure (it was an unusual decision by the veteran), but he had every right to assume his partner had no plans to pass the puck to Markus Granlund. Pulju was a house on the side of the road, too, so plenty of blame to go around. Jones also got thumped on a very late hit to my eye by Gudbranson, it'll be worth checking up on his health in the next couple of days. Went 10-7 in 9:42 against Baertschi-Horvat-Boeser, Vancouver's top line. I'm a fan of both of these defensemen.
Nurse-Russell went 12-14 in 15:33, 3-7 shots, no goals and 0-4 HDSC. It's like the Poseidon Adventure every night with these two. They blocked nine shots, defended most of the night, Russell absolutely saved a goal with a quick stick, while Nurse saved a goal twice during goal line ping-pong in overtime. Lordy. Pairing finished +1. Were 7-6 in 7:25 against Eriksson-Beagle-Motte, 5-4 in 5:46 against Roussel-Sutter-Virtanen.
Mikko Koskinen stopped 20 of 22, .909. He made some outstanding saves. Looked poor on the third goal against, the challenge saved him. We might be having a different conversation if that goal was true.
NaturalStatTrick and NHL.com.
FORWARDS, LAST NIGTH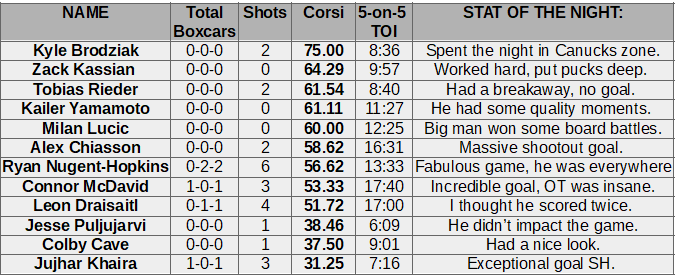 Rieder-Brodziak-Kassian went 9-2 in 7:24, 5-1 shots and 3-1 HDSC. The line was outstanding, spent most of the night playing a textbook fourth-line game. Impressive, hope to see them again. Went 8-3 against Pouliot-Gudbranson in 6:42.
Lucic-Nuge-Yamamoto were 12-8 in 11:43, 5-4 shots, no goals and 0-2 HDSC. I thought all three had good moments, Lucic was the strong man, Yamamoto retrieved and passed well, Nuge was possibly the best Oiler on the ice. Line didn't score but I'd like to see them again. Were 11-7 against Hutton-Stecher. Nuge is making people miss, his hands have always been excellent but he's trying more things this year. And succeeding. Music!
Draisaitl-McDavid-Chiasson were 15-12 in 16:19, 5-4 shots, no goals and 3-3 HDSC. Impressive trio, all of them bringing something of value. I hope they re-sign Chiasson. Were 11-8 in 14:25 against Edler-Tanev, but 1-3 HDSC. The Canucks are effective against McDavid.
Khaira-Cave-Puljujarvi were 5-10 in 7:07, 4-5 shots, 0-1 goals and 1-3 HDSC. Khaira had a fabulous SH goal and was making plays all night, one of which was an outstanding pass to Cave for a chance. Puljujarvi had a dynamite chance of his own, but also missed the Jones pass out front which cost a goal. JP also seemed passive several times in board battles, twice inviting a physical battle, then jumping out to attempt puck retrieval. He didn't get it either time.
BAKERSFIELD
Josh Currie had the hat-trick, while linemates Tyler Benson and Cooper Marody had three assists in a 4-2 win by the Condors over Stockton last night in California. Shane Starrett stopped 16 of 18 as he solidifies his hold on the AHL starting job (Save Percentage: .910).
MCDAVID ON/OFF 5-on-5
McDavid Goal Differential: 43-34 +9 .558 (Oilers without: 43-61 -18 .413)
McDavid Shot Differential: 440-453 -13 .492 (Oilers without: 648-730 .470)
The shocking piece of business for me is McDavid's shot differential being under 50 percent. That's nuts, management must give him better support. Of course, the without McDavid numbers are what we might expect, although the shot differential isn't as wide as one might have thought.
LOWDOWN WITH LOWETIDE
A fun morning, lots to discuss. Starts at 10, this is going to be an interesting day. TSN1260, scheduled to appear:
Frank Seravalli, TSN. The TSN trade deadline list is both growing in length and being reduced in total by the Anaheim Ducks. We'll chat wild times in the NHL.
John Sigler, Saints Wire. The New Orleans Saints are among the final four NFL teams in the hunt for the Super Bowl. Can they get past the Rams this weekend?
Christopher Price, Boston Sports Journal. The New England Patriots looked sensational against the Chargers, can they do the same thing to the Chiefs?
10-1260 text, @Lowetide on twitter.