The 18-15-3 Bakersfield Condors will host Calgary's farm club (Stockton: 16-19-3) tonight in AHL play. The Condors are easily the most interesting team the Oilers have iced during the California farm years and Bakersfield fans will be cheering for future NHLers on both sides tonight.
THE ATHLETIC!
The Athletic Edmonton is going to bring it all season long. Proud to be part of a lineup that is ready to cover the coming year. Outstanding coverage from a large group, including Daniel Nugent-Bowman and Jonathan Willis, Lowetide, Minnia Feng and Pat McLean. If you haven't subscribed yet, now's your chance. Outstanding offer is here.
EL CONDORS PASA
Jay Woodcroft on the performance of the Benson-Marody-Currie line Wednesday night: "They were very good for us, not just on the power play but also 5-on-5 as well. I thought they generated a lot of chances deep in the other team's end."
CURRENT CONDORS

How many NHL players do you see here? I think the smart man guesses "none are certain" but there's potential in every position. AND they're playing, even the kids who are 20.
Jay Woodcroft is the best AHL coach employed by the Oilers since Claude Julien.
Four of my top 10 prospects are on this list.
PROJECTED 50-MAN ROSTER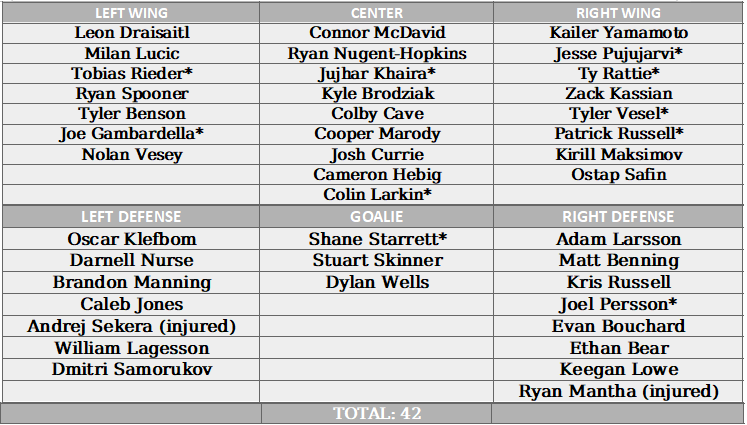 Edmonton currently has 15 players signed for next season at a projected $69 million cap. The last target number was $83 million, meaning the club has $14 million-ish, depending on how much money is in the couch and under the car seat.
The club will need to sign a goalie (more in a minute) and I expect we're going to see some buyouts and trades.
BUYOUTS AND LTIR
Ryan Spooner, Andrej Sekera, Milan Lucic are candidates for buyouts. Sekera can't be bought out if he's injured, but LTIR is available. I don't think this Sekera situation is in any way decided, he's supposed to be heading to Bakersfield at some point and the timing will inform us about possible return.
UNRESTRICTED: YOU MAKE THE CALL
G Mikko Koskinen: I believe he's going to get an extension from the Oilers. Edmonton probably brings in another backup, perhaps a substantial one.
G Cam Talbot: I don't think he stays. No bad thoughts, though, he was integral in providing this team and its fans with an outstanding playoff run I'll never forget.
G Al Montoya: This is his final season with the organization.
RD Alex Petrovic: I sincerely believe they'll trade Matt Benning and sign Petrovic.
LD Kevin Gravel: I like him plenty, but the organization traded to get him out of the starting lineup during Klefbom's absence. He's gone.
R Alex Chiasson: He's probably the most likely man on the list to be signed by the Oilers.
LD Ryan Stanton: Edmonton should have enough defensemen who are AHL bound (Keegan Lowe is under contract) to set him free.
LC Brad Malone: He could return, the organization is strong upper echelon but the AHL depth chart is not strong.
RW Mitch Callahan: I suspect he won't be back. Edmonton needs an upgrade on the wings.
RESTRICTED: YOU MAKE THE CALL
R Jesse Puljujarvi: I believe he'll sign and spend a fourth season in "The Shining Hedge Maze" that is the Oilers development plan.
L Tobias Rieder: I hope they bring him back. It's been a disappointing season but his skill set fits a need for the team.
R Ty Rattie: I don't think he'll return.
LC Jujhar Khaira: He's a lock. Only concern is he's the ask for a skill winger.
R Tyler Vesel: They may throw him back, not much offense.
LC Joe Gambardella: I think he has a chance. 50.50.
R Patrick Russell: See Gambardella. Fourth-line NHLer.
LC Colin Larkin: I don't think he'll be back.
RD Joel Persson: My guess is he's here in the fall.
RD Robin Norell: I don't think they'll offer him a deal.
G Shane Starrett: He probably gets a contract.
RD Ryan Mantha: He's not an RFA, but one expects his contract will end a year early if he is unable to return.
ENTERING THE SYSTEM
LC Ryan McLeod. Not yet signed, which is curious, he damned near made the team one year ago.
RD Filip Berglund. With all of the graduating RH blue (Bouchard, Persson) already signed, I don't know if he comes over this fall. He is a bonafide NHL prospect.
G Hayden Hawkey, F Joey Dudek and RD Vincent Desharnais. All must be signed by August 15 or become free agents. I think Hawkey has the best chance.
EVAN BOUCHARD
In my online reading, I see people up in arms over Craig Button's omission of Evan Bouchard from his top 50 prospects list. Realistically, Edmonton had two candidates (Bouchard and Kailer Yamamoto) and Button has the winger as the top prospect in the organization. Craig Button doesn't hate Evan Bouchard, he had him No. 9 on his 2018 draft list. My guess is the WJ's weighed heavily on the decision and I have my own opinion about small sample sizes but Mr. Button has his own. I respect Button, have said that many times, but it doesn't mean we have to agree and it doesn't mean Evan Bouchard was a poor draft pick.
Corey Pronman's latest mid-season prospect update for The Athletic has Bouchard at No. 24 and Corey goes into detail about the reasons. You might be angry that Pronman has ranked three defensemen chosen after No. 10 from the 2018 draft ahead of Bouchard, but I think you're looking at it the wrong way.
These are informed opinions, not a supreme court decision handed down as final. I looked long and hard into Bouchard as a prospect from January through June of last year. I had him at No. 21 on my January list and No. 8 on my final list.
Nothing since that ranking has changed my mind on him. To the contrary, I'm convinced he's going to be a productive NHL defenseman in outlet passing and on the power play. We don't know about coverage, reading and reacting, and we do know he needs more urgency in his game upon NHL arrival. The rest is out there in the ether.
If you go a little crazy when someone expresses their opinion, it means you're ill-informed, lack the courage of your convictions or enjoy panic in your daily life. A far better conversation, in my opinion, surrounds Bouchard versus Persson in the fall.
LOWDOWN WITH LOWETIDE
Friday! Cooold! We'll help you start your day beginning at 10 this morning, TSN1260. Scheduled to appear:
Steve Lansky, BigMouthSports. Crazy race in the western conference, Jarome Iginla being honored, Andy Murray's career crossroads.
Christopher Price, Boston Sports Journal. The Patriots are two wins away from another Super Bowl.
Matt Iwanyk, TSN1260. Should the Oilers trade the first-round pick in an effort to make the playoffs?
Cam DaSilva, Rams Wire. The Rams have enough power to win the Super Bowl. Can they get it done?
10-1260 text, @Lowetide twitter. Talk soon!