In my many years of being a fan and observer, no rivalry for which I held a stake can match the 1980's Oilers and Flames. Words that don't ordinarily enter the hockey lexicon—acrimonious, ambush, bitter, boiling point, cannon, frontal assault, ghastly, Messier, murderous, take no prisoners, rout, seething, siege, sortie, stalag, vindictive, writhing—were used routinely in the decade Stanley spent in Alberta. If you loved violence and blood, this series from 1980 to 1991 is as intense as I can ever recall. If we get anything close tonight, count your lucky stars. What a fabulous ride.
THE ATHLETIC!
The Athletic Edmonton is going to bring it all season long. Proud to be part of a lineup that is ready to cover the coming year. Outstanding coverage from a large group, including Daniel Nugent-Bowman and Jonathan Willis, Lowetide, Minnia Feng and Pat McLean. If you haven't subscribed yet, now's your chance. Outstanding offer is here.
OILERS AFTER 48
Oilers in 2015: 19-24-5, 43 points; goal differential -23
Oilers in 2016: 25-15-8, 58 points; goal differential +7
Oilers in 2017: 21-24-3, 45 points; goal differential -29
Oilers in 2018: 23-21-3, 49 points; goal differential -7
A big game tonight and a big weekend full stop. Edmonton was 9-10-1 under Todd McLellan and are currently 14-11-2 with Hitchcock. Dellow's fantastic article above shines some light on the 5-on-5 issues. Some you know, some will surprise you. I hope you read my Benson piece, but right after please read the Dellow item. For your own good!
OILERS IN JANUARY
Oilers in January 2016: 4-3-2, 10 points; goal differential -1
Oilers in January 2017: 6-3-0, 12 points; goal differential +1
Oilers in January 2018: 4-5-0, eight points; goal differential -13
Oilers in January 2019: 5-3-0, 10 points; goal differential 0
Some separation in these months as we edge closer to the end. Edmonton has a tough weekend but may be buoyed by recent wins and an outstanding run on the out of town scoreboard. If they win tonight, this town will be talking playoffs at the All-Star break.
WHAT TO EXPECT IN JANUARY
On the road to: Arizona, Los Angeles, Anaheim, San Jose (Expected 2-2-0) (Actual 2-2-0)
At home to: Florida, Arizona, Buffalo (Expected 1-1-1) (Actual 2-1-0)
On the road to: Vancouver (Expected 0-1-0) (Actual 1-0-0)
At home to: Calgary, Carolina, Detroit (Expected 1-1-1) (Actual 0-0-0)
Overall expected result: 4-5-2, 10 points in 11 games
Current results: 5-3-0, 10 points in eight games
I expect three points from the next three games (or I did at the beginning of the month). No idea about where they get the win but will say tonight should be the toughest of the three. The series is 1-1-0 so far, Calgary winning the first game 4-2, Edmonton getting a shutout from Mikko Koskinen in the second game.
The Oilers group would have been impressed with the line of Tyler Benson-Josh Currie-Cooper Marody who are on a tear over the last couple of games. Maybe we'll see a repeat of the old timey Bulldog Line (Michel Riesen-Brian Swanson-Daniel Cleary) who were called up as a line back in 2000.
I don't think that's going to happen, but do believe we might see a recall here in the coming days. Edmonton needs more skill. If they can't trade for it, perhaps they'll look to the options in Bakersfield.
The other reality? Keith Gretzky and the group might be there to look at the defensemen they're willing to deal at the deadline. Here are the 5-on-5 goal differentials for the defensemen this year:
Ryan Stanton 26-22 (+4)
Ethan Bear 20-16 (+4)
Caleb Jones 17-15 (+2)
Jake Kulevich 10-9 (+1)
William Lagesson 20-21 (-1)
Logan Day 22-24 (-2)
Keegan Lowe 23-26 (-3)
Jones is in the NHL, Lagesson is new to the league and Bear has had some injuries but is back playing as a regular. Who gets traded? The one true thing is that Caleb Jones isn't going anywhere.
CURRENT OILERS ROSTER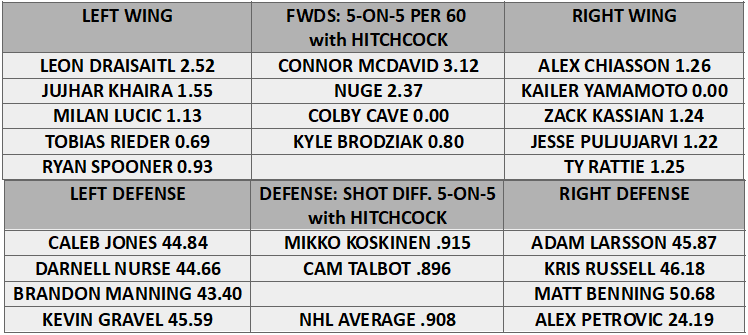 Many many articles over the last 30 hours about Puljujarvi's current state. He's scoring more under Hitchcock and has (mostly) played a top nine role since November 20. I think that's called progress, but that's just me.
Kailer Yamamoto and Colby Cave looked good the other night, but tonight will be a better test.
One of the wild things about this team since Hitch took over? Shot differential have gone south. Hurry Oscar!
BACK IN THE OLD HIPPIE DAYS
On February 3, 1984, the Edmonton Oilers ripped the Calgary Flames 10-5 at Northlands. Pat Hughes had a first period hat trick, Ken Linseman and Glenn Anderson (his 30th) also scored and it was 5-0 after 20. Calgary won the second period 4-3 (Hughes again, his 20th, plus Anderson and a personal favourite, Jaroslav Pouzar). In the final frame, Hughes scored again, his fifth tally. He was the No. 5 scorer among forwards that year, with 27 on the season. This year, Edmonton's fifth-leading forward in goals remains Drake Caggiula, with 7.
TRADE DEADLINE TARGETS
My preference would be something less than a major major deal involving the first-round pick. Maybe you could get Mats Zuccarello for a second, that selection should be inside the top 50. Failing that, if you're going to deal the pick for a rental, roll away the stone and give Ottawa the pick.