A year ago, the Oilers entered the break with a record of 22-24-3, 47 points. The team would finish 14-16-3 to land a final record of 36-40-6, 78 points. This year, the 23-23-3 Edmonton club would have to finish (something like) 20-10-3 to make the playoffs (43-33-6, 92 points). That's not a reasonable goal, but developing young talent and finding value contracts for next year is a worthwhile task. If we reach season's end with Jesse Puljujarvi, Kailer Yamamoto and Caleb Jones as bonafide NHL players, I'll consider that real progress despite finishing outside the players. Three value deals (assuming JP signs one) is exactly what this roster needs.
THE ATHLETIC!
The Athletic Edmonton is going to bring it all season long. Proud to be part of a lineup that is ready to cover the coming year. Outstanding coverage from a large group, including Daniel Nugent-Bowman and Jonathan Willis, Lowetide, Minnia Feng and Pat McLean. If you haven't subscribed yet, now's your chance. Outstanding offer is here.
OILERS AFTER 50
Oilers in 2015: 19-26-5, 43 points; goal differential -26
Oilers in 2016: 27-15-8, 62 points; goal differential +15
Oilers in 2017: 22-24-4, 48 points; goal differential -30
Oilers in 2018: 23-23-3, 49 points; goal differential -12
This year's team is 18 goals better in terms of year-over-year goal differential, so logic and reason suggest the club should have more points banked. That's why they play the games.
OILERS IN JANUARY
Oilers in January 2016: 4-5-2, 10 points; goal differential -4
Oilers in January 2017: 7-3-1, 15 points; goal differential +4
Oilers in January 2018: 5-5-0, 10 points; goal differential -13
Oilers in January 2019: 5-5-0, 10 points; goal differential -6
Edmonton has a chance to close out the month with a win and grab 12 points in January. If feels like this year's team is destined to finish just a little better than last year, say 82-86 points (I predicted 90-94) this season. This team has been getting hammered from all corners, but aren't that far away.
WHAT TO EXPECT IN JANUARY
On the road to: Arizona, Los Angeles, Anaheim, San Jose (Expected 2-2-0) (Actual 2-2-0)
At home to: Florida, Arizona, Buffalo (Expected 1-1-1) (Actual 2-1-0)
On the road to: Vancouver (Expected 0-1-0) (Actual 1-0-0)
At home to: Calgary, Carolina, Detroit (Expected 1-1-1) (Actual 0-2-0)
Overall expected result: 4-5-2, 10 points in 11 games
Current results: 5-5-0, 10 points in 10 games
OILERS PROJECTED ROSTER 2019-20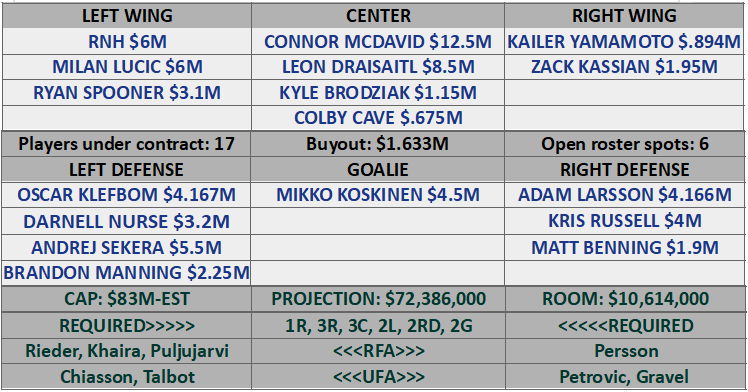 The signing of Koskinen to a new deal gives us the beginnings of next year's roster. I've listed the NHL names here, with RFA and UFA options included (but not counted).
Edmonton may buyout Ryan Spooner, Andrew Sekera and some say Milan Lucic. If Sekera is still hurt, LTIR is possible.
I think the blue will see Sekera, Russell and Benning out, with a RH veteran and Bouchard or Persson in.
I see room for one difference maker, one Nikolaj Ehlers or Tyler Johnson. All of the immediate options, including a laundry list of players from the NY Rangers, are less attractive because contracts are expiring.
This summer is going to be about forwards, even beyond that difference maker I'm pushing. Remember when Arizona would sign three fringe guys late summer and one of them would score 25 goals? Edmonton needs to do that, too.
We'll be talking about this quite a bit over the next week or so, but here's your first Oilers mock draft of the year.
No. 10 overall—LC Peyton Krebs, Kootenay (WHL). Skill forward who can score, he has quick feet and good hands. He's 5.11, 181, described as having "unique creativity" by HockeyProspect.com.
No. 41 overall—L Albin Grewe, Djurgardens (SHL). Fast, skill winger who is aggressive and creative.
No. 81 overall— L Luka Burzan, Brandon (WHL). Speedy forward creates offense off the forecheck. Has 26 goals in 43 games.
No. 103 overall —R Samuel Fagemo, Frolunda (SHL). Skill winger is a shooter, quick release and great wrist shot. I had him high a year ago, remain stubborn on him.
No. 165 overall—LC Blake Murray, Sudbury (OHL). I'm surprised he is ranked No. 111 NA. He has skill.
No. 196 overall—G Trent Miner, Vancouver (WHL). He's having a helluva season.
ASSETS OUT, BAKERSFIELD EDITION
If the Oilers are going to make a trade, suspect picks and prospects will be on the move. Here are the January scoring totals for some AHL prospects:
Cooper Marody 10, 3-10-13
Tyler Benson 10, 1-9-10
Ethan Bear, 10, 1-7-8
Joe Gambardella 4, 4-2-6
I don't believe Benson is going anywhere and wonder about the trade value of all of these players. That said, Ethan Bear is a right shot defenseman who appears to be over his injury issues. If a team comes calling and Bear is part of the ask, Edmonton does in fact have enough (Bouchard, Persson, possibly Berglund) to make the move.
LOWDOWN WITH LOWETIDE
A busy morning, TSN1260 starting at 10. Scheduled to appear:
Jonathan Willis, The Athletic. We'll talk Peter Chiarelli and the impact his trades are having on his future and that of the Oilers.
Max Bultman, The Athletic Detroit. We'll talk Red Wings, their season, and the exceptional Dylan Larkin.
John Horn, WTA Commentator Tennis Analyst for Eurosport & Ubitennis. Milos is rolling.
10-1260 text, @Lowetide on twitter. Talk soon!