The NHL Edmonton Oilers have charged six men with the job of general manager, Keith Gretzky is No. 7. The leader in all important categories is Glen Sather (1980-2000), with Kevin Lowe the only other GM to take the club to the Stanley Cup finals. Larry Gordon (1978-1980) and Peter Chiarelli got the club to a playoff spring (one each), while Steve Tambellini and Craig MacTavish are on the outside looking in. The current Oilers should be due for a decade plus run from the next guy. Is it Keith Gretzky?
CHIARELLI-GRETZKY FREE AGENTS
2017: Ty Rattie, Jussi Jokinen, Yohann Auvitu
2018: Tobias Rieder, Kyle Brodziak, Kevin Gravel, Mikko Koskinen, Jakub Jerabek, Alex Chiasson.
THE ATHLETIC!
The Athletic Edmonton brought it yesterday, there's a fabulous cluster of stories (some linked below, some on the site). Great perspective from a ridiculous group of writers and analysts. Proud to be part of the group. Outstanding offer is here.
KEITH GRETZKY
The Edmonton Oilers hired Keith Gretzky on August 2, 2016. In the year+ Peter Chiarelli worked for the Oilers without Gretzky, his major moves were trading for Cam Talbot, Griffin Reinhart, Adam Larsson, plus signing Andrej Sekera and Milan Lucic. By the time Gretzky arrived (the 2017 and 2018 drafts had his imprint) things had calmed down in free agency and most of the big trades were done. It's impossible to know how much influence he exerted but the club did hold on to most of its draft picks.
2017 OILERS DRAFT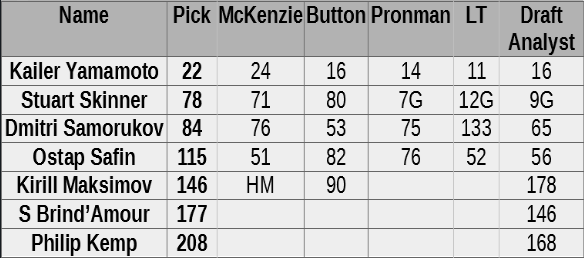 The first Gretzky-Green draft brought undersized skill winger Kailer Yamamoto (now 20) to the team. He's played in 26 NHL games (1-4-5) and was sent back to Bakersfield on Wednesday. He's 11, 4-4-8 in the AHL and that's a good spot for him until he dominates. Of course, chances are he gets recalled after the AS break.
Stuart Skinner is also in the AHL, he has played mostly in the ECHL this year.
Dmitri Samorukov, Kirill Maksimov and Philip Kemp are tracking well, and Safin would likely be doing the same if he were healthy.
It's a good list, no reaches early.
2018 OILERS DRAFT

This draft badly needs to cash at least two players in my opinion. Edmonton drafted top 10, then top 40 and then a third time just outside the top 60.
Evan Bouchard began the season in the NHL (7, 1-0-1) and is back dominating the OHL (20, 7-19-26) as he did one year ago. Bouchard may benefit from the Oilers new plan (stated by Bob Nicholson yesterday and in place with the Condors this season) to bring these kids along more slowly.
Ryan McLeod's offense has increased slightly, but I think we're looking at a third-line center if he progresses to NHL level.
Olivier Rodrigue ranks No. 11 in QMJHL save percentage (.902) and looks like a solid prospect.
COMPLETE NHLE (FORWARDS)
Cooper Marody 42.5
Kirill Maksimov 38.8
Joe Gambardella 35.0
Tyler Benson 33.9
Ryan McLeod 30.6
Kailer Yamamoto 29.0
Patrick Russell 28.3
Josh Currie 27.9
Brad Malone 24.5
Cam Hebig 21.9
Ostap Safin 21.0
Mitch Callahan 14.5
Tyler Vesel 12.5
Skyler Brind'Amour 8.8
Graham McPhee 7.7
Aapeli Rasanen 6.8
Nolan Vesey 6.6
Colin Larkin 6.3
Joey Dudek 4.6
This is the entire group save Patrik Siikanen (I don't have an NHLE for him but the young man is playing well).
My personal opinion is Yamamoto, Benson and Marody are the best bets for future NHL work. Benson and McLeod may have more ways to make it (skill line and as checkers) but that's a guess.
Maksimov is promising but we'll have to see how things shake out once he turns pro.
Joe Gambardella is a fascinating prospect but he's an older player. His pro career may be spent in the Alps.
COMPLETE NHLE (DEFENSE)
Evan Bouchard 34.4
Joel Persson 30.2
Caleb Jones 23.5
Ethan Bear 21.6
Dmitri Samorukov 15.7
Filip Berglund 12.9
Ryan Stanton 12.6
Keegan Lowe 12.3
William Lagesson 11.2
Vincent Desharnais 9.4
Mike Kesselring 8.7
Phil Kemp 7.7
Robin Norel 7.4
John Marino 4.7
Matthew Cairns 4.6
Markus Niemelainen 3.4
I think the top four names here are the ones to focus on (divide by two and then two again) and have to say Caleb Jones recent NHL performance was an eye opener.
I can't wait for the Bouchard-Persson contest in training camp this fall, wonder if Ethan Bear can get into that race. He's having a helluva run currently. The new slow-play plan might benefit Bear.
KEITH GRETZKY
Keith Gretzky joined the Boston Bruins as a scout during the 2011-12 season, and moved up to scouting director after the 2013 draft. The Bruins 2014 entry draft (David Pastrnak, Ryan Donato, Danton Heinen, Anders Bjork, Emil Johansson) is one we'll probably be talking about for years. In 2015 the club made some big trades (Milan Lucic, Dougie Hamilton) and drafted three times in the first round and three more times in Round Two. Gretzky's Bruins passed on Mathew Barzal, Kyle Connor, Brock Boeser and others, and that's a major miss.
Early hits like Jake DeBrusk and Brandon Carlo suggest Gretzky and his crew did in fact get some value from the picks. We'll see about Jakub Zboril, Zach Senyshyn, Jakob Forsbacka-Karlsson and others down the line.
The 2016 draft saw Boston pick Charlie McAvoy over Dante Fabbro and at the time it seemed like a big deal. It was, but the Bruins appear to have done well. The rest of that draft is still matriculating but there are some good signs from Trent Frederic, who was a controversial selection at the time.
Lots of talent here already in the NHL (Pastrnak, McAvoy, Heinen, Donato, DeBrusk, Carlo) and plenty more on the way.
READ THIS
Read this.
BAKERSFIELD IN JANUARY
I don't know why, but it seems prospects who spend the season in the AHL either spike or dive in January. I had a scout tell me the difference has to do with usage (a coach begins to trust more) and the game slowing down for the player. It's always been a curio for me and this year is fascinating. Here are the Condors main prospects and their performances since January 1.
Joe Gambardella 5, 5-3-8 (1.60)
Tyler Benson 11, 1-12-13 (1.18)
Cooper Marody 11, 3-10-13 (1.18)
Ethan Bear 11, 2-8-10 (0.91)
Logan Day 11, 1-8-9 (0.82)
Patrick Russell 9, 3-3-6 (0.67)
Tyler Vesel 9, 1-1-2 (0.22)
William Lagesson 11, 0-2-2 (0.18)
Cameron Hebig 11, 0-1-1 (0.09)
Some solid numbers there, your recall at the trade deadline probably populate the top four names on this list. Maybe Russell and Lagesson will get recalls as well. Jones (1, 1-0-1 in January) is a lock for recall if the team sells at the deadline.
Tyler Benson is supposed to spend the season in the AHL, but if you look at the LW depth chart it'll be tough to keep him down on the farm if he continues to post offense. I'm looking forward to seeing him at the big league level, suspect that day will arrive sooner than later.
We'll get a good idea about what Bob Nicholson is thinking once we see reporting on names actually getting interviews. I have no personal favourite but would like to see curious minds and individuals who embrace analytics as a tool across multiple areas (on ice: exit and entries; off ice: Draft and procurement).
ASSETS OUT
Nicholson's avail made it sound like no young players are leaving but we can use the brains God gave us and make an educated guess. Edmonton has just one area (really) with enough depth to trade and that's on defense. Matt Benning, Ethan Bear, any number of the 5-6-7D on the NHL roster, and perhaps a 'futures' player like Phil Kemp would have value. The draft picks are also in play (not the first-round pick, apparently, but never say never) and I do think a lot of teams might ask after Jujhar Khaira.
LOWDOWN WITH LOWETIDE
A busy morning after a crazy day, we're bringing fabulous guests. At 10, TSN1260:
Frank Seravalli, TSN. Frank was on fire yesterday bringing the righteous truth on Peter Chiarelli, we'll catch some of the heat this morning.
Jon Campbell, OddsShark.com. Super Bowl odds, Hart trophy winner and more.
10-1260 text, @Lowetide on twitter. Talk soon!