The Oilers new general manager will be juggling like the Peiro Brothers on Ed Sullivan's show when he arrives in town. Hockey ops shuffle, trades, draft, free agency, coaching hires, might want to set up an ensuite next to the office. For Oilers fans expecting Sam Pollock Jr., lay off the ether. For Oilers fans expecting an aggressive approach and a three-year process to get back into the playoffs, I think you are being a little doomsday. I think this team might contend for a playoff spot in 2019-20, and then spend most of the next decade pushing for Stanley. Maybe the Oilers make the playoffs this spring:
Connor McDavid: "What I look forward to coming back from the break is trying our best to prove everyone wrong. There's a sense of negativity with the media, with everyone around the team, and we get to prove people wrong. We get to decide how we're going to finish the second half." Source
THE ATHLETIC!
The Athletic Edmonton brought it yesterday, there's a fabulous cluster of stories (some linked below, some on the site). Great perspective from a ridiculous group of writers and analysts. Proud to be part of the group. Outstanding offer is here.
A MATTER OF TRUST
A year ago, in an article for The Athletic that asked Oilers fans if they trusted Peter Chiarelli, I wrote "Oilers fans are mindful of the potential ceiling this club had that seemingly no longer exists. The real tragedy is that promise being extinguished by the team's management. That could (and possibly has) caused a fracture between club and fans that may not have a solution, at least not in the short term."
The number one job for the new general manager is to bring hope back to town. After that, he must assure fans there are no 'five-year' plans. He can't trade for "Taylor Hall 2016 summer" but if I were him I'd get as close as humanly possible. There is much to do. Mandelbaum, Mandelbaum, Mandelbaum. It's go time.
CURRENT 50-MAN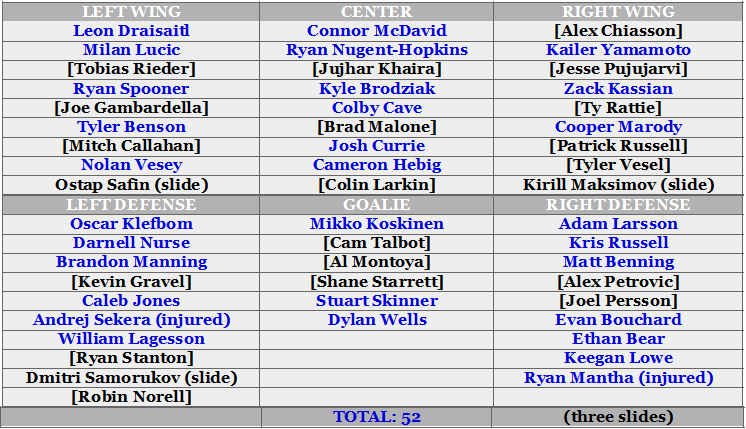 Three slides: Safin, Maksimov and Samorukov are going to turn pro this fall.
RFA's I believe will return (moving target): Jujhar Khaira, Jesse Puljujarvi, Joe Gambardella, Joel Persson, Shane Starrett.
RFA's I believe will not return: Tobias Rieder, Ty Rattie, Tyler Vesel, Colin Larkin, Robin Norell.
That's a guess. I can say that history teaches us that ALL of the RFA's are more vulnerable today than they were under Chiarelli (he recruited most of these names). General managers are historically ruthless with this group of players.
UFA's I believe will be back: Alex Chiasson, Patrick Russell
UFA's I believe will be gone: Alex Petrovic, Kevin Gravel, Cam Talbot, Al Montoya, Mitch Callahan, Brad Malone, Ryan Stanton.
BUYOUTS
Milan Lucic buyout gets you a roster spot, saves $2.375 million in 2019-20, but only $375,000 in the second and fourth buyout years. Once the four year contract is concluded, there's an additional $625,000 per year for four years tacked on.
Ryan Spooner's buyout would save the team about $2 million next year and cost the club $1 million in 2020-21.
Andrej Sekera is more complicated, if he's hurt the team won't be able to buy him out. If they can, it's a $3 million saving for the next two years, then two seasons of $1.5 million as a penalty.
For our purposes today, I'm going to assume the team decides not to buy out Lucic and Sekera.
ENTERING THE SYSTEM
I'm going to guess Ryan McLeod, Hayden Hawkey and Filip Berglund get signed and the rest are either sent away or stay in amateur hockey or Europe.
PROJECTED 50-MAN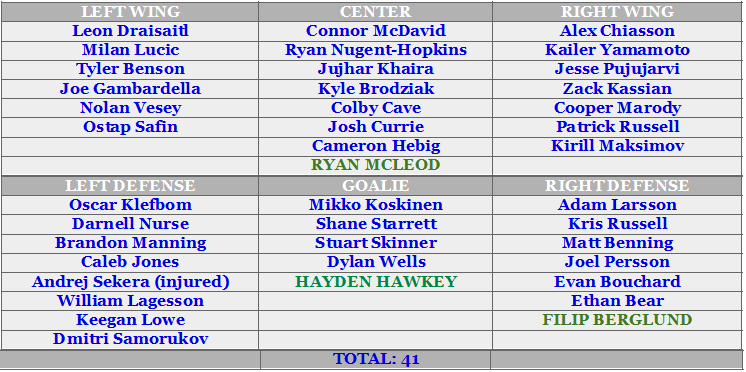 Things that need help: No. 2 left-wing, No. 3 center (Khaira moving over to LW), No. 2 right-defense and a goalie of considerable ability. Agree?
The checking center and the goalie shouldn't cost a huge amount in dollars or cap. Edmonton could trade for either and perhaps someone will be available on a reasonable free-agent deal (it got crazy last year, Riley Nash went for $2.75 million times three, Derek Ryan signed for $3.125 million times three).
I do believe the pick and some prospects might be part of a deal for a Nikolaj Ehlers, but maybe they can sign a player in his 20's long term. It didn't work last time, but maybe Brock Nelson, Mark Stone, Jeff Skinner, Ryan Dzingel, Anders Lee will shake loose at an affordable price.
RECENT TRADES USING FIRST-ROUND PICKS AND PROSPECTS.
After my post yesterday, I received quite a lot of pushback on the idea of dealing the first rounder. My basic premise is dealing the pick and a prospect (say Puljujarvi) for a player who is an established 20-goal scorer and who has significant track left on his contract. Here are some deals from recent history that were somewhat similar:
St. Louis used a first and a second, plus prospect Tage Thompson, to acquire Ryan O'Reilly from the Buffalo Sabres. Vladimir Sobotka and Patrik Berglund were included to make the money work.
St. Louis acquired Brayden Schenn for a first and a conditional first, while also sending away Jori Lehtera.
Toronto acquired Frederik Andersen from Anaheim for a first and a second in 2016.
Pittsburgh sent a first and a third, plus Kasperi Kapanen and other pieces to Toronto for Phil Kessel and a pick.
I use Nikolaj Ehlers because he fits. Signed for $6 million a year times six and he's 22 and has scored 25 and 29 goals, with 30 possible this season. Maybe Winnipeg never trades him, but you know they have some major cap pressures. Let me re-state what I wrote yesterday:
The new general manager should probably buy the best scoring forward the 2019 first-round pick and other pieces can buy. I think the Oilers can do better on the draft floor. You might see the first, second, Jesse Puljujarvi and more heading out.

I didn't suggest one-for-one, I suggested a trade similar to the ones listed above. What could the Oilers receive draft week in exchange for the first-round pick, Jesse Puljujarvi and (say) Jujhar Khaira? What could the team get for Darnell Nurse and the first? The Oilers need an additional impact forward to replace Taylor Hall. I think there's wisdom in going out and getting it this summer. Signed long term and someone who can be fit under the cap.
After that, it's a matter of proper evaluation. One of the things I find interesting is how quickly people have moved past the idea of Keith Gretzky winning the general manager's job outright.
It's my belief the Oilers drafting has improved (2017 and 2018) and that Bakersfield has also taken a giant leap forward. Defensemen in 2017-18 (Caleb Jones, Ethan Bear, Ryan Mantha) announced their presence with authority and a year later forwards (Tyler Benson, Cooper Marody, Cameron Hebig) emerged.
Keith Gretzky is going to get credit for that, and things like Kirill Maksimov in the fifth round. I know it's going to be an exhaustive search, but NHL teams are likely to tell Edmonton to take a hike until after the trade deadline. There's a window of opportunity here, I think he might take advantage and find a way to make the job his own. I'm surprised how little attention that idea is getting.