Today, we're going to talk about ceilings. I'm going to use NHL equivalencies and talk about draft pedigree. We're also going to talk about the best way to use the final 30 games of the current season.
THE ATHLETIC!
The Athletic Edmonton brought it yesterday, there's a fabulous cluster of stories (some linked below, some on the site). Great perspective from a ridiculous group of writers and analysts. Proud to be part of the group. Outstanding offer is here.
CEILINGS

NHLE equivalencies are interesting but shouldn't be used as a magic number. For these two gents, who spent the early part of their careers in different worlds, using NHLE is an interesting exercise. We don't know how much time Yamamoto spent on the ice in his draft year, but Puljujarvi played 15:04 against men.
I've been thinking about this for awhile, mostly because Puljujarvi's offense has always been just on the blue side of lonesome. I decided it might be an idea to compare apples to apples. So, here are Puljujarvi's numbers (not NHLE, but TOI, points and points-per-60) compared to Sebastian Aho in their respective years coming through the system.

At 17, both Puljujarvi and Aho were in the Sm-Liiga and playing complementary roles. Pulju moved on the North America, Aho stayed in Finland and dominated.

In draft +2, the two men aren't so far apart, but draft +3 sees Aho spike and Puljujarvi (so far) isn't close to good enough. Funny thing, this season JP hasn't played much with Connor McDavid, accounting for at least some of the gap in 5-on-5 scoring year over year.

If you add another six points to JP's point totals (implied by increased usage) he's at 15 with half a season to go. We're not talking big numbers here but Puljujarvi's offense with 97 is NHL calibre. He could survive in the league with that number. How do other Oilers wingers do with McDavid?
As we might expect, Leon Draisaitl shines like a diamond here. Drake Caggiula proved capable as well, recently waived Ty Rattie also posting a number over 2.00 per 60.
After that, it's Puljujarvi. We can suggest a small sample, except we know he came in around this year's number in over 250 minutes with the captain one year ago. JP is a legit option for McDavid. Does playing the big Finn alongside McDavid benefit 97?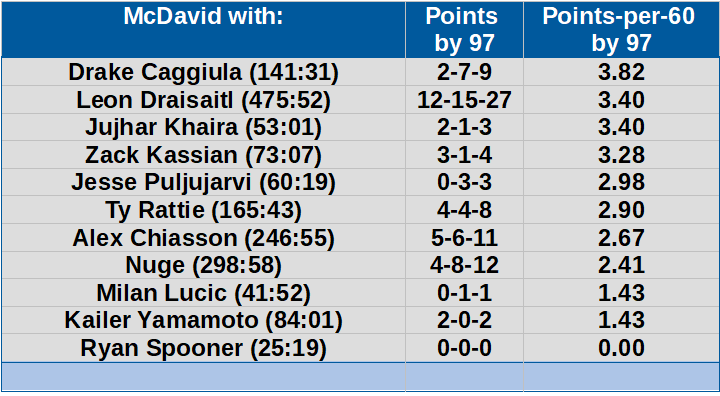 Interesting to see Peter Chiarelli traded the best secondary modern option, and 97 played over 140 minutes with Caggiula. McDavid with Draisaitl works, this number is spectacular.
Puljujarvi is in a group just below and I'm pleased Hitchcock has tried the Finn with McDavid in recent days. Just a moment to highlight McDavid-Yamamoto and the fact it isn't working. If the Oilers are trying to force the future, I endorse that kind of thinking, but Puljujarvi is a clearly superior choice at this time. What about Puljujarvi with the various centers?

Puljujarvi is best with McDavid, and he moves the needle with Nuge, too. Fascinating to see 70 minutes invested with Draisaitl and not one point by the youngster. I'm tempted to say he needs a Finnish mentor center ala Derek Roy with Nail Yakupov.
THE FINAL 30 GAMES
I'd run him with McDavid. Damn the torpedoes. Edmonton has to find out about this young man's offensive potential. If he plays 300 minutes with 97 in the final 30 games and scores 10+ points, then he'll be an option for that position. If he scores less, we can assume he's a checker. More than 10 points? Music! We'll have an answer by spring. Jesse Puljujarvi has earned that much.
WILL THAT HAPPEN?
It might, if JP can catch fire. Hitchcock has lined 98 up with 97 to start recent games, before beginning the resurrection shuffle. Puljujarvi could also be traded.
Keith Gretzky has no connection to Puljujarvi, he was in Boston at the time of the 2016 draft. Orphaned hockey players badly need an inside champion, it's uncertain which way the wind blows internally.
What I hope for is this: Gretzky sees the potential in this player, Hitchcock develops a stubborn streak and we see some kind of pressure point, breakthrough and success between now and the end of the season. Whatever it is that keeps Jesse Puljujarvi from reaching his potential can't be so overwhelming that the organization gives up on him now.
JP didn't ask for the Bakersfield-to-Edmonton-to-Bakersfield shuttle, the Oilers imposed it on him. If it's time to stand and deliver, give the young man the tools to succeed. McDavid or Nuge 5-on-5, and enough power-play time to build some confidence. He might just repay the organization with 20 years of quality. There is some vagueness to his scoring skills, but no unproven Oilers forward has the kind of potential Puljujarvi displays.
Take 30. Find out. It's the right thing to do.