The Oilers began the second half with a maddening yet hopeful effort against the Philadelphia Flyers on Saturday. A dynamic 5-on-5 afternoon was wasted by a poor performance on the 4-on-5, and the troops march into Montreal badly in need of two points. On the positive side of things, Connor McDavid is the only player in the league who goes to 11, and the secondary scoring had a nice afternoon in the sun. A win today puts Edmonton in ninth, two points behind Vancouver (tied with Colorado, Avs with a game in hand) and the best player on the planet wearing the oildrop.
THE ATHLETIC!
The Athletic Edmonton brought it yesterday, there's a fabulous cluster of stories (some linked below, some on the site). Great perspective from a ridiculous group of writers and analysts. Proud to be part of the group. Outstanding offer is here.
New Lowetide: Entry deal AHL forwards give the Oilers an excellent trade pool (will link).
Lowetide: If fast is the new big, how do the Edmonton Oilers get there in a hurry?
Jonathan Willis: Analyzing how well Peter Chiarelli and Keith Gretzky restocked the Oilers with their draft work
Lowetide: Finding a path to the playoffs may involve reckless use of future assets by the Oilers
Jonathan Willis: An Oilers blueprint for the 2019 NHL free agency period
Tyler Dellow: A deeper look at Connor McDavid and the Oilers' 5-on-5 offensive changes under Ken Hitchcock
Corey Pronman: 2019 NHL Draft midseason rankings
Jonathan Willis: An Oilers blueprint for the 2019 NHL trade deadline.
Lowetide: Edmonton's 2019 entry draft plans may change with new GM but needs are clear
Lowetide: Caleb Jones has impressive first showing in the NHL with Oilers.
Tyler Dellow: Four questions that the Oilers should be asking candidates for the GM job
Daniel Nugent-Bowman: New Oilers caretaker Keith Gretzky caught between earning playoff berth and keeping future assets
Daniel Nugent-Bowman: Goalless Tobias Rieder hopes to follow Zack Kassian and Milan Lucic and end his offensive funk.
Lowetide: Complete Oilers top 20 prospects, Winter 2018
OILERS AFTER 52
Oilers in 2015: 21-26-5, 47 points; goal differential -17
Oilers in 2016: 28-16-8, 64 points; goal differential +14
Oilers in 2017: 23-25-4, 50 points; goal differential -27
Oilers in 2018: 23-24-4, 50 points; goal differential -14
This year's team has settled in and joined the 2015 and 2017 clubs as also-rans. The goal differential (my numbers do not include EN goals) suggest a better outcome should have been expected, but if wishes were horses beggars would ride. This race should have been locked up by St. Louis and or Colorado by now, but the Oilers absolutely have a chance.
OILERS IN FEBRUARY
Oilers in February 2016: 1-1-0, two points; goal differential -4
Oilers in February 2017: 0-2-0, 0 points; goal differential -3
Oilers in February 2018: 1-0-1, three points; goal differential +3
Oilers in February 2019: 0-0-1, one point; goal differential -1
No fast starts to February, although this year's team would benefit from a similar start to the 2017-18 group. Need that win today in order to stay within screaming distance of the second season.
WHAT TO EXPECT IN FEBRUARY
On the road to: Philadelphia, Montreal (Expected 1-1-0) (Actual 0-0-1)

At home to: Chicago (Expected 1-0-0) (Actual 0-0-0)

On the road to: Minnesota (Expected 0-0-1) (Actual 0-0-0)

At home to: San Jose (Expected 0-1-0) (Actual 0-0-0)

On the road to: Pittsburgh, Carolina, NY Islanders (Expected 2-1-0) (Actual 0-0-0)

At home to: Arizona, NY Islanders, Anaheim (Expected 2-1-0) (Actual 0-0-0)

On the road to: Nashville, Toronto, Ottawa (Expected 1-2-0) (Actual 0-0-0)

Overall expected result: 7-6-1, 15 points in 14 games

Current results: 0-0-1, one point in one game
Impossible to predict this team game to game, but the 5-on-5 performance in Philly was encouraging. I will say no more.
DEFENSE, LAST NIGHT

Gravel-Larsson were 13-7 in 13:43, 7-3 shots, 1-0 goals and 3-0 HDSC. In what is going to be a theme, these guys had a good day 5-on-5. Larsson scored on the anniversary of his Dad's passing, a bittersweet moment in a season awash in angst and melancholy. Went 10-2 in 7:49 against Laughton-Patrick-Simmonds.
Manning-Benning went 11-10 in 6:52, 8-6 shots, 2-0 goals and 3-2 HDSC. Easily the third pair in deployment, the 5-on-5 results were terrific. Benning's errant throw around the boards on a late PK was a tragedy and resulted almost immediately in the tying goal. Were 6-3 in 3:12 against JVR-Giroux-Konecny.
Nurse-Russell were 18-20 in 13:48, 11-11 shots, no goals and 4-7 in HDSC. Edmonton's top pairing based on minutes has a tough time getting the puck out under control. Were 14-10 in 5:24 against
JVR-Giroux-Konecny.
NaturalStatTrick and NHL.com.
FORWARDS, LAST NIGHT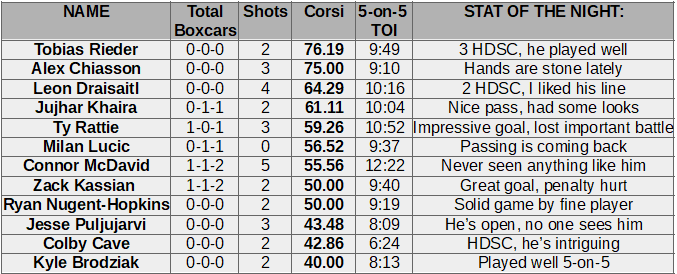 Rieder-Draisaitl-Chiasson were 15-4 in 8:34, 10-1 shots, 1-0 goals and 4-0 HDSC. Leon driving a line has long been a priority, it sure looked like he could on this day. LD turned over the puck a couple of times but I liked the line. Went 11-8 against Hagg-Gudas in 6:01.
Lucic-McDavid-Rattie went 12-11 in 10:22, 6-6 shots, 1-0 goals and 3-2 HDSC. McDavid's goal will live forever, this line lasted longer than I thought it would and may have a chance. Rattie lost his man in overtime but I think we'll see this trio today. 97 was 12-11 against Provorov-Sanheim, 2-0 goals. Looch's two penalties were four minutes too many. He is playing better with the puck but holy lord ML that hurt the team.
Khaira-Nuge-Kassian were 8-6 in 8:42, 5-4 shots, no goals and 2-1 HDSC. I thought the line played well, both wingers getting a point. Nuge took an early penalty, I still don't know why, but drew one later. Were 5-3 in 5:25 against Gost-MacDonald. Kassian took a dumb penalty 10 miles from danger and he's been doing it a lot. Season on the line, time to use the big part of the brain.
Cave-Brodziak-Puljuarvi were 10-11 in 7:28, 7-6 shots, no goals and 1-2 HDSC. They played quite a lot, I like the trio. Pulju looked real good to my eye. Were 5-5 in 3:19 against Hagg-Gudas.
Cam Talbot was stunning with eight seconds left, I mean incredible. Should have had the second goal. Stopped all 22 5-on-5 shots, but 34 of 39 overall, .872.
The Oilers would be interested, all 31 teams would have to be doing their due diligence on such a player. The bigger question might be 'does Taylor Hall have any interest in returning?' and that's not a question anyone can answer with certainty. Hockey players are a loyal bunch, but I think Hall would probably prefer a contender. Interesting wrinkle on summer.
One of these statements is true: The Oilers want to hire Kelly McCrimmon, or the Oilers have no plans to name a general manager until given an opportunity to talk to Kelly McCrimmon. Edmonton's management telegraphs like it's 1870. That's my belief.
STOP TAKING PENALTIES
Veterans, the guys a coach needs to lead, took a mountain of penalties in Philly yesterday. I know the refs were cross-eyed and (the opposite of) painless, but my goodness veterans should know by the third period which way the wind blows.
THE PLAYOFFS
Don't let anyone tell you different, this team has a chance to make the postseason. They'll need a goalie to step up and that special teams mess can't happen. There's 30 games left and the Oilers are close. That is a fact.
Price point is an issue, but Chiasson has shown some hands this year. I would love to see the Oilers overhaul the entire left and right side, but it isn't possible because long-term contracts prevail. That said, reasonable deals for guys like Chiasson make sense.