This is a challenging time. The team has 51 points after 52 games, meaning Edmonton needs about 18 wins in the final 30 games. That's a big ask for a roster that has shown itself to be an also-ran for the last 135 games. Peter Chiarelli and Todd McLellan are gone, the road ahead has no set direction, and the caretaker coach is bringing the whip on a group shy in important places. Hitch knows it, that's why he's pulling punches in the scrums. There is wonderful skill in orange, white and blue, but they're coming from a long way back. Hitchcock is "involving" more players but the skill just isn't there. This is a challenging time.
THE ATHLETIC!
The Athletic Edmonton brought it yesterday, there's a fabulous cluster of stories (some linked below, some on the site). Great perspective from a ridiculous group of writers and analysts. Proud to be part of the group. Outstanding offer is here.
OILERS AFTER 52
Oilers in 2015: 21-26-5, 47 points; goal differential -17
Oilers in 2016: 28-16-8, 64 points; goal differential +14
Oilers in 2017: 23-25-4, 50 points; goal differential -27
Oilers in 2018: 23-24-5, 51 points; goal differential -15
Two points on a two-game road trip isn't a terrible result but the Oilers are burning daylight now and we're at the part of the movie where the leading man starts quietly leading the women and children to the smaller boats.
OILERS IN FEBRUARY
Oilers in February 2016: 1-1-0, two points; goal differential -4
Oilers in February 2017: 0-2-0, 0 points; goal differential -3
Oilers in February 2018: 1-0-1, three points; goal differential +3
Oilers in February 2019: 0-0-2, two points; goal differential -2
You know, it's a reasonable start considering the layoff and two afternoon games and the injuries. The only problem is Edmonton needs wins. They didn't get a one.
WHAT TO EXPECT IN FEBRUARY
On the road to: Philadelphia, Montreal (Expected 1-1-0) (Actual 0-0-2)
At home to: Chicago (Expected 1-0-0) (Actual 0-0-0)
On the road to: Minnesota (Expected 0-0-1) (Actual 0-0-0)
At home to: San Jose (Expected 0-1-0) (Actual 0-0-0)
On the road to: Pittsburgh, Carolina, NY Islanders (Expected 2-1-0) (Actual 0-0-0)
At home to: Arizona, NY Islanders, Anaheim (Expected 2-1-0) (Actual 0-0-0)
On the road to: Nashville, Toronto, Ottawa (Expected 1-2-0) (Actual 0-0-0)
Overall expected result: 7-6-1, 15 points in 14 games
Current results: 0-0-2, two points in two games
If the Edmonton Oilers grab 14 points in 14 February games, I won't complain. They'll be sellers at the deadline, though.
DEFENSE, LAST NIGHT
"We played a perfect third period, it was the best we've played on the road all year. We did everything we needed to do, gotta have a save." (Ken Hitchcock)

Manning-Benning had a mostly good weekend. Went 10-8 in 11:03, 1-3 shots, no goals, 1-0 HDSC. Benning had a couple of giveaways, otherwise the pairing was clean at 5-on-5. Manning had an encouraging two games. Went 3-3 in 4:33 against Lehkonen-Kotkaniemi-Armia.
Nurse-Russell were 14-16 in 16:07, 7-7 shots, 0-1 goals and 1-3 HDSC. Hitchcock liked the third period but this pairing spends long periods unable to make strong outlet passes. It's a weakness.
Went 3-4 in 6:15 against Lehkonen-Kotkaniemi-Armia. Russell had an especially difficult game.
Gravel-Larsson went 12-24 in 18:42, 4-8 shots, 0-1 goals and 2-4 HDSC. Gravel had a tough time with the puck, making errant passes and chasing from the blue line in. Larsson looked more in control save for the wraparound by Domi and that was some bad luck with the puck going right to Domi. Went 7-13 in 7:46 against Drouin-Danault-Gallagher.
Mikko Koskinen stopped 23 of 27, .852. Both goalies should feel shame based on weekend performances. Koskinen was called out by Hitchcock, although he went Steve Goodman in doing it.
NaturalStatTrick and NHL.com.
FORWARDS, LAST NIGHT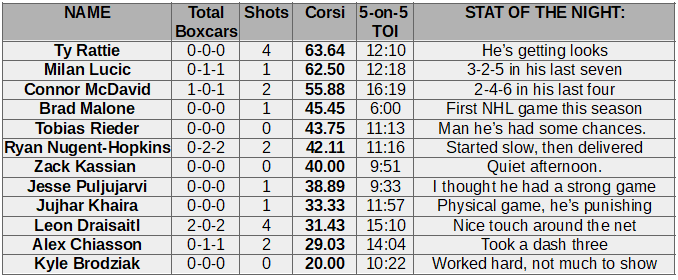 Lucic-McDavid-Rattie went 14-6 in 9:48, 6-3 shots, no goals and 2-1 HDSC. I can't fault the results over this weekend, 97 is scoring (one at 5-on-5 yesterday) and the trio is close to 60 percent in possession.
Khaira-Nuge-Kassian went 6-6 in 5:22, 0-1 shots no goals and no danger. This group was 54 percent over the weekend in possession.
Rieder-Draisaitl-Chiasson went 6-8 in 9:07, 2-4 shots, no goals and 3-0 HDSC. Rieder can't hit the damned ocean or the Oilers would have won, but this trio was 63 percent in possession this weekend and that's solid. Chiasson's assist was a beauty, Leon's two goals a big contributor to Edmonton's getting a point.
Malone-Brodziak-Puljujarvi were 3-6 in 5:01, 0-2 shots and no goals or danger. Puljujarvi had a strong game including a nice chance. Good weekend for him. Brodziak was solid on the dot.
LOWETIDE 31 NAMES 2019 DRAFT
(1) C Jack Hughes, U.S. National Development Team (USHL). A brilliant offensive player, cerebral, quick and highly skilled.
(2) R Kaapo Kakko, Turkku (Sm-Liiga). A big power forward with tons of talent who is emerging in real time.
(3) R Dylan Cozens, Lethbridge (WHL). Size, skill and he can skate. Range of skills, accurate shooter.
(4) RC Kirby Dach, Saskatoon (WHL).A dynamic player with size and tremendous skill, has speed, wingspan and an excellent release.
(5) R Vasili Podkolzin, St. Petersburg (MHL). Smart player with tons of offensive ability, but also possesses good two-way instinct.
(7) LC Trevor Zegras, U.S. National Development Team (USHL). Undersized and highly skilled, elusive and aggressive with very good speed.
(9) LC Peyton Krebs, Kootenay (WHL).Skill forward who can score, he has quick feet and good hands.
(8) L Jakob Pelletier, Moncton (QMJHL). Undersized skill winger with two-way ability.
(6) L Arthur Kaliyev, Hamilton (OHL). He's a fantastic scoring prospect, moving him down because of it. Like him a lot in all other areas.
(10) LC Ryan Suzuki, Barrie (OHL). Great vision, skill, tremendous passer. If he were faster, he'd be top five.
(11) R Cole Caufield, U.S. National Development Team (USHL). He's small, fast and a ridiculous scorer. Quick release, accurate.
(12) LD Bowen Byram, Vancouver (WHL). Explosive speed is his top attribute but he's also excellent with the puck and owns a heavy shot.
(13) LC Alex Turcotte, U.S. National Development Team (USHL). A strong two-way reputation, he is skilled and an excellent skater. Injuries a worry.
(15) L Matthew Boldy, U.S. National Development Team (USHL). Bigger winger with skill, he's strong on the puck and can score goals.
(18) LC Alex Newhook, Victoria (BCHL).Terrific scorer with playmaking skilled and dogged determination on the backcheck. Wish he played in a higher league.
(14) LD Cam York, U.S. National Development Team (USHL). The latest impact puck mover out of the USHL, great speed, passing and creativity.
(16) RC Raphael Lavoie, Halifax Mooseheads (QMJHL). Big center with a long reach, and a plus shot.
(17) LD Thomas Harley, Mississauga (OHL). Good size, speed and he's posting impressive numbers. Spiking as we speak.
(19) LD Matthew Robertson, Edmonton (WHL). Big two-way defenseman with good speed and some offense.
(20) LD Philip Broberg, AIK (Allsvenskan). He's big and can skate, while also displaying puck moving ability.
(21) RC Philip Tomasino, Niagra (OHL). Underrated player with impressive skill, spike offensively year over year has him here.
(22) R Bobby Brink, Sioux City (USHL). Small, fast and very skilled, he's an intelligent player with great vision.
(23) LC Connor McMichael, London (OHL). He has good speed and lots of skill. I like him quite a lot.
(24) RD Victor Soderstrom, Brynas (SHL). Impressive offensive player from the blueline. Good skater, good decisions, very quick.
(25) LD Ville Heinola, Lukko (Sm-Liiga). A mature player for his age, two-way talent with good speed and calm feet. Excellent passer.
(26) L Nick Robertson, Peterborough (OHL). Undersized skill winger with a sixth sense as a goal scorer. Impressive at Top Prospects.
(27) L Nils Hoglander, Rogle (SHL). A small skill winger, he can beat defensemen clean. More playmaker than scorer, but has a quick release and an effective shot.
(28) RD Moritz Seider, Mannheim (DEL). An actual teenage giant (6.04, 198) with a Condor wingspan. He's a good passer and has decent speed.
(29) L Nolan Foote, Kelowna (WHL). Power forward with skill, not certain he's a future scorer on an NHL skill line.
(NR) R Maxim Cajkovic, Saint John (QMJHL). Highly skilled winger on a poor team, he's emerging as a top talent this year.
(31) RC Brett Leason, Prince Albert (WHL). Already famous, he turns 20 two months before the draft. Impressive scorer, massive year over year spike.
LOWDOWN WITH LOWETIDE
A busy morning planned and of course maybe we get some Oilers roster news along the way. It begins at 10, TSN1260, scheduled to appear:
Andy McNamara, TSN4Downs. A surprisingly low scoring Super Bowl with a predictable result. How bad was this game?
Jason Gregor, TSN1260. Can the Oilers make the playoffs? Should the team start selling soon?
10-1260 text, @Lowetide on twitter. Talk soon!