The Edmonton Oilers cannot shake this playoff race no matter how hard they try. The team received several breaks on the out of town scoreboard last night, and a win this evening could put the Oildrop just one point behind eighth place Vancouver.
THE ATHLETIC!
The Athletic Edmonton brought it yesterday, there's a fabulous cluster of stories (some linked below, some on the site). Great perspective from a ridiculous group of writers and analysts. Proud to be part of the group. Outstanding offer is here.
OILERS AFTER 53
Oilers in 2015: 21-27-5, 47 points; goal differential -21
Oilers in 2016: 28-17-8, 64 points; goal differential +12
Oilers in 2017: 23-26-4, 50 points; goal differential -28
Oilers in 2018: 23-24-5, 51 points; goal differential -15
This year's team has a back story that won't see the light of day unless there's a winning streak to come. The goal differential of the 2018-19 team is superior to 2015 and 2016, but the won-loss is close. The Oilers need a heater even more than the citizens of Edmonton (I think I have the usage right).
OILERS IN FEBRUARY
Oilers in February 2016: 1-2-0, two points; goal differential -8
Oilers in February 2017: 1-2-0, two points; goal differential -3
Oilers in February 2018: 1-1-1, three points; goal differential +2
Oilers in February 2019: 0-0-2, two points; goal differential -2
WHAT TO EXPECT IN FEBRUARY
On the road to: Philadelphia, Montreal (Expected 1-1-0) (Actual 0-0-2)
At home to: Chicago (Expected 1-0-0) (Actual 0-0-0)
On the road to: Minnesota (Expected 0-0-1) (Actual 0-0-0)
At home to: San Jose (Expected 0-1-0) (Actual 0-0-0)
On the road to: Pittsburgh, Carolina, NY Islanders (Expected 2-1-0) (Actual 0-0-0)
At home to: Arizona, NY Islanders, Anaheim (Expected 2-1-0) (Actual 0-0-0)
On the road to: Nashville, Toronto, Ottawa (Expected 1-2-0) (Actual 0-0-0)
Overall expected result: 7-6-1, 15 points in 14 games
Current results: 0-0-2, two points in two games
There are very few "must win" games for a team like Edmonton because they enter most games as an underdog. That said, the Blackhawks are in a period of transition ala the Canucks, and the Oilers are the home team. They should win this game.
OILERS 5-ON-5 SCORING

McDavid, Leon and Nuge are the delivery men for this team, towering over the rest of the forwards.
Among the second group, Khaira, Chiasson and Rattie are in a range where we can estimate them as NHL third liners.
If the Oilers arrive at the deadline as sellers, my guess is there might be interest in Alex Chiasson, Tobias Rieder, Jujhar Khaira, Zack Kassian, Brandon Manning, Matt Benning, Kevin Gravel, Alex Petrovic and Cam Talbot.
CONDORS FORWARDS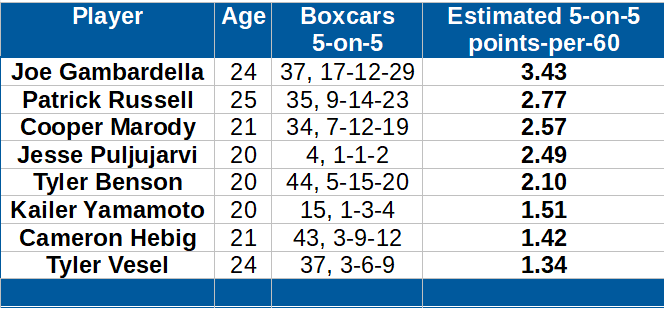 Candidates for NHL auditions among Condors forwards include Joe Gambardella, Patrick Russell, Tyler Benson and Cooper Marody. Kailer Yamamoto hasn't yet found the range in Bakersfield.
Sekera back (Oscar too) will be grand if he can play anything close to the effectiveness of his 2016-17 season. Sekera is on rehab for several days but the Oilers have to get down to the cap before then. If my math is right, an Alex Petrovic or Matt Benning trade for picks/minor leaguer/prospects gets it done.
CONDORS BLUE

Jones has stepped up this season, don't think there's much doubt he'd be first man up for a recall.
Bear and Lagesson are fine young prospects, Stanton and Lowe veterans with NHL experience. Logan Day? He brings skill and some chaos and has earned an NHL contract.
Numbers via prospect-stats.com.
OSCAR
Klefbom will skate this morning and then we'll see. One expects he'll be less than 100 percent dreamy first time out but his ability to move the puck has been sorely missed.
KEITH GRETZKY
Including tonight, Edmonton has nine games before the deadline. Interim general manager Keith Gretzky will make his first transaction in the coming days, as the organization makes room for Andrej Sekera.
One thing we can assume: Gretzky is in fact a caretaker general manager. If he were given more leeway, I expect this Oilers team would have added a scoring winger by now. These nine games before the deadline are crucial. No rentals added means Katz and Nicholson aren't going to allow Gretzky to get help. I'm in favor of that route, and it's also a tell. If you're an Oilers fan who has been screaming for a full house cleaning, you might be on the way to getting your wish.
LOWDOWN WITH LOWETIDE
A busy morning with lots shaking, we get started at 10, TSN1260. Scheduled to appear:
Daniel Nugent-Bowman, The Athletic. Keith Gretzky negotiating the rapids.
Jimmy Greenfield, Chicago Tribune. The Blackhawks are coming on, we'll chat about progress, Caggiula and more.
Also working on an NBA guest, the trade deadline is Thursday at 1pm so we'll check out the rumors. 10-1260 text, @Lowetide on twitter. See you on the radio!