The Edmonton Oilers had a 2-1 lead going into the third period last night, and Oilers fans had thoughts of waking up this morning one point out of the playoffs. A wretched third period put those thoughts to rest and the organization once again sent fans out into the cold angry and disappointed. How long is how long?
THE ATHLETIC!
The Athletic Edmonton brought it yesterday, there's a fabulous cluster of stories (some linked below, some on the site). Great perspective from a ridiculous group of writers and analysts. Proud to be part of the group. Outstanding offer is here.
OILERS AFTER 53
Oilers in 2015: 21-27-5, 47 points; goal differential -21
Oilers in 2016: 28-17-8, 64 points; goal differential +12
Oilers in 2017: 23-26-4, 50 points; goal differential -28
Oilers in 2018: 23-25-5, 51 points; goal differential -19
OILERS IN FEBRUARY
Oilers in February 2016: 1-2-0, two points; goal differential -8
Oilers in February 2017: 1-2-0, two points; goal differential -3
Oilers in February 2018: 1-1-1, three points; goal differential +2
Oilers in February 2019: 0-1-2, two points; goal differential -6
WHAT TO EXPECT IN FEBRUARY
On the road to: Philadelphia, Montreal (Expected 1-1-0) (Actual 0-0-2)
At home to: Chicago (Expected 1-0-0) (Actual 0-1-0)
On the road to: Minnesota (Expected 0-0-1) (Actual 0-0-0)
At home to: San Jose (Expected 0-1-0) (Actual 0-0-0)
On the road to: Pittsburgh, Carolina, NY Islanders (Expected 2-1-0) (Actual 0-0-0)
At home to: Arizona, NY Islanders, Anaheim (Expected 2-1-0) (Actual 0-0-0)
On the road to: Nashville, Toronto, Ottawa (Expected 1-2-0) (Actual 0-0-0)
Overall expected result: 7-6-1, 15 points in 14 games
Current results: 0-1-2, two points in three games
DEFENSE, LAST NIGHT

Klefbom-Larsson played big minutes and had good possession but were culprits in specific moments. Pair were 18-13 in 18:19, 10-6 shots, 0-1 goals and 7-4 HDSC. Were 8-9 in 10:10 (0-1 goals) against Caggiula-Toews-Kane. I'm glad to have Oscar back.
Nurse-Russell had an awful third period. The Haydun goal was mostly about Rieder, but Nurse screening Talbot on the Strome marker and Russell leaving his feet seconds before the Caggiula goal contributed to the disaster. Went 9-5 in 6:25 against Saad-Kruger-Kampf. This pairing collapses like a cheap suit.
Gravel-Benning were low event despite getting caved in possession.
Cam Talbot stopped 23 of 27, .852. Mikko Koskinen stopped six of eight, .750. Not good.
NaturalStatTrick and NHL.com.
FORWARDS LAST NIGHT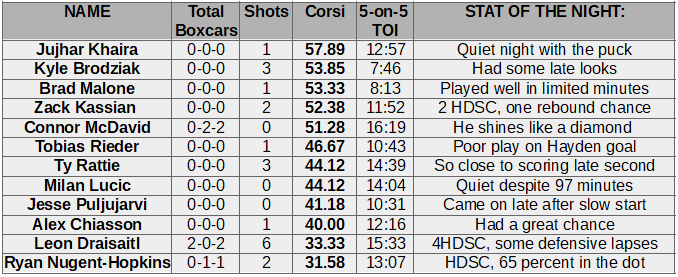 Lucic-McDavid-Rattie were 12-13 in 9:28, 5-8 shots and 0-1 goals. Were 4-4 HDSC. I think we'll see this line shuffled soon. Rattie had a helluva chance late in the second, if he scores there, well, you never know.
Reider-Draisaitl-Chiasson went 6-4 in 8:10, 3-2 shots, 0-1 goals and 1-2 HDSC. Reider is going to drive me mad, good lord man you trolled us for years with your scoring and now it's all gone, every last drop.
Khaira-Nuge-Kassian were 4-3 in 5:43, 2-0 shots and 2-0 HDSC. Not sure why were didn't see more of them.
Malone-Brodziak-Puljujarvi were 2-5 in 4:28, 0-2 shots, 0-1 goals and nothing high danger. Malone high sticked McDavid. Good grief.
A FEW POINTS
Throwing things on the ice is old. If you want to show your rage, do something like turn your back to the ice for the first two minutes of the game. Soccer fans do that kind of thing to shame management and ownership. More effective, gets headlines.
The Oilers need a goalie. Incredible.
I wonder what Todd McLellan is thinking now.
Leon Draisaitl is a helluva player.
Connor McDavid is the best player in the game.
There's no trade that can be made to guarantee the playoffs. Oilers should keep their powder dry.
The new general manager should cordon off the prospects (Bouchard, Yamamoto, Benson) from this Oilers team until the fall.
LOWDOWN WITH LOWETIDE
A busy morning, we'll open up the phone lines and Bruce McCurdy will be around at 10:20 to offer his opinion on last night's game. Kris Abbott from OddsShark will also drop in just after 11. 10-1260 text, @Lowetide on twitter.