The Edmonton Oilers remain three points out of a playoff spot, tied with 15 other teams for No. 11 in the Western Conference. Oilers fans are basically prepared for anything—10 goals against in the third period, malaria, love in the time of cholera, plus all the awful things mentioned in Leviticus. A regulation win? Now that would be surprising.
THE ATHLETIC!
The Athletic Edmonton brought it yesterday, there's a fabulous cluster of stories (some linked below, some on the site). Great perspective from a ridiculous group of writers and analysts. Proud to be part of the group. Outstanding offer is here.
OILERS AFTER 54
Oilers in 2015: 21-28-5, 47 points; goal differential -28
Oilers in 2016: 28-18-8, 64 points; goal differential +11
Oilers in 2017: 23-27-4, 50 points; goal differential -29
Oilers in 2018: 23-25-5, 51 points; goal differential -19
The 2018-19 Oilers are the second best McDavid Oilers, and my goodness they are still a wild ride. If you look at this year's Oilers, and compare them to other clubs in this race for the final playoff spot, there is an incredible looseness on and off the ice. Oilers can give up five in a period tonight and find themselves in a cap crunch before midnight Tuesday. Does anyone know how to drive this thing?
OILERS IN FEBRUARY
Oilers in February 2016: 1-3-0, two points; goal differential -15
Oilers in February 2017: 1-3-0, two points; goal differential -7
Oilers in February 2018: 1-2-1, three points; goal differential +1
Oilers in February 2019: 0-1-2, two points; goal differential -6
The 2016 club was off the rails after four games, the playoff team struggling too. We'll see about this bunch, seems there's a lot of soap opera around the team currently.
WHAT TO EXPECT IN FEBRUARY
On the road to: Philadelphia, Montreal (Expected 1-1-0) (Actual 0-0-2)
At home to: Chicago (Expected 1-0-0) (Actual 0-1-0)
On the road to: Minnesota (Expected 0-0-1) (Actual 0-0-0)
At home to: San Jose (Expected 0-1-0) (Actual 0-0-0)
On the road to: Pittsburgh, Carolina, NY Islanders (Expected 2-1-0) (Actual 0-0-0)
At home to: Arizona, NY Islanders, Anaheim (Expected 2-1-0) (Actual 0-0-0)
On the road to: Nashville, Toronto, Ottawa (Expected 1-2-0) (Actual 0-0-0)
Overall expected result: 7-6-1, 15 points in 14 games
Current results: 0-1-2, two points in three games
Ottawa will want a first-round pick in the 2019 draft, Edmonton could be shopping for any number of pieces. I'll name Ryan Dzingel, Cody Ceci, Craig Anderson but it could be Zack Smith.
I have no way of best available but my goodness there are a lot of candidates. Bill Zito of the Columbus Blue Jackets and Laurence Gilman of the Toronto Maple Leafs get mentioned, but they come from the agent/numbers side. Edmonton is looking for a talent evaluator based on early names (the Hunters, Kelly McCrimmon). Mike Futa of the Los Angeles Kings might be a solid candidate.
Cam Talbot is No. 11, starting tonight and that probably means more showcase games. Jesse Puljujarvi is No. 35, seems his chances of staying have increased (music!) and Tobias Rieder is No. 46.
CONDORS STATS
Eric Rodgers has been delivering quality AHL stats since the Oklahoma City days, and he continues to do it several times a season for the Bakersfield Condors. It's a unique look inside the team and gives us a strong idea about who is pushing results (scoring and outscoring) in the AHL. Here's the latest: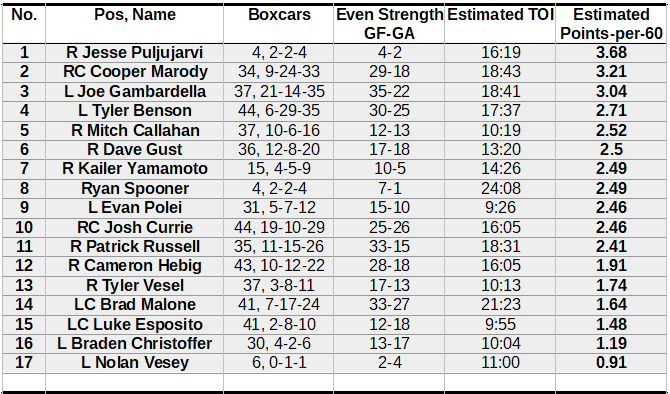 Eric has been doing this for a long time and the estimates ring true. Anything over 2.50 is 'in the range' of NHL calibre, meaning Puljujarvi, Marody, Gambardella and Benson quality. Yamamoto? Not there yet. I'll have the defense for you tomorrow.
Benson's season at 20 shines like a diamond compared to other Oilers prospects who played in the AHL at the same age in recent seasons. Here's a look at the 2014-15 campaign: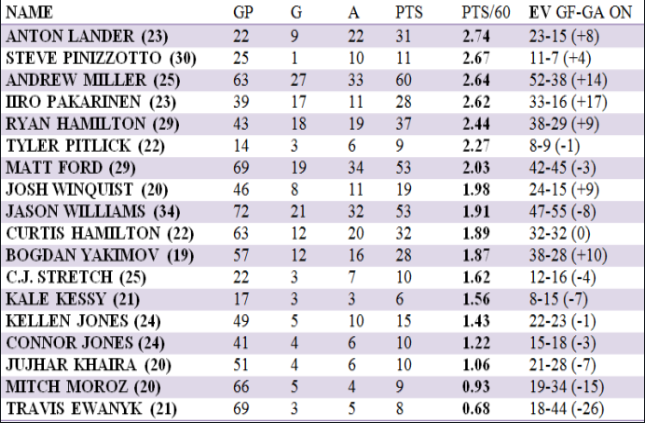 Also fascinating in looking back? The two NHL players from this roster (Pitlick and Khaira) are well down the list. The lessons? Twofold. First, scoring stars don't play in the AHL much, and there's plenty of room to grow when you're in the AHL at age 20.
What does this say about Yamamoto? Well he is posting strong numbers at 20 but it's also true skill forwards don't spend much time in the minors. A very important finish to the season for the youngster.
LOWDOWN WITH LOWETIDE
A fun morning with lots shaking, we get started at 10, TSN1260. Scheduled to appear:
Sarah McLellan, Star Tribune Sports. Wild have a six-point cushion over the Oilers but tonight is a big game. Also, Mikko Koivu's injury.
Frank Seravalli, TSN. The trade board needs updating every hour on the hour!
10-1260 text, @Lowetide on twitter. Talk soon!