That was a big damned win. It was also the best game the Oilers have played in a long time. Edmonton got fed in possession, and gave up many fabulous chances, but Cam Talbot played a helluva game, the power play continued to fire live bullets, the penalty kill was aggressive and the club climbed a little closer to the playoffs. The team skated well, moved the puck effectively and cashed on chances. Music!
THE ATHLETIC!
The Athletic Edmonton brought it yesterday, there's a fabulous cluster of stories (some linked below, some on the site). Great perspective from a ridiculous group of writers and analysts. Proud to be part of the group. Outstanding offer is here.
OILERS AFTER 54
Oilers in 2015: 21-28-5, 47 points; goal differential -28
Oilers in 2016: 28-18-8, 64 points; goal differential +11
Oilers in 2017: 23-27-4, 50 points; goal differential -29
Oilers in 2018: 24-25-5, 53 points; goal differential -17
We don't know where this team will land, but the victory in St. Paul last night ends a losing streak and offers hope to all participants. The goal differential improves, both because the team scored three (before the EN) and managed to stop all but one.
OILERS IN FEBRUARY
Oilers in February 2016: 1-3-0, two points; goal differential -15

Oilers in February 2017: 1-3-0, two points; goal differential -7

Oilers in February 2018: 1-2-1, three points; goal differential +1

Oilers in February 2019: 1-1-2, four points; goal differential -4
As of right now, this is the most productive McDavid Oilers team for the month of February. The team needs a winning streak, is it possible the seeds were sown during that ghastly third period against Chicago?
WHAT TO EXPECT IN FEBRUARY
On the road to: Philadelphia, Montreal (Expected 1-1-0) (Actual 0-0-2)
At home to: Chicago (Expected 1-0-0) (Actual 0-1-0)
On the road to: Minnesota (Expected 0-0-1) (Actual 1-0-0)
At home to: San Jose (Expected 0-1-0) (Actual 0-0-0)
On the road to: Pittsburgh, Carolina, NY Islanders (Expected 2-1-0) (Actual 0-0-0)
At home to: Arizona, NY Islanders, Anaheim (Expected 2-1-0) (Actual 0-0-0)
On the road to: Nashville, Toronto, Ottawa (Expected 1-2-0) (Actual 0-0-0)
Overall expected result: 7-6-1, 15 points in 14 games
Current results: 1-1-2, four points in four games
DEFENSE, LAST NIGHT

Klefbom-Larsson were 10-11 in 16:37, 6-6 shots, no goals and 1-1 HDSC. Both men played well, Klefbom battled along the wall as well as I've ever seen him, and Larsson was strong in all defensive areas. Went 4-4 in 9:30 against Greenway-Staal-Granlund, that's now the top line for Minnesota. Klefbom's play was outstanding, Hitchcock mentioned how much he means to the Oilers in the postgame.
Manning-Benning went 8-18 in 12:34, 6-11 shots, 1-0 goals and 3-4 HDSC. I thought both men played well at times, but Manning is slow to recognize danger in front and Benning isn't taking enough care with his outlet passes. Pair was 4-6 in 5:22 against Parise-Rask-Coyle. I prefer Gravel to Manning.
Nurse-Russell were 8-22 in 17:09, 4-15 shots, 1-1 goals and 1-4 HDSC. Very few pairings play the style of 25-4, who don't push the puck much and pay for it with extra defensive sorties. They both need Sekera. Went 2-13 (0-1 GF) against Zucker-Eriksen Ek-Kunin. Russell was thrown into the turnbuckle and survived. Huge goal by Nurse, it gave the team early momentum.
Cam Talbot was excellent, stopping 35 of 36, .972. Impressive game.
NaturalStatTrick and NHL.com.
FORWARDS, LAST NIGHT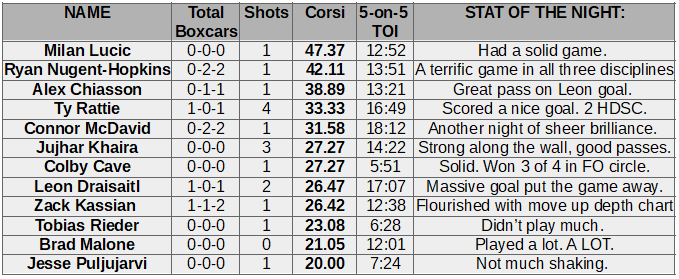 Lucic-Nuge-Chiasson were terrific, going 7-8 in 10:30, 4-6 shots, no goals but 0-3 HDSC. They were the one line who were mostly effective in keeping the puck 10 miles from danger.
Rieder-Cave-Puljujarvi went 3-7 in 4:25, 2-4 shots and 2-0 HDSC. Impressive showing by the line, the two youngsters had their moments in this game.
Draisaitl-McDavid-Rattie were 8-20 in 14:27, 3-13 shots 0-1 goals and 1-6 HDSC. That's awful. Of course both wingers scored and the center had two assists, so it wasn't all bad. McDavid was 6-23 against Suter-Spurgeon in 13:31.
Khaira-Malone-Kassian were 4-14 in 11:10, 2-10 shots and 1-1 HDSC. Line was faster with Malone in the middle, he was solid save for taking too long to move the puck. Kassian had a fine game, I liked Khaira's passing and physical play.

CONDORS STATS (BLUE)
Eric Rodgers has been delivering quality AHL stats since the Oklahoma City days, and he continues to do it several times a season for the Bakersfield Condors. It's a unique look inside the team and gives us a strong idea about who is pushing results (scoring and outscoring) in the AHL. I passed along the forwards yesterday, today we have the defensemen. The two categories that have the biggest importance are TOI and goal differential:


Caleb Jones has stepped forward in all ways, including an NHL recall. It's important to note just how much he has improved year over year. Massive tell and my guess is that he's probably going to be an ask in trade here leading up to the deadline. Ethan Bear took some time to get going this year due to injury but is now delivering similar numbers to one year ago. A third prospect, William Lagesson, also shows well and I believe the Oilers are going to have to sign Logan Day. Seriously. Now, let's have a look at Rodgers' numbers from last season:

The goal differential for Jones year over year (-14 to +10) is monumental, while Bear (-8 to +9) isn't far behind. Both men saw an increase in icetime and Jones offense spiked (Bear remains the same in offensive output).
You never know, and it's always best to assume just one out of three prospects makes it (remember our conversation of 12 years ago surrounding Jeff Petry, Taylor Chorney and Cody Wild). It's also true that all of Jones, Bear and Lagesson are trending well. This Logan Day fellow also has a "Jordan Oesterle-Brad Hunt" vibe about him. Just saying.
TYSON BARRIE
His name is being mentioned as a possible trade item, I doubt the Oilers will have interest but that could change come summer. Evan Bouchard, Ethan Bear and Joel Persson will be pushing for NHL work in the fall, but each will be better suited to third pairing work with Andrej Sekera as mentor. If the new general manager could find a way to offload Kris Russell, Barrie would be an excellent one-year rental (he is $5.5 million AAV on a contract that expires summer 2020) option.
LOWDOWN WITH LOWETIDE
A fun Friday with guests being added by the minute. Scheduled to appear:
Steve Lansky, Big Mouth Sports. We'll chat Hockey Day in Canada and the Oilers.
Ryan Holt, Bakersfield Condors PBP announcer. The Condors are on an incredible streak, we'll chat about all the things that are going right.
10-1260 text, @Lowetide on twitter. Talk soon!