Ken Hitchcock was hot under the collar after last night's game, saying "at this time of year the coaches can't want it more than the players." The Oilers weren't sharp and the Sharks took advantage. Edmonton was the second best team on the ice on Saturday night, but the home side was also outworked and outsmarted. Is the problem lack of talent or lack of execution, or both? The coach thinks it's priorities. Hitch's Saturday night verbal might be his final bullet, incredible considering he took over the team just 82 days ago. Will we see a third head coach this season?
THE ATHLETIC!
The Athletic Edmonton features a fabulous cluster of stories (some linked below, some on the site). Great perspective from a ridiculous group of writers and analysts. Proud to be part of the group. Outstanding offer is here.
OILERS AFTER 55
Oilers in 2015: 21-29-5, 47 points; goal differential -29

Oilers in 2016: 29-18-8, 66 points; goal differential +11

Oilers in 2017: 23-28-4, 50 points; goal differential -30

Oilers in 2018: 24-26-5, 53 points; goal differential -20
OILERS IN FEBRUARY
Oilers in February 2016: 1-4-0, two points; goal differential -16

Oilers in February 2017: 2-3-0, four points; goal differential -4

Oilers in February 2018: 1-3-1, three points; goal differential 0

Oilers in February 2019: 1-2-2, four points; goal differential -7
WHAT TO EXPECT IN FEBRUARY
On the road to: Philadelphia, Montreal (Expected 1-1-0) (Actual 0-0-2)

At home to: Chicago (Expected 1-0-0) (Actual 0-1-0)

On the road to: Minnesota (Expected 0-0-1) (Actual 1-0-0)

At home to: San Jose (Expected 0-1-0) (Actual 0-1-0)

On the road to: Pittsburgh, Carolina, NY Islanders (Expected 2-1-0) (Actual 0-0-0)

At home to: Arizona, NY Islanders, Anaheim (Expected 2-1-0) (Actual 0-0-0)

On the road to: Nashville, Toronto, Ottawa (Expected 1-2-0) (Actual 0-0-0)

Overall expected result: 7-6-1, 15 points in 14 games

Current results: 1-2-2, four points in five games
DEFENSE, LAST NIGHT

Klefbom-Larsson were 16-12 in 16:13, 5-4 shots, 0-1 goals and 2-3 HDSC. Were 11-11 in 10:13 against Kane-Hertl-Donskoi, 0-1 goals on a play where Leon Draisaitl needed to back check and did not in fact back check. Oscar had a great offensive chance, looked a little delayed defensively here and there, but I have no quarrel with this tandem. Larsson rocked Hertl with a fabulous check in the scoring zone.
Manning-Gravel were 10-8 in 8:45, 5-7 shots, 0-2 goals and 3-3 HDSC. The coach likes Manning's physical play, but he'd been beaten several times in the early minutes and it would not get better from there. Gravel is fighting the puck recently, that third pairing is turning into an adventure. Hurry home, Andrej! Went 7-4 in 4:46 (0-2 goals) against Sorenson-Thornton-Lebanc.
Nurse-Russell went 9-12 in 17:00, making the duo the de facto No. 1 pairing on the night. Were 4-7 shots, no goals and 2-4 HDSC. Went 6-6 against Meier-Couture-Pavelski. The pairing was mostly effective in defending, but the lack of successful outlet passes means they defend too much. Same as it ever was.
Cam Talbot stopped 26 of 31, .839. It was a track meet all night and the Oilers allowed snipers to walk free in daylight down broadway. You'd like your goalie to stop a couple of those shots but Talbot wasn't close to being the problem.
FORWARDS, LAST NIGHT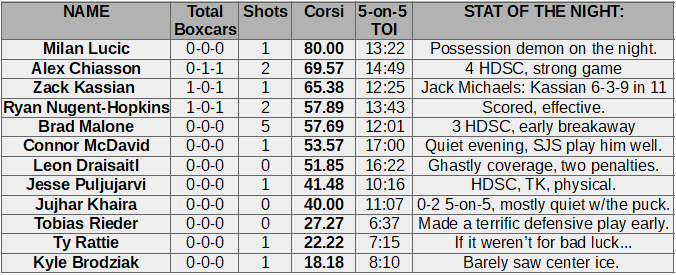 Draisaitl-McDavid-Rattie were 2-5 in 5:42, 1-3 shots and 0-1 goals, 0-1 HDSC. Sharks manhandle 97 without getting caught, that was a big part of the story in this game. Leon looked awful on the Kane goal, his inability to recognize danger is keeping him from being a complete player. I don't think he's lazy, I don't think he's incapable, but that's a part of his game in which we'll look forward to seeing improvement.
Draisaitl-McDavid-Chiasson went 8-1 in 5:34, 3-0 shots and 1-0 HDSC. The puck was heading in a good direction in these five minutes, seems to me this trio should get a long look on the road trip.
Lucic-Nuge-Chiasson were 4-1 in 4:28, 2-0 shots and 1-1 HDSC. I like the line and wouldn't mind seeing it on the road trip, but suspect Chiasson would be better used on the 97 line.
Khaira-Nuge-Puljujarvi were 5-4 in 4:21, 1-1 shots, 0-1 goals and 0-1 HDSC. I like this line tremendously and would like to see the trio for the rest of this season.
Lucic-Malone-Kassian were 9-1 in four minutes, 6-1 shots and 2-0 HDSC. Terrific trio, Malone is badly outplaying Brodziak.
Draisaitl-McDavid-Kassian went 4-3 in 2:33, 2-3 shots 1-0 goals and 1-2 HDSC. I prefer Chiasson here but you have to respect Kassian's recent success.
OILERS 5-ON-5 SCORING, 2019
Zack Kassian 16, 4-5-9 (2.72)
Connor McDavid 16, 6-5-11 (2.43)
Ryan Nugent-Hopkins 16, 1-6-7 (1.95)
Leon Draisaitl 16, 5-3-8 (1.84)
Milan Lucic 16, 3-2-5 (1.54)
Ty Rattie 11, 2-1-3 (1.39)
Darnell Nurse 16, 2-4-6 (1.19)
Caleb Jones 10, 0-3-3 (1.03)
Adam Larsson 16, 1-3-4 (0.83)
Tobias Rieder 15, 0-2-2 (0.80)
Jesse Puljujarvi 16, 1-1-2 (0.68)
Jujhar Khaira 16, 0-2-2 (0.63)
Alex Chiasson 15, 0-2-2 (0.60)
Kevin Gravel 9, 0-1-1 (0.47)
Brandon Manning 11, 0-1-1 (0.46)
Kyle Brodziak 15, 0-1-1 (0.45)
Matt Benning 12, 0-1-1 (0.40)
Kris Russell 14, 0-1-1 (0.24)
Kassian's recent performances (Jan-Feb) deserves some attention. He's on pace for 12 goals, the highest total since his 14 markers for Vancouver in 2013-14. He has played with high skill (Sedins) before, should Hitchcock run him with Leon-McDavid?
Another win for the Oilers last night, and a few days before the road trip. If the team is going to make some changes pre-deadline, the next 48 hours would seem to be the best spot. Getting Sekera on the major league roster and adding skill up front are two areas we can chat about in the coming days.