One of the things I've kept track of over the years is the size and quality of the Connor McDavid cluster. I'm not sure how much appeal this idea holds but for me it's a key element for the eventual Stanley run. The organization needs McDavid-Leon and then a large group of support players and value deals. Here's another key: Evan Bouchard might be the final first-round pick that can be included in the 97 cluster. How is that group 18-22 doing?
THE ATHLETIC!
The Athletic Edmonton features a fabulous cluster of stories (some linked below, some on the site). Great perspective from a ridiculous group of writers and analysts. Proud to be part of the group. Outstanding offer is here.
THE MCDAVID CLUSTER
Bouchard is technically part of a new cluster but he was an older draft pick in 2018, so I've placed him here. One of the legacy gifts left by PC is a large number of kids who couldn't grow with the group. I'll name Nail Yakupov, Griffin Reinhart, Anton Slepyshev and Puljujarvi is a strong candidate to miss the boat. One of the things I do every year is count the contribution of each cluster (McDavid, Prime, Veteran) by year to see who is growing.
2015-16: 411 games, 63-125-136 .331 points-per-game; .153 goals-per-game
2016-17: 409 games, 80-170-250 .611 points, .196 goals
2017-18: 334 games, 85-146-231 .692 points, .254 goals (!!)
2018-19: 200 games, 70-94-164 .820 points, .350 goals (!!)
Based on current progress, the McDavid cluster should account for 298 games and 104 goals. That's enormous production from a very small percentage of the roster (measured by total games). This is championship calibre based on production-per-game.
The worry is that there are just two main contributors and both of them are already getting paid. You need Yanni Gourde and then another Yanni Gourde (Brayden Point) coming up behind. Edmonton badly needs names like Evan Bouchard, Tyler Benson, Ryan McLeod, Caleb Jones and Ethan Bear to work out. Plus a goalie.
THE PRIME CLUSTER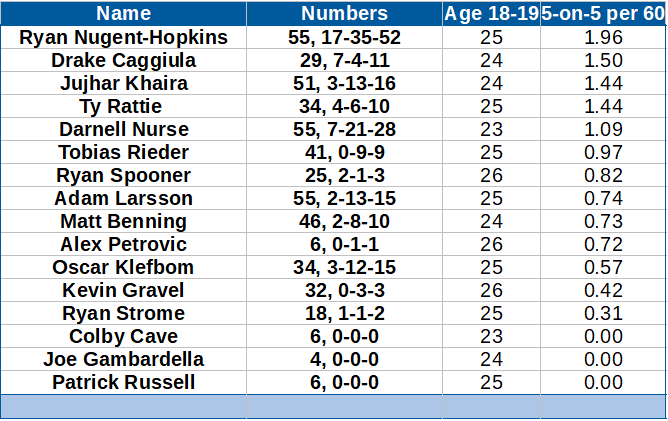 This is the second most important category, led by Nuge, and three feature defensemen. Oilers need a couple of 20-goal wingers to flush out the group. Here's the history:
2015-16: 485 games, 68-96-164 .338 points and .140 goals
2016-17: 515 games, 72-123-195 .379 points and .140 goals
2017-18: 717 games, 101-133-234 .325 points and .141 goals
2018-19: 497 games, 48-125-173 .348 points and .097 goals
Extrapolated over 82 games, the totals are 741 games and 72 goals. What's missing? Well you can see it in the 2015-16 "prime" group that included Taylor Hall and Jordan Eberle. The failed auditions since 2012 and the poor returns on trades are really evident here. There's no winger in his prime to push the river. Important for the Oilers to have a few more pieces by the time the McDavid cluster becomes the prime cluster.
It's also important to note the falloff from last season. The prime cluster will be 30 goals behind the 2017-18 group. That's substantial.
THE VETERAN CLUSTER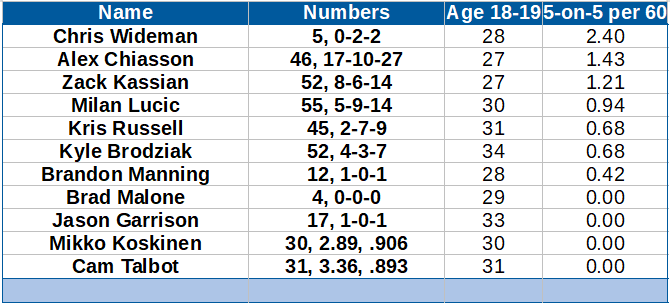 This is the group of players who have been paid very well since 2015 and have not delivered enough to warrant continued employment. Here are the numbers:
2015-16: 667 games, 68-122-190 .285 points and .102 goals
2016-17: 640 games, 91-117-208 .325 points and .142 goals
2017-18: 515 games, 43-105-148 .287 points and .083 goals
2018-19: 349 games, 38-37-75 .215 points and .109 goals
Projected to 520 games and 57 goals, not enough to warrant the money. If the Oilers could magically erase the entire cluster, life would be a dream for the new general manager.
THE SUMMER
Ideally the McDavid cluster takes on a greater role in 2019-20. McDavid and Draisaitl are the heart of the order, but if one or two of JP, KY, Tyler Benson, Evan Bouchard, Ethan Bear or Caleb Jones emerge as useful regulars, that would represent real progress. It is not guaranteed—Peter Chiarelli bet on Puljujarvi three times and lost his job in part because of it—but there's real talent in the McDavid cluster.
The "prime" group has Nuge and three defensemen (Klefbom, Larsson and Nurse), I keep looking around for a Nikolaj Ehlers who could jumpstart a second scoring line.
The veteran group is the hole where the money goes and Edmonton isn't getting value. I hope you enjoyed this look at the three clusters of this Oilers team, for me it has value. You have expressed in the past that this isn't beneficial, so consider this a personal indulgence.
LOWDOWN WITH LOWETIDE
At 10 this morning, TSN1260. This is going to be a huge week for the Oilers and Eskimos and we have you covered. Scheduled to appear:
Derek Taylor, #CFLDetails on TSN. Free agency gone wild tomorrow in the CFL. Quarterbacks, rush ends, wideouts, holy smokes it's big.
Eric Stephens, The Athletic Anaheim. We'll chat about Randy Carlyle out with the Ducks, Bob Murray interim and Dallas Eakins waiting.
Jason Gregor, TSN1260. St. Louis is giving the Oilers the Blues, is it all over? Plus Eskimos and free agency.
10-1260 text, @Lowetide on twitter. See you on the radio!