The first time the NHL Oilers played against the Pittsburgh Penguins, it was a bloodbath in Pennsylvania. Edmonton won 5-2 (nine points for the Callighen-Gretzky-MacDonald line). If you look at the summary linked, you'll see an actual mountain of penalties in the second period. I reached out to Cam Connor, whose name is spread liberally throughout the game's penalty notations.
Cam Connor: "In the middle of the second period, Gretzky came over the Penguins blue line and walked defenseman Kim Clackson. I knew what Clackson was going to do, because he always slashed the oncoming forward on that play. Clackson whacked Gretzky on the side of the head, and Wayne went down. Dave Semenko, who could beat Clackson, went right after him. Pat Hughes and I ended up pairing off. Semenko told me he and Clackson fought five times during the melee. At the end of the fight, the linesman began splitting them up, and Semenko turned his head for an instant. In that moment, Clackson came over the top of the linesman and landed a punch on Semenko's left eye."
I believe this video is from that night. Based on the video, Mr. Connor did a helluva lot more than "pair off" but it looked like an incredible game. 🙂
THE ATHLETIC!
The Athletic Edmonton features a fabulous cluster of stories (some linked below, some on the site). Great perspective from a ridiculous group of writers and analysts. Proud to be part of the group. Outstanding offer is here.
OILERS AFTER 56
Oilers in 2015: 22-29-5, 49 points; goal differential -27

Oilers in 2016: 29-19-8, 66 points; goal differential +7

Oilers in 2017: 23-29-4, 50 points; goal differential -33

Oilers in 2018: 24-26-5, 53 points; goal differential -20
I don't think the playoffs or 90 points are realistic at this point, but 82 (point-per-game) is within reach. Edmonton has reached 82 points just once since 2009, that was the 103-point season in 2016-17.
OILERS IN FEBRUARY
Oilers in February 2016: 2-4-0, four points; goal differential -14

Oilers in February 2017: 3-3-0, six points; goal differential -1

Oilers in February 2018: 1-4-1, three points; goal differential -1

Oilers in February 2019: 1-2-2, four points; goal differential -7
WHAT TO EXPECT IN FEBRUARY
On the road to: Philadelphia, Montreal (Expected 1-1-0) (Actual 0-0-2)
At home to: Chicago (Expected 1-0-0) (Actual 0-1-0)
On the road to: Minnesota (Expected 0-0-1) (Actual 1-0-0)
At home to: San Jose (Expected 0-1-0) (Actual 0-1-0)
On the road to: Pittsburgh, Carolina, NY Islanders (Expected 2-1-0) (Actual 0-0-0)
At home to: Arizona, NY Islanders, Anaheim (Expected 2-1-0) (Actual 0-0-0)
On the road to: Nashville, Toronto, Ottawa (Expected 1-2-0) (Actual 0-0-0)
Overall expected result: 7-6-1, 15 points in 14 games
Current results: 1-2-2, four points in five games
This is the point in the month where I thought the Oilers would go on a bit of a roll. I thought Klefbom and Sekera would be back, and also thought the team would have added a scorer. Good for them, staying the course is the right call. My prediction for the month as a whole is well within range.
CURRENT ROSTER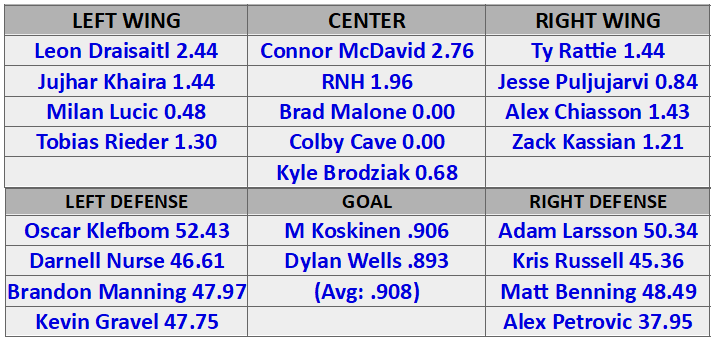 Andrej Sekera plays tonight for the Condors and based on reports he's very close to being NHL-ready. In Daniel Nugent-Bowman's interview with interim general manager Keith Gretzky (a must read) he says "it won't be pretty" but they can get under the cap. Koskinen starts, he needs to be November Mikko. Folks, I don't think they make it, but improving on last year remains a noble goal.
Insider Trading has the Oiler trying to deal Brandon Manning and Alex Petrovic, with no takers at this time. Frank Seravalli suggested both being placed on waivers is a possible solution, Oilers fans reacted online with derision. Now? It might be the likely plan. What a waste of assets.
LOWDOWN WITH LOWETIDE
A busy morning, we'll cover a lot of bases between 10 and noon, TSN1260. Scheduled to appear:
Bruce McCurdy, Cult of Hockey at the Edmonton Journal. Oilers buyers or sellers?
Matthew Scianitti, TSN. A wild day in CFL free agency.
Jon Campbell, OddsShark. NHL playoff odds, NFL odds early days and the Alliance.
Corey Pronman, The Athletic. His mid-season rankings feature two "special" players and four "elite" players. We'll talk about this year's draft.