The Oilers played well last night in Raleigh but they simply didn't have enough firepower to make a dent in the Hurricanes. A 3-1 loss that should have at least gotten to overtime is an empty glass at midnight.
I can't find reasons to be critical this morning, beyond the roster makeup and we've beaten that horse to death. This is us. These Oilers exerted max effort, made a couple of mistakes and couldn't get it right.
THE ATHLETIC!
The Athletic Edmonton features a fabulous cluster of stories (some linked below, some on the site). Great perspective from a ridiculous group of writers and analysts. Proud to be part of the group. Outstanding offer is here.
OILERS AFTER 57
Oilers in 2015: 22-30-6, 50 points; goal differential -28
Oilers in 2016: 31-19-8, 70 points; goal differential +13
Oilers in 2017: 23-30-4, 50 points; goal differential -34
Oilers in 2018: 24-28-5, 53 points; goal differential -23
OILERS IN FEBRUARY
Oilers in February 2016: 2-6-0, four points; goal differential -17
Oilers in February 2017: 4-4-0, eight points; goal differential -1
Oilers in February 2018: 1-6-1, three points; goal differential -5
Oilers in February 2019: 1-4-2, four points; goal differential -10
WHAT TO EXPECT IN FEBRUARY
On the road to: Philadelphia, Montreal (Expected 1-1-0) (Actual 0-0-2)
At home to: Chicago (Expected 1-0-0) (Actual 0-1-0)
On the road to: Minnesota (Expected 0-0-1) (Actual 1-0-0)
At home to: San Jose (Expected 0-1-0) (Actual 0-1-0)
On the road to: Pittsburgh, Carolina, NY Islanders (Expected 2-1-0) (Actual 0-1-0)
At home to: Arizona, NY Islanders, Anaheim (Expected 2-1-0) (Actual 0-0-0)
On the road to: Nashville, Toronto, Ottawa (Expected 1-2-0) (Actual 0-0-0)
Overall expected result: 7-6-1, 15 points in 14 games
Current results: 1-4-2, four points in seven games
DEFENSE, LAST NIGHT

Gravel-Petrovic went 13-4 in 10:07, 8-4 shots, no goals and 2-2 HDSC. A rocking chair evening for the third pair, the most common line faced was McKegg-Foegele-Maenalanen. Edmonton's third pair went 6-3 in 5:58, no goals and 2-1 HDSC. Petrovic was active with the puck but lacks creativity (we knew that), I wonder if the organization contemplates keeping Benning and allowing Petrovic to walk.
Nurse-Russell were 13-12 in 16:25, 9-6 shots, no goals and 2-2 HDSC. I thought Nurse was passing well and Russell gave himself more time for outlets than usual. There has been a lot of chaos for this pair, seemed to have more room last night. Went 11-5 in 8:05 against Ferland-Wallmark-Teravainen. Nurse had six shots on goal.
Klefbom-Larsson went 10-11 in 16:00, 7-9 shots, 0-2 goals and 2-2 HDSC. Some bad luck for the pairing (97 passed it right to a Hurricane to begin the sequence for the first GA) but Larsson took an unnecessary risk on the second GA in the neutral zone. Went 5-8 (0-2 goals) in 8:21 against Niederreiter-Aho-Williams. Williams, man. Should have drafted him.
Mikko Koskinen stopped 24 of 27, .889.
NaturalStatTrick and NHL.com.
FORWARDS, LAST NIGHT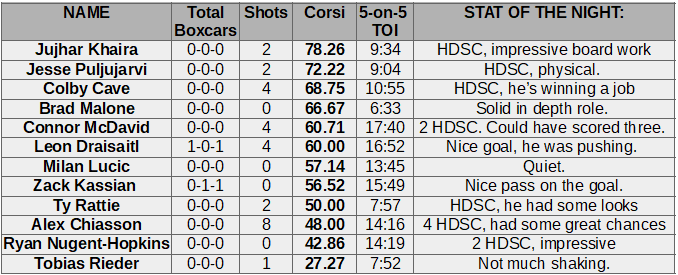 Draisaitl-McDavid-Kassian were 9-10 in 14:19, 6-9 shots, 1-2 goals and 1-2 HDSC. Kassian needs to be replaced on the line, McDavid is a sheer heart attack and Leon passes like Weight. My goodness this is a talented line.
Lucic-Nuge-Chiasson were 5-8 in 8:31, 4-5 shots, 0-1 and 1-2 HDSC. Nuge had a terrific night and Chiasson played well. I'd like to see Khaira here.
Khaira-Malone-Puljujarvi went 4-3 in 4:31, 2-1 shots.
Khaira-Cave-Puljujarvi were 7-1 in 3:10, 4-1 shots and 3-0 HDSC. Cave had a nice evening. I'd like to see this line again.
SAIL ON CAM TALBOT
Cam Talbot backstopped the 2017 Oilers to a playoff berth, a series win and almost another one. After the Anaheim series, the Oilers were never the same, having lost Andrej Sekera and some scoring forwards. The team also played the hell out of Talbot that season and his own performance didn't reach previous levels. I wish him well and believe he will flourish.
Anthony Stolarz will tell us what he is, as time goes by. What is good about this deal is the Oilers retained no money. That will allow the club to bring back Andrej Sekera without waiving a valuable player. I'll have Catherine Silverman from The Athletic on the show today to talk about Talbot and Stolarz. She'll be on around 12:20.
WHO CAN IT BE NOW?
The Oilers gain a pro-rated $3.4 million in cap with this trade, meaning Sekera can easily be activated. It also gives the team a chance to shop around for a deal leading up to the deadline. Call it a test drive.
The club won't have much room but won't need much either. What about Patrick Maroon, or Carl Hagelin or even Richard Panik? Teams would have to take back some dollars, but there might be a little room. I expect the Oilers will want to cash a defenseman in the next few days. If I could say one thing to Keith Gretzky, it would be do something (even small something) to give this team a little push. If they get another offensive piece, and catch fire enough to get back into the race (I don't believe they make the playoffs), it'll be a helluva bullet point on a resume. As former NHL general manager Horace Flaccus once said, seize the day!
NOTHING MATTERS AND WHAT IF IT DID?
Jesse Puljujarvi and his agent have gone public now, that won't help but one imagines the player side believes it could get him traded.
Keith Gretzky can't change his ask for Puljujarvi. If the quality isn't there in terms of return, stay the course and try to sign the young man over the summer. If he balks and signs in Europe, then his rights are retained. Edmonton has been bleeding assets and this has to stop.
Puljujarvi's agent chose the wrong team at the wrong time. Edmonton can afford to let the young man play a year or two in Europe, the club cannot afford to get fleeced in a trade. We are here.
CONDORS KEEP ROLLING
Another win for Bakersfield, more points for Tyler Benson and Kailer Yamamoto picked up a couple of points last night. I'm going to have a look at the last time an Oilers' affiliate had this kind of game and will report back to you.