Leon Draisaitl reminds me of multiple Habs of my youth. I don't ever mention Jean Beliveau (hockey's DiMaggio) but it's safe to speak the name of one Peter Mahovlich. Leon's current boxcars (35-36-61) are similar to 1970-71 Pete (35-26-51) at about the same age. Last night the Oilers grabbed a point, losing in a shootout to the Arizona Coyotes. Leon drew the key assists on both regulation goals and scored in the shootout. That pass to Nuge was incredible.
THE ATHLETIC!
The Athletic Edmonton features a fabulous cluster of stories (some linked below, some on the site). Great perspective from a ridiculous group of writers and analysts. Proud to be part of the group. Outstanding offer is here.
OILERS AFTER 59
Oilers in 2015: 22-31-6, 50 points; goal differential -30
Oilers in 2016: 32-19-8, 72 points; goal differential +14
Oilers in 2017: 24-31-4, 52 points; goal differential -34
Oilers in 2018: 24-29-6, 54 points; goal differential -25
The Oilers are clear of the 2015 and 2017 teams but belong to the same family. There's lots to like at the top of the roster, but the club comes by that -25 goal differential (excluding EN goals) honestly.
OILERS IN FEBRUARY
Oilers in February 2016: 2-7-0, four points; goal differential -18

Oilers in February 2017: 5-4-0, 10 points; goal differential 0

Oilers in February 2018: 2-6-1, five points; goal differential -4

Oilers in February 2019: 1-5-3, five points; goal differential -12
WHAT TO EXPECT IN FEBRUARY
On the road to: Philadelphia, Montreal (Expected 1-1-0) (Actual 0-0-2)
At home to: Chicago (Expected 1-0-0) (Actual 0-1-0)
On the road to: Minnesota (Expected 0-0-1) (Actual 1-0-0)
At home to: San Jose (Expected 0-1-0) (Actual 0-1-0)
On the road to: Pittsburgh, Carolina, NY Islanders (Expected 2-1-0) (Actual 0-3-0)
At home to: Arizona, NY Islanders, Anaheim (Expected 2-1-0) (Actual 0-0-1)
On the road to: Nashville, Toronto, Ottawa (Expected 1-2-0) (Actual 0-0-0)
Overall expected result: 7-6-1, 15 points in 14 games
Current results: 1-5-3, five points in nine games
DEFENSE, LAST NIGHT

Klefbom-Larsson were rock solid, going 27-12 in 14:52, 15-5 shots, 1-0 goals and 7-2 HDSC. Went 10-10 in 5:54 against Keller-Cousins-Garland.
Nurse-Russell went 10-14 in 14:01, 7-8 shots, 0-1 goals and 2-7 HDSC. Too much defending! Russell's clearing attempt on the first GA gave his teammates zero chance to make a play. Were 3-9 in 4:55 against Kempe-Richardson-Hinostroza.
Sekera-Benning were 8-13 in 11:16, 2-10 shots, 0-1 goals and 3-5 HDSC. Sekera was solid positionally save for the second GA, as both he an Benning bit hard on a deke, and then Andrej fell in the corner and was out of the play.
Mikko Koskinen stopped 33 of 35, .943. NTS had him stopping 12 of 14 HDSC.
NaturalStatTrick and NHL.com.
FORWARDS, LAST NIGHT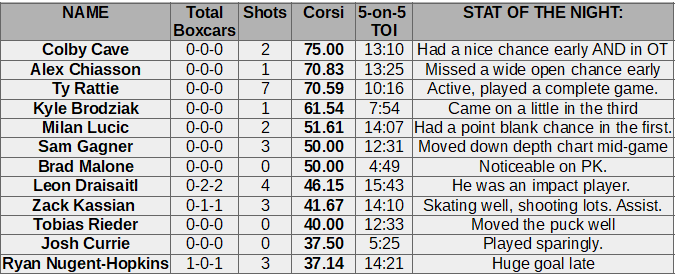 Lucic-Draisaitl-Kassian were 10-15 in 8:52, 7-10 shots, 0-1 goals and 3-5 HDSC. Lucic had a solid chance very early in the game and the line did create some opportunities.
Chiasson-Cave-Rattie 8-4 in 7:16, 5-1 shots, no goals and 3-0 HDSC. They were so good I'd run them again. Cave might be winning a job for next year and that was a rock solid effort by Rattie. He was all over the ice, and made good plays in all three zones.
Rieder-Nuge-Gagner went 3-10 in 6:28, 1-5 shots, no goals and 1-4 HDSC. It was not good.
Nuge-Draisaitl-Kassian were 5-5 in 4:09, 3-5 shots, 1-1 goals and 1-3 high dangers. I think this was the best line, although Cave's trio did pretty well.
Malone-Brodziak-Currie went 3-3 in 4:01, 0-2 shots no goals and no HDSC.
Lots of smoke around Hall to Edmonton, Kurt Leavins mentioned it in a recent Cult of Hockey article. I wonder if the Oilers would dare to deal for him this summer?
OILERS MOCK DRAFT
No. 5 overall—RC Kirby Dach, Saskatoon Blades (WHL). He is a big playmaking center pushing through (52, 22-38-60) this season. Suspect he'll need at least one more season in junior.
No. 36 overall—LD Thomas Harley, Mississauga Steelheads (OHL). Smooth skating two-way defender who has as fairly complete skill set.
No. 89 overall (acquired from NY Islanders for Brandon Davidson)—R Samuel Fagemo, Frolunda (SHL). I liked him plenty last year, should be a real bargain this season. Scoring winger.
No. 99 overall—RC Travis Treloar, Chicago Steel (USHL). Swedish center who is playing well in the USHL, he's a creative player who will play on a skill line if he makes it.
No. 162 overall—R Eric Uba, Flint Firebirds (OHL). Numbers are good, he's aggressive and (so far) underrated.
No. 193 overall—G Nolan Maier, Saskatoon Blades (WHL). Another below the radar prospect having a fine year.
I used Scott Wheeler's mid-season list against my own for the 'available' names at each draft slot (for the early picks).
LOWDOWN WITH LOWETIDE
A fun show on the way, including your comments and suggestions. It all starts at 10, TSN1260. Scheduled to appear:
Bruce McCurdy, Cult of Hockey. We'll look at last night and at the deadline.
Jon Campbell, OddsShark. The St. Louis Blues made someone rich this winter. Were there any clues?
10-1260 text, @Lowetide on twitter. Talk soon!