The Edmonton Oilers won last night. Ken Hitchcock: "We came back again. We stayed with it, we battled, clawed and scratched. There's a lot of continuity in our game right now."
THE ATHLETIC!
The Athletic Edmonton features a fabulous cluster of stories (some linked below, some on the site). Great perspective from a ridiculous group of writers and analysts. Proud to be part of the group. Outstanding offer is here.
OILERS AFTER 60
Oilers in 2015: 22-32-6, 50 points; goal differential -31
Oilers in 2016: 32-20-8, 72 points; goal differential +12
Oilers in 2017: 25-31-4, 54 points; goal differential -33
Oilers in 2018: 25-29-6, 56 points; goal differential -24
The Oilers still have a shot at (say) 82 points. That isn't going to get them into the playoffs but it will be a slight season over season improvement. Considering all that has taken place, that's a worthy goal.
OILERS IN FEBRUARY
Oilers in February 2016: 2-8-0, four points; goal differential -19

Oilers in February 2017: 5-5-0, 10 points; goal differential -1

Oilers in February 2018: 2-7-1, five points; goal differential -5

Oilers in February 2019: 2-5-3, seven points; goal differential -11
WHAT TO EXPECT FROM FEBRUARY
On the road to: Philadelphia, Montreal (Expected 1-1-0) (Actual 0-0-2)

At home to: Chicago (Expected 1-0-0) (Actual 0-1-0)

On the road to: Minnesota (Expected 0-0-1) (Actual 1-0-0)

At home to: San Jose (Expected 0-1-0) (Actual 0-1-0)

On the road to: Pittsburgh, Carolina, NY Islanders (Expected 2-1-0) (Actual 0-3-0)

At home to: Arizona, NY Islanders, Anaheim (Expected 2-1-0) (Actual 1-0-1)

On the road to: Nashville, Toronto, Ottawa (Expected 1-2-0) (Actual 0-0-0)

Overall expected result: 7-6-1, 15 points in 14 games

Current results: 2-5-3, seven points in 10 games
Edmonton is six out with a game in hand, but the real problem is passing six other teams on the way to the final playoff spot.
DEFENSE, LAST NIGHT

Sekera-Benning were 15-6 in 10:04, 8-4 shots, 1-0 goals and 1-2 HDSC. This pairing is going to take on more of the load if they stay together. Some nice outlets. Went 7-1 in 4:54 against Komarov-Filppula-Beauvillier.
Klefbom-Larsson went 23-15 in 16:10, 12-10 shots, 0-1 goals and 4-4 HDSC. The only 5-on-5 GA came against this pairing. Larsson raced back from the blue line scrum, but couldn't find Lee. Went 14-8 in 9:45 against Nelson-Lee-Eberle.
Nurse-Russell went 11-15 in 17:04 (10-8 Fenwick), 7-5 shots, no goals and 2-3 HDSC. I thought they defended well, but the penalties will ill-timed. Went 5-9 in 7:28 against Kuhnackl-Bailey-Barzal.
Mikko Koskinen stopped 20 of 23, .870. At 5-on-5, that number is .950 (19 of 20).
NaturalStatTruck and NHL.com.
FORWARDS, LAST NIGHT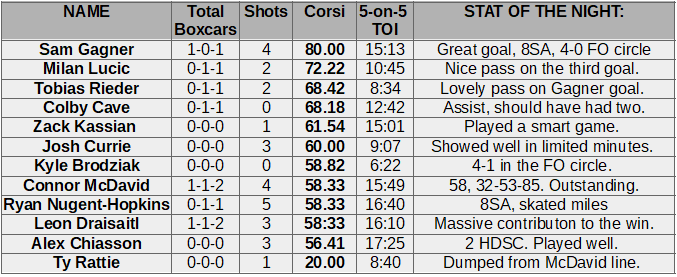 Nuge-Draisaitl-Chiasson were 20-15 in 15:34, 11-6 shots, no goals and 5-3 HDSC. The line was impressive and played a ton.
Gagner-McDavid-Kassian went 11-2 in 8:04, 5-0 shots, no goals and 2-0 HDSC. Gagner joined the band mid-game (Rattie demoted) and the results were instantaneous.
Rieder-Cave-Gagner were 6-3 in 4:39, 5-1 shots, 1-0 goals and no HDSC. An effective third line last night, one of very few since the Strome trade. This Cave fellow is impressing.
Rattie-McDavid-Kassian went 1-8 in 4:19, 1-4 shots, 0-1 goals and 0-4 HDSC. Doubt we see that trio again.
Lucic-Brodziak-Currie were 5-4 in 3:25, 0-2 shots, no goals and 1-0 HDSC. A strange group of stats, to be sure. I thought Lucic played well, and Currie showed enough for another game. Brodziak was good in the faceoff circle and effective in a No. 4 center role imo.
CONNOR MCDAVID
I'll guess a fine, but smart people like Bob McKenzie believe he'll get a suspension. Either way, it won't impact the playoff race. Why? You damned well know why.
MILAN LUCIC TRADE ARROW
Once the $3 million bonus is paid out early summer, the actual dollar amount of Milan Lucic's contract next season will be $3 million.
This is terrific, save for the fact many of these players (and the coach) may not be back. A key goal for the next manager will be improving depth and balance across the roster. One area we did discover as a positive this season? The kids in the AHL. Caleb Jones was a breath of fresh air.
LOWDOWN WITH LOWETIDE
A busy Friday morning with a fun group of guests. TSN1260 beginning at 10, scheduled to appear:
Steve Lansky, BigMouthSports. The television trade deadline shows and how can game hosts and commentators deliver the truth about the bad home team without souring his or her relationship with the local fans?
Matt Iwanyk, TSN1260. We'll chat McDavid suspension, trade deadline.
Scott Tilbury, Fund Development Officer, The Mustard Seed Red Deer. We'll chat about the Boston Bruins Alumni Charity Game and Banquet in Red Deer on March 17.
10-1260 text, @Lowetide on twitter. Talk soon!