After playing an excellent first period last night in Toronto, the Edmonton Oilers were badly outclassed by a superior team. Nuge scored No. 20 on the season, and for the third time in his career reached 56 points in a campaign. Connor McDavid looked a little flat in his return, Leon Draisaitl scored a wonderful goal. Edmonton isn't in the same league as Toronto, and we saw it last night. No sin there, roster construction is a key element to success. Perhaps the Oilers will have a better game against the Leafs in March. We're on to Ottawa.
THE ATHLETIC
The Athletic Edmonton features a fabulous cluster of stories (some linked below, some on the site). Great perspective from a ridiculous group of writers and analysts. Proud to be part of the group. Outstanding offer is here.
OILERS AFTER 63
Oilers in 2015: 22-34-7, 51 points; goal differential -35
Oilers in 2016: 33-22-8, 74 points; goal differential +11
Oilers in 2017: 27-32-4, 58 points; goal differential -35
Oilers in 2018: 26-30-7, 59 points; goal differential -27
OILERS IN FEBRUARY
Oilers in February 2016: 2-10-1, five points; goal differential -23
Oilers in February 2017: 6-6-0, 12 points; goal differential -1
Oilers in February 2018: 5-7-1, 11 points; goal differential -4
Oilers in February 2019: 3-6-4, 10 points; goal differential -14
WHAT TO EXPECT IN FEBRUARY
On the road to: Philadelphia, Montreal (Expected 1-1-0) (Actual 0-0-2)
At home to: Chicago (Expected 1-0-0) (Actual 0-1-0)
On the road to: Minnesota (Expected 0-0-1) (Actual 1-0-0)
At home to: San Jose (Expected 0-1-0) (Actual 0-1-0)
On the road to: Pittsburgh, Carolina, NY Islanders (Expected 2-1-0) (Actual 0-3-0)
At home to: Arizona, NY Islanders, Anaheim (Expected 2-1-0) (Actual 2-0-1)
On the road to: Nashville, Toronto, Ottawa (Expected 1-2-0) (Actual 0-0-1)
Overall expected result: 7-6-1, 15 points in 14 games
Current results: 3-6-4, 10 points in 13 games
DEFENSE, LAST NIGHT

Sekera-Benning were 17-7 in 12:15, 7-2 shots, no goals and 2-1 HDSC. This pairing is increasing their time on ice and that's a very good sign. Sekera opens up all kinds of possibilities.
Nurse-Russell went 14-16 in 15:49, 8-7 shots, 1-1 goals and 2-2 HDSC. Decent in pssession, didn't react quickly on the tipped shot that became the first goal against. Nurse had two assists, now at 31 points.
Klefbom-Larsson were 20-19 in 14:39, 15-11 shots, 0-1 goals and 4-3 HDSC. Puck seemed to flutter a lot, Larsson especially couldn't get it to settle (he hit the post with a rocket late at the other end). Oscar needs to have the puck often, he was chasing last night. Both of these players are quality.
Mikko Koskinen stopped 12 of 16, .750. Anthony Stolarz made his Oilers debut in relief, stopping 18 of 20, .900.
FORWARDS, LAST NIGHT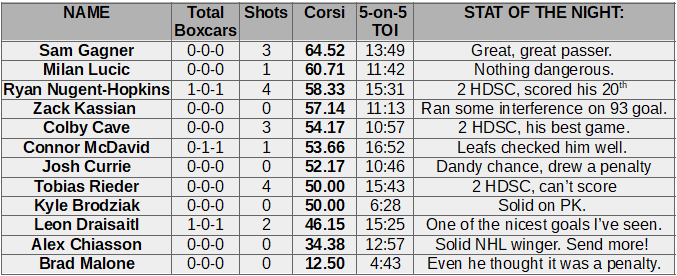 Rieder-Draisaitl-Chiasson were 8-14 in 11:21, 5-6 shots, no goals and 1-3 HDSC.
Lucic-Cave-Currie went 12-11 in 10:13, 6-3 shots, no goals and 3-0 HDSC. I like this line a lot, the two kids are especially interesting.
Nuge-McDavid-Gagner went 10-10 in 9:22, 7-7 shots, 0-2 goals and 0-3 HDSC. This line had a poor night.
Nuge-McDavid-Kassian were 10-4 in 5:01, 5-3 shots, 1-0 goals and 1-1 HDSC. This line had some real jump, 44 has helped the unit several times recently.
Malone-Brodziak-Kassian were 1-6 in 3:37, 1-1 shots, no goals and no HDSC.
Rieder-Draisaitl-Gagner went 8-1 in 2:07, 3-0 shots, no goals and 2-0 HDSC. Perhaps we'll see them again.
The Oilers attention to defense 2015+ at the draft is paying off all over, but the Samorukov spike is one of the best stories in the entire piece. If he continues progress, we might be looking at a player who passes a lot of the depth chart in just a few months.
THE TIMELINE
Oilers fans are apparently feeling low after last night (no idea why, Toronto is a far superior club) and it appears some in the eastern media are settling the timeline at something approaching 5-30 years.
Here's the truth: A new general manager and staff who can evaluate talent well should have this team in a playoff position next season. The decisions made by the current group, especially the Lucic signing, Manning acquisition and the Koskinen signing, are things to overcome.
That said, cap room can be created (trading Kris Russell and or Andrej Sekera) and an astute judge of hockey talent will be able to find a capable 1A goalie and some scoring wingers.
There is much work to do, but there are also players on the way and the work left to do doesn't represent an impossible task. Edmonton has the difficult things in place: McDavid and Draisaitl long term, the foundation of a defense that can thrive, a minor league team that should come with gifts for the NHL team this fall.
This is an attractive situation for a general manager who can win the job and the right to put his entire team in place. If that GM also hires an analytics department and begins the hard work of sports science (nutrition, sleep patterns, dealing with travel) then we can begin to believe Edmonton's NHL team is really in the game.
It isn't hopeless. It only appears so because the Oilers appear to be looking for someone who fits the culture established decades ago when one man could run an NHL team. That was yesterday, and yesterday's gone.
LOWDOWN WITH LOWETIDE
At 10 this morning, we hit the ground running. Scheduled to appear:
Andy McNamara, TSN. We'll talk NFL combine and Johnny Football.
Frank Seravalli, TSN. Trade deadline winners and losers, plus what the Oilers should be doing with these final 20 games.
Also casting about for a Senators guest, we'll chat about the game tonight.