This is Colby Cave. I tracked him during his draft year (2014) and had Cave ranked No. 81 on my top 100 list that summer. Now my list is not an expert draft 100, but it does value things like 5-on-5 offense and at that time some of the secondary stats were finding their way (estimated points-per-60, etc). Cave has been working hard since 2014 summer, and appears to be winning the NHL job assigned to Kyle Brodziak. Who knows what tomorrow brings, but Colby Cave is making the case and finding success.
THE ATHLETIC!
The Athletic Edmonton features a fabulous cluster of stories (some linked below, some on the site). Great perspective from a ridiculous group of writers and analysts. Proud to be part of the group. Outstanding offer is here.
OILERS AFTER 64
Oilers in 2015: 23-34-7, 53 points; goal differential -33
Oilers in 2016: 34-22-8, 76 points; goal differential +12
Oilers in 2017: 27-33-4, 58 points; goal differential -37
Oilers in 2018: 27-30-7, 61 points; goal differential -26
This year's team is basically a sliver more successful than the one a year ago. It makes no real difference, but the 2017-18 team finished 9-7-2. Can this year's team manage to duplicate that finish? If they do, the 2018-19 club will complete the schedule 36-37-9, 81 points.
OILERS IN FEBRUARY
Oilers in February 2016: 3-10-1, seven points; goal differential -21
Oilers in February 2017: 6-6-0, 12 points; goal differential -1
Oilers in February 2018: 5-7-1, 11 points; goal differential -4
Oilers in February 2019: 4-6-4, 12 points; goal differential -13
WHAT TO EXPECT IN FEBRUARY
On the road to: Philadelphia, Montreal (Expected 1-1-0) (Actual 0-0-2)
At home to: Chicago (Expected 1-0-0) (Actual 0-1-0)
On the road to: Minnesota (Expected 0-0-1) (Actual 1-0-0)
At home to: San Jose (Expected 0-1-0) (Actual 0-1-0)
On the road to: Pittsburgh, Carolina, NY Islanders (Expected 2-1-0) (Actual 0-3-0)
At home to: Arizona, NY Islanders, Anaheim (Expected 2-1-0) (Actual 2-0-1)
On the road to: Nashville, Toronto, Ottawa (Expected 1-2-0) (Actual 1-1-1)
Overall expected result: 7-6-1, 15 points in 14 games
Current results: 4-6-4, 12 points in 14 games
DEFENSE, LAST NIGHT

Sekera-Benning went 17-14 in 12:28, 5-7 shots, 2-0 goals and 5-5 HDSC. The best part of the HDSC totals comes in the knowledge 97 was responsible for just one of them. Strong pairing on the evening.
Nurse-Russell were 13-24 in 17:25, 10-10 shots, 0-1 goals and 2-3 HDSC. It was another night of defending because both men have abandoned the idea of tape to tape, and Russell's performance on the Borowiecki goal was farce.
Klefbom-Larsson went 6-24 in 16:51, 4-10 shots, 0-1 goals and 1-8 HDSC. The pairing has struggled of late and that continued, it's Larsson who is having the tough time. One wonders about injury but they'll need to be better.
Mikko Koskinen stopped 35 of 37, .946.
NaturalStatTrick and NHL.com.
FORWARDS, LAST NIGHT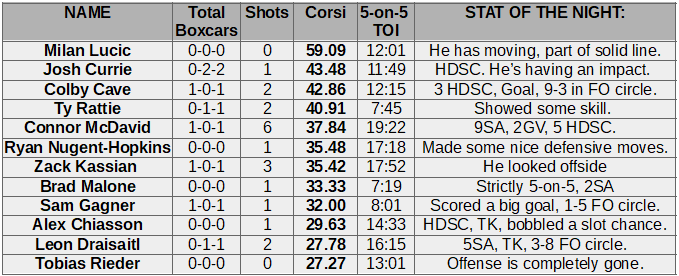 Nuge-McDavid-Kassian were 6-11 in 8:43, 5-1 shots, no goals and 2-1 HDSC. I thought Kassian looked out of time with the other two.
Draisaitl-McDavid-Kassian went 6-10 in 7:52, 3-4 shots, 0-1 goals and 0-4 HDSC. Not strong. Kassian is the problem and I like Kassian.
Malone-Gagner-Rattie were 6-12 in 5:51, 4-7 shots, no goals and 1-3 HDSC.
Lucic-Cave-Currie went 5-3 in 5:42, 3-1 shots, 1-0 goals and 2-0 HDSC. At this point I can't see a reason to break up the trio.
Rieder-Draisaitl-Chiasson were 1-7 in 4:16, 0-4 shots, no goals and 0-2 HDSC.
Ryan McLeod and Filip Berglund are the two main names, with the college kids coming due when their respective seasons end. John Marino has emerged as a bonafide NHL prospect, and that may mean he is ready to come out (after his junior season this year). If he won't sign, there's a chance we see his rights traded. It would be similar to what happened with Cooper Marody one year ago. Other college players who might be signed include Hayden Hawkey, Vincent Desharnais and Joey Dudek.
The Lightning are lapping the field in amateur procurement and this is another reason. Jimmy Huntington has 20 goals at 5-on-5 this season, .7 primary points per game at 5-on-5. He's a good prospect Tampa Bay grabbed for only money and a spot on the 50-man list. He has far more value than someone like Colin Larkin as a bet (no offense to Colin Larkin) for future NHL employment.
LOWDOWN WITH LOWETIDE
A fun morning begins at 10 on TSN1260. Scheduled to appear:
Steve Lansky, BigMouthSports. Senators fire their coach, Leafs-Oilers, Jesse Puljujarvi's season ending injury and Johnny Manziel getting punted from the CFL.
Matt Iwanyk, TSN1260. Oilers GM search, NFL combine.
Tom Reed, The Athletic Columbus. We'll chat about the Blue Jackets after the deadline acquisitions.
10-1260 text, @Lowetide on twitter. Talk soon!