In a year with myriad plot twists, the fact this Edmonton Oilers team still has a (very small) chance of making the second season is probably the most outrageous discussion point. Losses in Ohio and New York state over the next 72 hours could put it all to rest, but the team's recent record (3-1-2 in the last six games) suggests you stay tuned.
THE ATHLETIC!
The Athletic Edmonton features a fabulous cluster of stories (some linked below, some on the site). Great perspective from a ridiculous group of writers and analysts. Proud to be part of the group. Outstanding offer is here.
OILERS AFTER 65
Oilers in 2015: 24-34-7, 55 points; goal differential -32

Oilers in 2016: 35-22-8, 78 points; goal differential +13

Oilers in 2017: 27-34-4, 58 points; goal differential -38

Oilers in 2018: 27-30-7, 61 points; goal differential -26
Edmonton has produced eight points in its last six games, a solid performance but not enough to get them back into the race. The Oilers need a 8-2-0 run in the next 10, exactly the run enjoyed by the Arizona Coyotes at this time. We'll see, in a minute, if that's reasonable based on the March schedule.
OILERS IN MARCH
Oilers in March 2016: 1-0-0, two points; goal differential +1
Oilers in March 2017: 1-0-0, two points; goal differential +1
Oilers in March 2018: 0-1-0, zero points; goal differential -2
Oilers in March 2019:
WHAT TO EXPECT IN MARCH
On the road to: Columbus, Buffalo (Expected 0-1-1) (Actual 0-0-0)
At home to: Vancouver, Toronto, NY Rangers, Minnesota (Expected 2-1-1) (Actual 0-0-0)
On the road to: Arizona, Vegas, St. Louis (Expected: 0-2-1) (Actual 0-0-0)
At home to: Columbus, Ottawa, Los Angeles, Dallas, Anaheim (Expected: 3-1-1) (Actual)
Overall expected result: 5-5-4, 14 points in 14 games

Current results: 0-0-0, 0 points in 0 games
If the Oilers match my prediction, the team will end March 2019 with a record of 32-35-11, 75 points in 78 games. We'll see the playoff hopes snuffed in the month of March. This team is destined to finish remarkably close to the 2017-18 group.
OILERS FORWARDS 5-ON-5 60 LAST 10 GAMES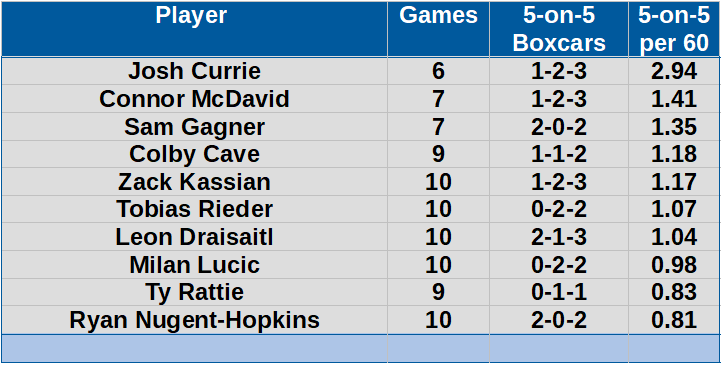 Connor McDavid has battled illness and a two-game suspension during these 10 games, suspect a massive market correction is on the way. You could say the same thing about Leon and the Nuge.
Newcomers like Josh Currie, Sam Gagner, and Colby Cave are all having more success than feature players. I wonder if Gagner and Currie move up the depth chart soon, at the expense of names like Kassian and Alex Chiasson.
Chiasson (10), Brad Malone (9), Kyle Brodziak (7), Jujhar Khaira and Jesse Puljujarvi (both three games) all played during the latest 10-game stretch but did not post a 5-on-5 point.
DEFENSE, SHOT DIFFERENTIAL, LAST 10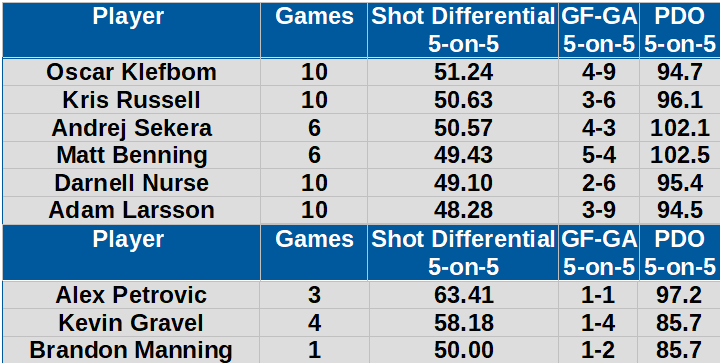 I wanted to look specifically at this because it seemed to me possession has improved since Andrej Sekera arrived.
The top two pairs are suffering from PDO droughts, but all four men are fairly close to 50 percent in possession. Edmonton is running out of track on this season, but these six men are probably capable of doing enough to get a better group of forwards into the playoffs. That's my opinion.
Mikko Koskinen has appeared in nine games over the last 10, posting a .919 save percentage at 5-on-5.
NHLE'S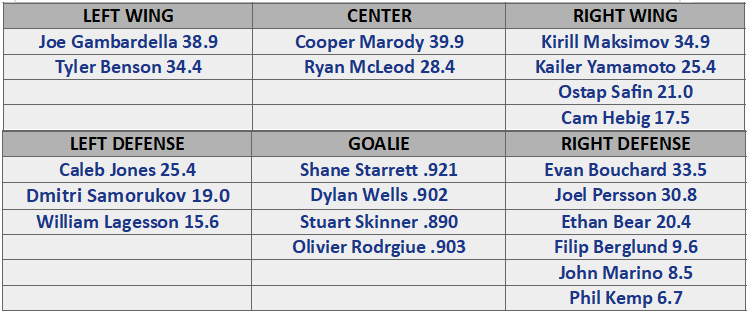 Evan Bouchard leads the way, there are about six defensemen on this list who are trending well enough to suggest 100 NHL games as a possible future. They won't all play for the Oilers, Jones and Samorukov have done more for their futures than anyone (Bouchard aside) on the list.
Shane Starrett is having a great season, but we don't know the best goalie on this list. Starrett's emergence will allow the team to bring Wells and Skinner along at pace.
I like all of the forwards but none of them is a lock for a 500-game NHL career.
The Condors lost on Friday night, ending a dream winning streak and a period of weeks where a large group of prospects took one giant leap forward. I would suggest Caleb Jones, Cooper Marody, Tyler Benson and Shane Starrett were the impact players during the run, but in fairness this team really is a team. Not mentioning William Lagesson, Ethan Bear (who has been hurt for much of the run), Joe Gambardella, Josh Currie, Patrick Russell, Logan Day, Ryan Stanton, Keegan Lowe and others does a disservice to the accomplishment. Coach Jay Woodcroft and his staff also deserve a great deal of credit.