Bob Nicholson and Keith Gretzky are in Boca Raton, Florida today for NHL meetings. One imagines we are getting closer to finding out the name, face and direction of the team. Opinions are like bums, we all have one. What would you do with the current Edmonton Oilers roster? Personal opinion time for 2019-20.
THE ATHLETIC!
The Athletic Edmonton features a fabulous cluster of stories (some linked below, some on the site). Great perspective from a ridiculous group of writers and analysts. Proud to be part of the group. Outstanding offer is here.
OILERS AFTER 66
Oilers in 2015: 25-34-7, 57 points; goal differential -28
Oilers in 2016: 35-23-8, 78 points; goal differential +11
Oilers in 2017: 28-34-4, 60 points; goal differential -37
Oilers in 2018: 28-30-7, 63 points; goal differential -22
OILERS IN MARCH
Oilers in March 2016: 2-0-0, four points; goal differential +5
Oilers in March 2017: 1-1-0, two points; goal differential -1
Oilers in March 2018: 0-2-0, zero points; goal differential -3
Oilers in March 2019: 1-0-0, two points; goal differential +4
WHAT TO EXPECT IN MARCH
On the road to: Columbus, Buffalo (Expected 0-1-1) (Actual 1-0-0)
At home to: Vancouver, Toronto, NY Rangers, Minnesota (Expected 2-1-1) (Actual 0-0-0)
On the road to: Arizona, Vegas, St. Louis (Expected: 0-2-1) (Actual 0-0-0)
At home to: Columbus, Ottawa, Los Angeles, Dallas, Anaheim (Expected: 3-1-1) (Actual)
Overall expected result: 5-5-4, 14 points in 14 games
Current results: 1-0-0, two points in one game
POSSIBLE OPENING NIGHT ROSTER 2019-20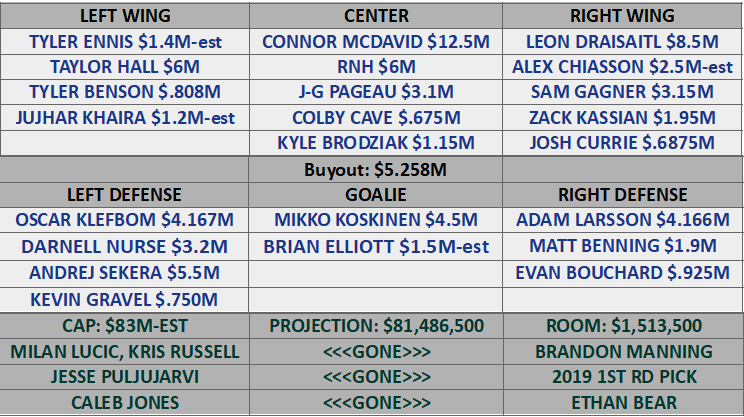 I traded way too much, it's true, but honestly this is going to require a 'machete summer' to make anything work in the fall.
I traded most of the future but did retain Bouchard, Joel Persson, William Lagesson and Dmitri Samorukov on defense, and Benson, Kailer Yamamoto and Cooper Marody among the forwards. The first-round pick was part of the Hall compensation, along with JP and Jones. You can scream "that's not close to enough" and I'll understand, would only suggest to you the trade would be for one year of Hall and should be considered damned dangerous.
Matt Benning is best suited to third pairing, so the club could move Sekera to RH side to play him with Nurse. That would make the third pairing Gravel-Benning/Bouchard, but I really like Sekera with Bouchard. I chose Benning to move up because I like him best among the available options. Hopefully Sekera-Bouchard move past the second pairing by mid-season. Either way, I'm sincere in suggesting Benning will be an upgrade on Russell in that spot.
I would prefer to keep Jesse Puljujarvi but suspect the die is cast. Let JP be the last first-round pick the Oilers handle this way, please and thanks.
I like this team. A lot. My additions (Brian Elliott, J-G Pageau, Taylor Hall, Tyler Ennis) may not be yours and that's cool. Please drop your roster ideas in the comments section, I'm looking forward to reading.
MIKKO KOSKINEN
One area we should give lots of attention this spring is goaltending. I believe that starts with Mikko Koskinen and his place on the roster. Is he a bona fide No. 1 starter, with the idea of bringing in an Elliott as backup? That's my guess today, Elliott can start (and thrive) for periods of a season. Here are the Pacific Division goalies (25 or more games) with even-strength save percentages:
David Rittich (Calgary) 36 games, .925
Jacob Markstrom (Vancouver) 50 games, .921
John Gibson (Anaheim) 48 games, .920
Mikko Koskinen (Edmonton) 40 games, .918
Darcy Kuemper (Arizona) 39 games, .917
Marc-Andre Fleury (Vegas) 56 games, .916
Jonathan Quick (Los Angeles) 35 games, .905
Martin Jones (San Jose) 50 games, .895
LOWDOWN WITH LOWETIDE
At 10 this morning, TSN1260, a busy morning and a fun week ahead. Scheduled to appear:
Andy McNamara, TSN4Downs. Andy watched hundreds of hours of NFL combine video and knows all!
Bill Hoppe, Times Herald. We'll chat Sabres, deadline and playoff chances.
Jason Gregor, TSN1260. Oilers and the playoff race.
10-1260 text, @Lowetide on twitter. Talk soon!