The Edmonton Oilers club is beyond streaky this year, which is fine as long as the team doesn't end on a downbeat. I don't believe the playoffs are still possible but the impressive recent run is making the early days of March more interesting than usual. The Sabres must feel awful about chances missed last night but luck good and bad touches every team on the long road of an NHL season. Take the points, don't look back.
THE ATHLETIC!
The Athletic Edmonton features a fabulous cluster of stories (some linked below, some on the site). Great perspective from a ridiculous group of writers and analysts. Proud to be part of the group. Outstanding offer is here.
OILERS AFTER 66
Oilers in 2015: 25-34-7, 57 points; goal differential -28

Oilers in 2016: 35-23-8, 78 points; goal differential +11

Oilers in 2017: 28-34-4, 60 points; goal differential -37

Oilers in 2018: 29-30-7, 65 points; goal differential -21
Last year's team finished 8-6-2 to complete the schedule 82, 36-40-6, 78 points. If this year's Oilers repeat, the final tally will be 82, 37-36-9, 83 points. I believe that's a reasonable projection, and I think we can agree the total will be shy of the playoffs this spring.
OILERS IN MARCH
Oilers in March 2016: 2-0-0, four points; goal differential +5

Oilers in March 2017: 1-1-0, two points; goal differential -1

Oilers in March 2018: 0-2-0, zero points; goal differential -3

Oilers in March 2019: 2-0-0, two points; goal differential +5
March has been very good so far, the two wins allowing Hitchcock to move his Oilers coaching record to 20-20-6.
WHAT TO EXPECT FROM MARCH
On the road to: Columbus, Buffalo (Expected 0-1-1) (Actual 2-0-0)
At home to: Vancouver, Toronto, NY Rangers, Minnesota (Expected 2-1-1) (Actual 0-0-0)
On the road to: Arizona, Vegas, St. Louis (Expected: 0-2-1) (Actual 0-0-0)
At home to: Columbus, Ottawa, Los Angeles, Dallas, Anaheim (Expected: 3-1-1) (Actual)
Overall expected result: 5-5-4, 14 points in 14 games
Current results: 2-0-0, four points in two games
DEFENSE, LAST NIGHT

Nurse-Russell went 17-12 in 17:15, 10-8 shots, 2-1 goals and 3-3 HDSC. McDavid hung out with this duo for 11:43, and that was a big reason for the pairing's success. Outlets must be sharper. Were 9-11 in 11:01 against Skinner-Eichel-Reinhart.
Klefbom-Larsson were 15-15 in 18:07, 10-9 shots, 1-1 goals and 2-6 HDSC. Spent 9:07 with the Draisaitl line, just 3:00 with the captain. Were 4-9 in 7:46 against Sheary-Rodrigues-Okposo. Larsson was playing pick up sticks on the Eichel goal and looked a day late and a dollar short early. Recovered later and then played a major part in the winning goal.
Sekera-Benning went 7-14 in 10:46, 5-6 shots, no goals and 1-2 HDSC. Low event and the puck was back and out often. Were 5-9 in 3:37 against Skinner-Eichel-Reinhart.
Mikko Koskinen stopped 35 of 38, .921. His save percentage for this season is now .911. Pominville's gaffe was epic.
FORWARDS, LAST NIGHT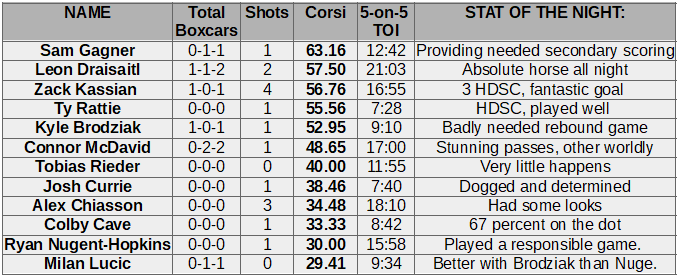 Nuge-McDavid-Kassian were 7-10 in 8:55, 5-4 shots, 1-0 goals and 2-1 HDSC. The pass from 97 to Kassian for his goal was magic, and his pass to Leon shorthanded came after some brilliant footwork on the Nurse outlet pass. My goodness what a player.
Gagner-Draisaitl-Chiasson went 6-4 in 8:03, 5-2 shots, 1-0 goals, 1-0 HDSC. Leon was a bull tonight, Sabres had no answer for him (trading O'Reilly has changed the look of the team). Gagner showed good speed and a sense of the moment when he carried the puck out of danger late in a shift of defending, and had the wherewithal to drive to the net for a reasonable chance. Underrated moment of the game.
Draisaitl-McDavid-Kassian went 10-5 in 6:07, 5-5 shots and 0-1 goals, 1-2 HDSC. Great chem, not the results hoped for but this trio is a load. Kassian shot the puck from a bad angle, and it went right back for a GA, but his goal was a big part of the comeback.
Lucic-Nuge-Chiasson were 1-7 in 4:49, 0-3 shots and 0-2 HDSC. I think RNH was a strong player on the night, there were many cleanups required on the back check.
Rieder-Draisaitl-Chiasson went 3-7 in 3:55, 2-2 shots, no goals 1-1 HDSC.
Gagner-Brodziak-Rattie were 4-3 in 3:40, 2-2 shots, 0-1 goals and 1-2 HDSC.
Rieder-Cave-Currie went 0-1 in 3:37, 0-1 shots.
Lucic-Brodziak-Currie were 3-2 in 1:49, 3-2 shots, 1-0 goals and 1-0 HDSC.
The names being mentioned by the TSN Insiders are Kelly McCrimmon, Dave Nonis, Sean Burke, Mike Futa and Mark Hunter. George McPhee's words about McCrimmon suggest Edmonton may look elsewhere, I remain convinced (and have stated) Keith Gretzky's chances are solid to excellent.
I don't think this is a fabulous list. Hockey Canada dominates and we're looking at a large group of middle managers at the heart of this compilation. Mike Futa would probably be the best choice in the group, interesting interview with him is here. Everything's coming up Gretzky so far.
OILERS SEASON BY NUMBERS
Forwards are listed by scoring at 5-on-5, defensemen Corsi 5-on-5 and goalies save percentage. Koskinen is now tied for No. 19 among goalies with 25 or more appearances.
We're at a point where counting keepers for next season is a viable pastime, so I'll list Koskinen, Klefbom, Larsson, Nurse, Sekera and Benning in goal and on the blue. Up front, McDavid, Leon, Nuge, Khaira are my keepers. That's 10. You?
LOWDOWN WITH LOWETIDE
At 10 this morning, we've got the goods! TSN1260, scheduled to appear:
Jonathan Willis, Cult of Hockey at the Edmonton Journal. We'll chat about the recent run by the Oilers and the rumoured names for general manager.
Devin Heroux, CBC Curling Reporter. We'll talk Brier.
Andrew Peard, Oil Kings PBP. Important to close out and get home advantage plus good travel early in the WHL playoffs.
10-1260 text, @Lowetide on twitter. See you on the radio!