Ryan Nugent-Hopkins has been through a lot in his time with the Edmonton Oilers, including (incredibly) Tom Renney, Ralph Krueger, Dallas Eakins, Craig MacTavish, Todd Nelson, Todd McLellan and Ken Hitchcock as head coaches. He has played 524 regular season games, and 13 in the playoffs. I hope he gets over 100 postseason games in the years to come. He's a gem.
The Oilers have climbed their way to the fringes of the playoff race in the Western Conference. The marathon has turned into a sprint, with every turn on the short track frantic with danger and opportunity.
THE ATHLETIC!
The Athletic Edmonton features a fabulous cluster of stories (some linked below, some on the site). Great perspective from a ridiculous group of writers and analysts. Proud to be part of the group. Outstanding offer is here.
OILERS AFTER 67
Oilers in 2015: 25-35-7, 57 points; goal differential -31
Oilers in 2016: 35-23-9, 79 points; goal differential +11
Oilers in 2017: 29-34-4, 62 points; goal differential -37
Oilers in 2018: 30-30-7, 67 points; goal differential -20
Hitchcock has the team 21-20-6 and it's down to the final 15 games. I'll suggest the Oilers need to go 10-5-0 in the final run to finish with 87 points and even that might not take you there. Hard nose the highway, but credit where due, they're pushing.
OILERS IN MARCH
Oilers in March 2016: 2-1-0, four points; goal differential +2
Oilers in March 2017: 1-1-1, three points; goal differential -1
Oilers in March 2018: 1-2-0, two points; goal differential -2
Oilers in March 2019: 3-0-0, six points; goal differential +6
WHAT TO EXPECT IN MARCH
On the road to: Columbus, Buffalo (Expected 0-1-1) (Actual 2-0-0)
At home to: Vancouver, Toronto, NY Rangers, Minnesota (Expected 2-1-1) (Actual 1-0-0)
On the road to: Arizona, Vegas, St. Louis (Expected: 0-2-1) (Actual 0-0-0)
At home to: Columbus, Ottawa, Los Angeles, Dallas, Anaheim (Expected: 3-1-1) (Actual)
Overall expected result: 5-5-4, 14 points in 14 games
Current results: 3-0-0, six points in three games
DEFENSE, LAST NIGHT

Klefbom-Larsson were 23-19 in 18:22, 15-14 shots, 0-1 goals and 7-2 HDSC. The puck was heading in a good direction all night (despite the 0-1 goals), went 16-4 against Pearson-Horvat-Roussel.
Sekera-Benning went 3-9 in 9:04, 2-3 shots, 1-0 goals and 1-2 HDSC. Sekera bounced around the depth chart, too, going 0-3 (52 seconds) with Nurse, 2-0 (36 seconds) with Russell, 1-0 (28 seconds, GF) with Larsson and a wild 19 seconds with Klefbom (4-0).
Nurse-Russell were 10-23 in 14:49, 7-8 shots, 1-1 goals and 3-8 HDSC. There was a sequence in the third period where the duo had three chances to get the puck out under control and couldn't get it done. Eventually, Russell missed 29 with an errant pass, and Draisaitl took a penalty on the ensuing icing. This pair needs a rest.
Mikko Koskinen stopped 35 of 37, .946. He is .912 for the season (No. 19 among goalies 25+ games), .918 SP at evens (No. 23 among goalies 25+ games). He's a part of this successful run.
NaturalStatTrick and NHL.com.
FORWARDS, LAST NIGHT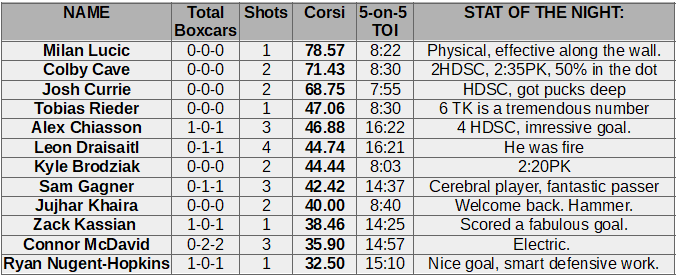 Nuge-McDavid-Kassian were 12-23 in 13:19, 7-10 shots, 1-0 goals and 4-7 HDSC. McDavid was flying, outstanding talent who had the puck on a string. Nuge was effective down low and on the PK, plus the lovely winning goal. Kassian is having the run of his career, with four goals (and 12 shots) in his most recent four games.
Gagner-Draisaitl-Chiassian went 13-16 in 13:07, 9-6 shots, 1-0 goals and 0-2 HDSC. Gagner's pass was the kind he's made since a rookie, cerebral and so quick the receiver is often caught unaware. His quick separation of the puck from the Canuck and then rapido pass to the slot were key elements of the goal. Chiasson appears to be at the beginning of another hot streak that will take him over 20 goals (he is at 19). Leon was incredible, winning races to the puck even if the distance was several miles, while also passing beautifully and using that big body to dominate the wall.
Rieder-Khaira-Brodziak were 8-7 in 7:06, 5-4 shots, no goals and 2-1 HDSC. Khaira's return changed everything, the man is effective on the forecheck, backcheck and physically dominating. He can control the puck down low for ages and create some offense just by using brute strength. Helluva return. Rieder turned over pucks like a demon, an important asset even while he is suffering a scoring drought that could mean the end of his NHL career. Brodziak had his moments but was the third wheel on the line.
Lucic-Cave-Currie went 10-3 in 6:57, 6-1 shots, no goals and 3-0 HDSC. Kept the puck miles from the Edmonton net, and had three good chances to boot. This marks (imo) the best series of games this season for Lucic, and Cave is taking over some extra chores (PK). Currie didn't post offense but was helpful on the forecheck and making sure danger didn't appear often.
KHAIRA
Ken Hitchcock: "I think, moving forward, we have to get JJ Khaira up the ladder. He's playing too well, we've got to move him up. So, I think in the next game he'll get elevated and then we'll see where we go from there."
Khaira has shown up in good spots under Hitch (notably as LW with Nuge and Jesse Puljujarvi) and he was amazeballs last night. I still don't know how many goals he'll bring but there's no doubt he's an absolute load and has skill. Deadly combination.
Koskinen has been a big part of this run, along with the return of Oscar Klefbom and Andrej Sekera. Is this sustainable? He is past 40 games now and the schedule is welcoming for a single starter through the end of the year. He's going to play 50+ this year barring injury, so we'll have a good idea about him by April.
LOWDOWN WITH LOWETIDE
A busy morning, TSN1260 beginning at 10 this morning. Scheduled to appear:
Steve Lansky, BigMouthSports. Oilers are pushing, can they make it?
Frank Seravalli, TSN. The Oilers search for a general manager.
Matt Iwanyk, TSN1260. Oilers playoff chances and should a Gretzky/Hitchcock extension be considered?
10-1260 text, @Lowetide on twitter. Friday, bitches!