Connor McDavid hit the century mark for the third season in a row last night. I imagine he's as angry as a raging bull after the team lost a game they should have won, but this group (unlike McDavid and linemate Leon Draisaitl) is not bound for glory. Congratulations to a wonderful player, Oilers fans are beyond fortunate to have him in Edmonton.
THE ATHLETIC!
The Athletic Edmonton features a fabulous cluster of stories (some linked below, some on the site). Great perspective from a ridiculous group of writers and analysts. Proud to be part of the group. Outstanding offer is here.
OILERS AFTER 70
Oilers in 2015: 27-36-7, 61 points; goal differential -32
Oilers in 2016: 37-24-9, 103 points; goal differential +19
Oilers in 2017: 30-35-5, 65 points; goal differential -37
Oilers in 2018: 31-32-7, 69 points; goal differential -23
OILERS IN MARCH

Oilers in March 2016: 4-2-0, seven points; goal differential +1
Oilers in March 2017: 3-2-1, seven points; goal differential +7
Oilers in March 2018: 3-3-0, four points; goal differential -1
Oilers in March 2019: 4-2-0, eight points; goal differential +3
WHAT TO EXPECT FROM MARCH
On the road to: Columbus, Buffalo (Expected 0-1-1) (Actual 2-0-0)
At home to: Vancouver, Toronto, NY Rangers, NJD (Expected 2-1-1) (Actual 2-2-0)
On the road to: Arizona, Vegas, St. Louis (Expected: 0-2-1) (Actual 0-0-0)
At home to: Columbus, Ottawa, Los Angeles, Dallas, Anaheim (Expected: 3-1-1) (Actual)
Overall expected result: 5-5-4, 14 points in 14 games
Current results: 4-2-0, eight points in six games
DEFENSE, LAST NIGHT

I'm not going to run the numbers, they're in the NST link below. Oh hell, here they are.
Sekera-Benning were 15-11 in 12:10, 12-8 shots, 1-0 goals and 1-3 HDSC. Hitch said he was the best pair and I believe he was right.
Klefbom-Larsson went 14-13 in 15:07, 6-10 shots, 0-1 goals and 3-4 HDSC. Larsson left the slot open on the PP goal, and both men were in slow motion on the later 5-on-5 GA (no one could get the puck under control).
Nurse-Russell were 16-13 in 15:28, 7-9 shots, 0-1 goals and 5-2 HDSC. Their numbers were typical of the night, probably earned a goal based on where the puck was heading most of the night. But Nurse didn't handle a strange pass from Sekera early (on the first goal) and it was a two-on-one. Koskinen played it badly after the initial save, but it's still a dash one.
Mikko Koskinen was poor on the first and fourth goals, I believe the third one was tipped (could be wrong). He's been grand, this was a night to save him. Stopped 14 of 18, .778.
Anthony Stolarz stopped 15 of 17, .882. He cannot let the late goal in.
FORWARDS, LAST NIGHT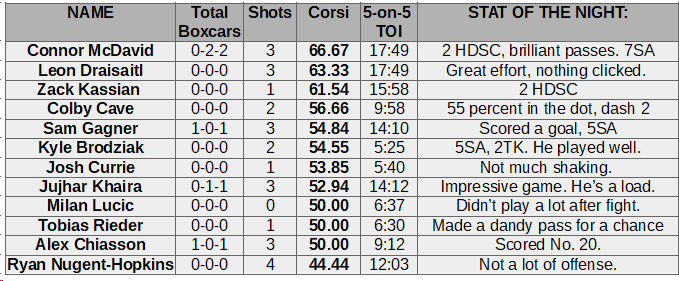 Draisaitl-McDavid-Kassian went 8-6 in 10:46, 2-4 shots no goals and no HDSC. I think all three men brought a lot of effort (and 97 clicked twice) but nothing got through.
Khaira-Nuge-Gagner were 8-10 in 7:39, 6-6 shots, 1-0 goals and 3-5 HDSC. The goal was a bit of a fluke and the coverage by this line was inconsistent. Nuge was listed with two HDSC but I have found him quiet recently with the puck.
Draisaitl-McDavid-Gagner went 8-2 in 4:25, 6-2 shots no goals and 3-0 HDSC. A nice change of pace, 89's smarts added an interesting wrinkle to the line.
Lucic-Brodziak-Currie were 6-5 in 4:07, 3-3 shots, no goals and 1-3 HDSC. Brodziak had a couple of chances, Currie dished a nice pass to Lucic who almost caught the goalie napping. Currie's a smart player, I like him.
Rieder-Cave-Chiasson went 2-2 in 4:03, 1-2 shots, 0-1 goals and no HDSC. It was nice to see Chiasson get goal No. 20, he's the fourth player to do it this year. The power play that produced it was incredible. More please.
WHAT THE HELL HAPPENED?
First, let's give credit where due, the Oilers have been playing well for some time. Second, the goalies weren't fabulous and that's going to impact any game. Connor McDavid said "We took them lightly, took the game for granted. I don't think we came to work" and that's certainly true. Finally, and this is important to remember, there are some big holes on this roster. If you add two established skill wingers and a power-play quarterback who plays RHD to this group, things would be better. Goalie still has to stop more pucks, though.
NHL DRAFT LOTTERY
April 9 is the date, that's earlier than usual and a gift for Oilers fans in need of fresh discussion material. Edmonton currently ranks No. 8, meaning there's a good chance the team will be drafting inside the top 10. Here are my top 10, with a reminder that my list is not supposed to resemble other lists (it's math heavy).
C Jack Hughes, U.S. National Development Team (USHL). He's 5.10, 168 but an absolute rocket who takes no time at all to reach high speed.
R Kaapo Kakko, Turkku (Sm-Liiga). He's 6.02, 190 and already flourishing in the Sm-Liiga. Scouts rave about his advanced two-way game and ability to control the pace of play. Some pretty smart analysts are talking about Kakko going No. 1, but I have him just behind Hughes.
L Arthur Kaliyev, Hamilton (OHL). He has the best NHLE (41) in the draft and I can't ignore it. I've read about skating, hockey sense and playing on the perimeter. I can't ignore the math.
R Dylan Cozens, Lethbridge (WHL). Size, skill and he can skate. Range of skills, accurate shooter. He has 32 goals in 63 games.
RC Kirby Dach, Saskatoon (WHL). Has emerged as my favourite player in this year's draft. A dynamic player with size and tremendous skill, has speed, wingspan and an excellent release. He has 23 goals in 57 games, and there's a razor thin line between he and Cozens.
LC Trevor Zegras, U.S. National Development Team (USHL). I have a helluva time ranking these USHL kids, partly because of NHLE and partly because the national team is a ramrod (who's zooming who?). Undersized and highly skilled, elusive and aggressive with very good speed.
R Vasili Podkolzin, St. Petersburg (MHL). Smart player with tons of offensive ability, but also possesses good two-way instinct and no fear. Scouts love him, his numbers are lagging. June birthday.
LC Alex Turcotte, U.S. National Development Team (USHL). A strong two-way reputation, he is skilled and an excellent skater. Injuries a worry, he may surpass Zegras on my final list, his 5-on-5 primary points per game is outstanding.
LC Peyton Krebs, Kootenay (WHL). Skill forward who can score, he has quick feet and good hands. He's just shy of Cozens and Dach, could be a draft bargain.
LD Bowen Byram, Vancouver (WHL). Explosive speed is his top attribute but he's also excellent with the puck and owns a heavy shot. I think he'll go inside the top eight at the draft due to a lack of blueliners this year.
LOWDOWN WITH LOWETIDE
A busy morning, TSN1260, we get rolling at 10. Scheduled to appear:
Nate Davis, USA Today. NFL free agency gone wild.
Frank Seravalli, TSN. The race for playoff seeding makes for an interesting stretch drive, and an update on Oilers' GM search.
10-1260 text, @Lowetide on twitter. 90 minutes!