Edmonton won the game, but the Coyotes grabbed a Bettman and that's the sound of jail guitar doors. Never no never mind, it's still a wonderful run and a reminder of just how incredible the top end looks with a sliver of daylight. If comparing Connor McDavid to a deity is bad form, and it is, what then are we to do? Last night 97 brought all the gears, abandon, and ample desperation. What a performance.
THE ATHLETIC!
The Athletic Edmonton features a fabulous cluster of stories (some linked below, some on the site). Great perspective from a ridiculous group of writers and analysts. Proud to be part of the group. INSANE NEW OFFER IS HERE!
OILERS AFTER 72 GAMES
Oilers in 2015: 27-38-7, 61 points; goal differential -37
Oilers in 2016: 39-24-9, 87 points; goal differential +23
Oilers in 2017: 31-36-5, 67 points; goal differential -38
Oilers in 2018: 32-32-7, 71 points; goal differential -22
When we tear this engine down, one of the things we'll be looking for is areas of year-over-year improvement. The goal differential is one possible item.
OILERS IN MARCH
Oilers in March 2016: 4-4-0, eight points; goal differential -4
Oilers in March 2017: 5-2-1, 11 points; goal differential +11
Oilers in March 2018: 4-3-1, nine points; goal differential +1
Oilers in March 2019: 5-2-0, 10 points; goal differential +4
WHAT TO EXPECT FROM MARCH

On the road to: Columbus, Buffalo (Expected 0-1-1) (Actual 2-0-0)
At home to: Vancouver, Toronto, NY Rangers, NJD (Expected 2-1-1) (Actual 2-2-0)
On the road to: Arizona, Vegas, St. Louis (Expected: 0-2-1) (Actual 1-0-0)
At home to: Columbus, Ottawa, Los Angeles, Dallas, Anaheim (Expected: 3-1-1) (Actual)
Overall expected result: 5-5-4, 14 points in 14 games
Current results: 5-2-0, 10 points in seven games
DEFENSE, LAST NIGHT

Sekera-Benning went 9-7 in 9:24, 4-2 shots, 1-1 goals and 2-1 HDSC. Good work by both men through much of the game but it was beauty and the beast in the big moments. Benning's rocket gave Edmonton a lead, but Sekera looked as bad as bad can be 10 seconds later.
Klefbom-Larsson went 12-15 in 14:15, 5-10 shots, no goals and 2-3 HDSC. Mostly solid pairing, Klefbom's pass in overtime was quality. Had an especially tough time against the Dvorak-Keller-Panik line (0-2 HDSC in two minutes).
Nurse-Russell went 12-13 in 16:37, 6-5 shots, no goals and 3-0 HDSC. It's interesting the high dangers were spread over three lines, and that Hitch trusted this pair more than any other.
Mikko Koskinen stopped 28 of 30, .933.
NaturalStatTrick and NHL.com.
FORWARDS, LAST NIGHT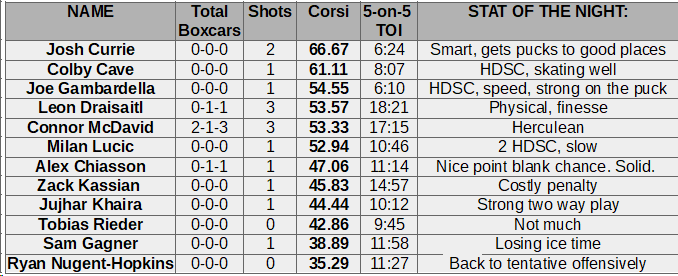 Rieder-Draisaitl-Chiasson were 6-8 in 9:27, 3-1 shots and 1-0 HDSC. They were the top unit in terms of 5-on-5 time on ice.
Khaira-Nuge-Gagner went 4-8 in 8:16, 1-4 shots, 0-1 goals and 1-1 HDSC. Nuge looks tentative with the puck lately, had some looks and made a pass. I like all three of these players, this line should work. Last night wasn't splendid.
Lucic-McDavid-Kassian were 7-7 in 8:00, 3-4 shots, no goals and 2-1 HDSC. Lucic had a monster chance, McDavid was absolute fire and Kassian took an untimely penalty.
Gambardella-Cave-Currie went 6-5 in 5:40, 4-4 shots, no goals, 2-0 HDSC. The trio played more (but not deep into the game) and may have good legs tonight.
Draisaitl-McDavid-Kassian were 4-4 in 4:28, 2-3 shots, 1-0 goals and 0-1 HDSC. This is the No. 1 line.
As luck would have it I was writing a Tyler Benson story for today over at The Athletic. Benson's big night means a re-write but it's a terrific story worth following.
TONIGHT
We can argue about how much tonight's game means, but the team obviously feels they are still in it. That alone means tonight is a must watch, and my goodness Connor McDavid (now 36-67-103 in 67 games, second in league scoring) is showing that he is in fact the NHL's most valuable and best player.