So, I had this old car, it was a 1965 Chevy Bel Air Supersport. Red paint, white hard top roof. I loved it. I put more oil than gas in that baby, and you couldn't drive it 50 feet without getting pulled over in this era, but I loved that money pit. My Dad used to tell me to get a better car, but I'd still have it if not for a sleepy driver at Kavanagh, Alberta in the early hours of a Saturday in spring 1980. I would have been listening to Get Happy by Elvis Costello or Argybargy by Squeeze, on cassette, at a guess. The car cost me so much money because it was always something. Something worn, something broken, something that didn't fit. So it is with the Chiarelli Oilers.
THE ATHLETIC!
The Athletic Edmonton features a fabulous cluster of stories (some linked below, some on the site). Great perspective from a ridiculous group of writers and analysts. Proud to be part of the group. INSANE NEW OFFER IS HERE!
OILERS AFTER 72
Oilers in 2015: 27-38-7, 61 points; goal differential -37
Oilers in 2016: 39-24-9, 87 points; goal differential +23
Oilers in 2017: 31-36-5, 67 points; goal differential -38
Oilers in 2018: 32-33-7, 71 points; goal differential -25
OILERS IN MARCH
Oilers in March 2016: 4-4-0, eight points; goal differential -4
Oilers in March 2017: 5-2-1, 11 points; goal differential +11
Oilers in March 2018: 4-3-1, nine points; goal differential +1
Oilers in March 2019: 5-3-0, 10 points; goal differential +1
WHAT TO EXPECT IN MARCH
On the road to: Columbus, Buffalo (Expected 0-1-1) (Actual 2-0-0)
At home to: Vancouver, Toronto, NY Rangers, NJD (Expected 2-1-1) (Actual 2-2-0)
On the road to: Arizona, Vegas, St. Louis (Expected: 0-2-1) (Actual 1-0-0)
At home to: Columbus, Ottawa, Los Angeles, Dallas, Anaheim (Expected: 3-1-1) (Actual)
Overall expected result: 5-5-4, 14 points in 14 games
Current results: 5-3-0, 10 points in eight games
DEFENSE, LAST NIGHT

Klefbom-Larsson were 10-17 in 16:08, 6-11 shots, 0-1 goals and 1-4 HDSC. Klefbom was the best defenseman on the night but Larsson lost a battle on the first GA and later sent a suicide pass to Leon that could have been devastating.
Nurse-Russell went 13-20 in 19:04, 3-9 shots, 2-3 goals and 3-5 HDSC. So high event and that's the story with this duo really. Russell shot himself out of a cannon to get out of position on the Eakin goal, and Nuge needed new lumber so the entire play was chaos. That's what this pairing brought last night and honestly it's time for a shuffle.
Sekera-Benning were 5-19 in 13:49, 3-11 shots, 0-2 goals and 1-8 HDSC. That's a ghastly line. I will say Sekera made some nice moves with the puck.
Mikko Koskinen stopped 28 of 34, .824.
NaturalStatTrick and NHL.com.
FORWARDS, LAST NIGHT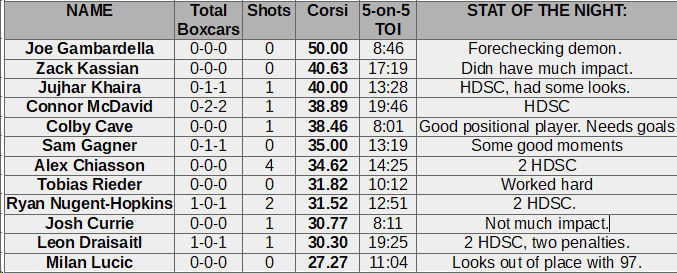 Draisaitl-McDavid-Kassian were 3-8 in 9:54, 2-2 shots, 1-1 goals and 1-1 HDSC. That's the top line, the rest isn't pretty.
Khaira-Nuge-Gagner went 2-4 in 5:01, 0-3 shots and 0-2 HDSC. All three men posted some offense, I'm not sure this line is going to be effective as a trio.
Gambardella-Cave-Currie were 3-5 in 4:12, 1-2 shots and 0-1 HDSC. I love the forechecking of this line, specifically Gambardella.
Rieder-Draisaitl-Chiasson went 5-5 in 3:49, 4-3 shots and 1-1 HDSC. An effective line by the numbers, the key for next year is better offensive options for 29 when he's a pivot.
Lucic-McDavid-Kassian were 3-8 in 3:39, 1-5 shots, 0-1 goals and 1-3 HDSC. Hitch tried it, didn't work. Time to move on.
Lucic-Nuge-Chiasson went 1-4 in 2:49, 0-2 shots and 0-2 HDSC. Not good.
IT'S THE ROSTER, STUPID
Ken Hitchcock: "We looked tired in the 3rd period & they amped it up to another level. We were right there after 2. They forced us into a lot of errors (in the 3rd)."
I would add the fact that Vegas is built on speed, aggressiveness and skating a straight line. "Let's all meet at the Edmonton net" seems to be the motto, and it's a very effective one. Now, for your enjoyment, here are the 2018-19 boxcars for all wingers involved in last night's game.
Mark Stone 68, 31-38-69
Jonathan Marchessault 72, 22-27-49
Alex Tuch 64, 19-30-49
Reilly Smith 65, 14-30-44
Max Pacioretty 59, 22-16-38
ALEX CHIASSON 63, 20-13-33
ZACK KASSIAN 69, 12-9-21
Ryan Reaves 71, 9-10-19
JUJHAR KHAIRA 59, 3-15-18
Ryan Carpenter 58, 5-12-17
MILAN LUCIC 70, 5-12-17
Tomas Nosek 59, 7-9-16
TOBIAS RIEDER 58, 0-11-11
SAM GAGNER 21, 5-5-10
JOSH CURRIE 14, 2-2-4
JOE GAMBARDELLA 6, 0-0-0
GAME OVER
The CHL season has concluded, and it's a chance for us to have a look at the boxcars for Edmonton's rising group of prospects. I have to say it was a fun group to follow this season. Here are the numbers.
R Kirill Maksimov 63, 40-39-79 (NHLE: 33.2)
RD Evan Bouchard 45, 16-37-53 (NHLE: 31.2)
LC Ryan McLeod 63, 19-43-62 (NHLE: 26.1)
LD Dmitri Samorukov 59, 10-35-45 (NHLE: 20.2)
R Ostap Safin 15, 3-8-11 (NHLE: 17.1)
That's an impressive graduating class. I'll suggest the two defensemen are the cream of the crop, Maksimov impressive despite running in place offensively year over year (you like to see a spike). His on-ice goal differential improved, that's a good sign.
Ryan McLeod hasn't signed yet, he may not enjoy the new "slow play" template Edmonton is currently adopting in real time. Safin had a tough season, but he did come back and play a little. How many of these kids see action in Bakersfield? We wait.
LOWDOWN WITH LOWETIDE
At 10 this morning, we kick the week off with a great guest list, TSN1260. Scheduled to appear:
Andrew Peard, Oil Kings PBP. Oil Kings win their division!
Jason Gregor, TSN1260. Oilers down the stretch, Koskinen's glove.
John Horn, Tennis Insider. The amazing story of Bianca Andreescu and her thrilling victory this weekend.
10-1260 text, @Lowetide on twitter. Talk soon!