I never know what to call Nina Simone's music, because there are elements of jazz, blues, folk and other influences. I will say that in a world in which I've lived to hear the unbelievable voices of Ray Charles, Gladys Knight and Barbra Streisand, none reaches me like Simone's. When she sings "I'm gonna lay my head on some lonesome railroad line, let the 219 train ease my troubled mind" she's singing the truth, just as much as she does in the next line "but I won't be blue always, because the sun's gonna shine In my back door someday."
The Edmonton Oilers are kind of like Nina Simone's Trouble in Mind. Misery and despair, but the belief there will be a some sweet day. Dear Ms. Simone: How long is how long? I'll hang up and listen.
THE ATHLETIC!
The Athletic Edmonton features a fabulous cluster of stories (some linked below, some on the site). Great perspective from a ridiculous group of writers and analysts. Proud to be part of the group. INSANE NEW OFFER IS HERE!
OILERS AFTER 73
Oilers in 2015: 28-38-7, 63 points; goal differential -36
Oilers in 2016: 39-25-9, 87 points; goal differential +22
Oilers in 2017: 32-36-5, 69 points; goal differential -34
Oilers in 2018: 32-34-7, 71 points; goal differential -29
The one thread I was going to write about this spring, the one ray of hope, was the goal differential. As this team lets go the rope, we are left with a lost season, perhaps even less successful than a year ago (it's very close now). Trouble in mind.
OILERS IN MARCH
Oilers in March 2016: 5-4-0, 10 points; goal differential -3
Oilers in March 2017: 5-3-1, 11 points; goal differential +10
Oilers in March 2018: 4-4-1, nine points; goal differential 0
Oilers in March 2019: 5-4-0, 10 points; goal differential -4
WHAT TO EXPECT FROM MARCH?
On the road to: Columbus, Buffalo (Expected 0-1-1) (Actual 2-0-0)
At home to: Vancouver, Toronto, NY Rangers, NJD (Expected 2-1-1) (Actual 2-2-0)
On the road to: Arizona, Vegas, St. Louis (Expected: 0-2-1) (Actual 1-2-0)
At home to: Columbus, Ottawa, Los Angeles, Dallas, Anaheim (Expected: 3-1-1) (Actual)
Overall expected result: 5-5-4, 14 points in 14 games
Current results: 5-4-0, 10 points in ninge games
DEFENSE, LAST NIGHT

Klefbom-Larsson went 8-13 in 13:36, 4-8 shots, 0-1 goals and 2-2 HDSC. I still don't know where Oscar went and Larsson clearly didn't recognize the danger in time. Wiiiide open. I mistakenly noted Klefbom disappeared on the first goal, it was the second one.
Sekera-Benning were 9-16 in 11:22, 6-13 shots, 0-2 goals and 1-3 HDSC. Benning a little slow on the second Schwartz goal, Sekera's mobility is an issue but his smarts are a Godsend. Buy him out? Let's see the next nine games and then talk.
Nurse-Russell went 6-18 in 16:43, 2-12 shots, 1-1 goals and 0-4 HDSC. Nurse and McDavid: 4-5 in 6:40, 1-5 shots, 0-2 HDSC. This duo can't get the puck to the forwards under control, it's costing goals (and causing goals against) all over hell's half acre.
Mikko Koskinen stopped 17 of 20, .850. Anthony Stolarz stopped 20 of 24, .833. Koskinen's glove is becoming a story, I think he should stay on his feet longer, too, but am not a goalie expert. He needs to be better, we're still finding out about him as the No. 1 goalie. He's worked a lot lately.
NaturalStatTrick and NHL.com.
FORWARDS, LAST NIGHT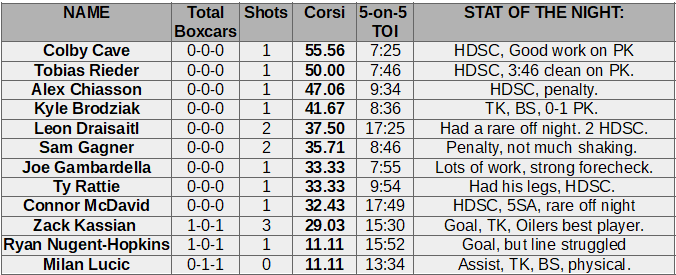 Draisaitl-McDavid-Kassian were 8-15 in 12:40, 3-11 shots, 0-1 goals and 1-2 HDSC. The two impact players looked exhausted from here, Kassian had a great night. Truly.
Lucic-Nuge-Gagner went 0-4 in 4:46, 0-1 shots and 0-1 goals.
Gambardella-Cave-Chiasson were 2-2 in 3:04, 1-0 shots. Liking Cave and Gambardella on the forecheck.
Rieder-Brodziak-Rattie were 3-0 in 3:00, 2-0 shots and 1-0 HDSC. Rattie looked good, I'm not sure why the Oilers don't play him with skill.
Lucic-Nuge-Chiasson went 1-4 in 2:04, 0-2 shots, 0-1 HDSC.
Nuge-McDavid-Kassian were 0-7 in 1:52, 0-5 shots, 0-1 goals and 0-1 HDSC.
CONDORS PROSPECTS
Eric Rodgers blesses us with great information on the Bakersfield Condors even though he's in Oklahoma City. It's brilliant stuff, giving us an idea about defencemen (even strength GF-GA is an excellent viewpoint for blue). Eric has now begun to estimate PP and PK time on ice, meaning we can drill down on even strength points-per-60.
Why is that important? It speaks to usage, and gives the boxcars some nuance. Our first installment tells us Kailer Yamamoto has been playing third line minutes, something we knew based on watching and scoring results, but is drilled home soundly when looking at estimated even strength points per 60:

What does that tell us? Well, at a guess, I'm going to say the organization has been sending the young man a message. Does anyone doubt he would have had more success playing with Benson and Marody from Game One?
From the defense, William Lagesson's +21 goal differential at even strength shines like a diamond. He has played more games than Bear (+14 in 45 games) and Jones (+11 in 40 games) but this is a wildly impressive season from the Swede.
It is kind of weird and once again tells us the pro scouting lags behind amateur (imo) by some margin. One benefit to not signing Philp? Edmonton may have enough room to sign Logan Day to an NHL deal. He's earned it.
OILERS DRAFT NO. 7
If the season ended today, and the lottery changed nothing, Edmonton would draft No. 7. My No. 7 selection is winger Vasili Podkolzin, not certain the Oilers would take another Russian that high but the scouting reports are strong (numbers less so).
LOWDOWN WITH LOWETIDE
At 10 this morning, TSN1260, a busy day and a wide range of subjects. Scheduled to appear:
Bruce McCurdy, Cult of Hockey at the Edmonton Journal. Are there more questions than answers about this team since the trade deadline?
Jon Campbell, OddsShark. March madness, baby!
Mayor Don Iveson. We'll chat about various sports related issues (the ballpark, Rogers) and about the coming election.
10-1260 text, @Lowetide on twitter. Talk soon!