The Edmonton Oilers had an eventful day and the fallout may be headline news for some time. While the news of the day rocketed around the world, 97 and 29 did their bullet train and flattened the Blue Jackets. Jarmo Kekalainen might be famous for something other than passing on Jesse Puljujarvi and the Oilers helped that story along, too. It was quite the night.
THE ATHLETIC!
The Athletic Edmonton features a fabulous cluster of stories (some linked below, some on the site). Great perspective from a ridiculous group of writers and analysts. Proud to be part of the group. INSANE NEW OFFER IS HERE!
OILERS AFTER 74
Oilers in 2015: 29-38-7, 65 points; goal differential -34
Oilers in 2016: 40-25-9, 89 points; goal differential +25
Oilers in 2017: 33-36-5, 71 points; goal differential -30
Oilers in 2018: 33-34-7, 73 points; goal differential -26
Honestly, what a night. The Oilers aren't going to make the playoffs, but a win on Saturday gets them to 75 points in 75 games. It means they have a chance to salvage something out of a lost season.
OILERS IN MARCH
Oilers in March 2016: 6-4-0, 12 points; goal differential -1
Oilers in March 2017: 6-3-1, 13 points; goal differential +12
Oilers in March 2018: 5-4-1, 11 points; goal differential +4
Oilers in March 2019: 6-4-0, 12 points; goal differential -1
WHAT TO EXPECT IN MARCH?
On the road to: Columbus, Buffalo (Expected 0-1-1) (Actual 2-0-0)
At home to: Vancouver, Toronto, NY Rangers, NJD (Expected 2-1-1) (Actual 2-2-0)
On the road to: Arizona, Vegas, St. Louis (Expected: 0-2-1) (Actual 1-2-0)
At home to: Columbus, Ottawa, Los Angeles, Dallas, Anaheim (Expected: 3-1-1) (Actual 1-0-0)
Overall expected result: 5-5-4, 14 points in 14 games
Current results: 6-4-0, 12 points in ten games
DEFENSE, LAST NIGHT

Sekera-Benning were 18-8 in 17:10, 7-2 shots, 1-0 goals and 3-2 HDSC. Sekera really brings calm to the duo. Went 15-5 in 11:28 against Wennberg-Jenner-Bjorkstrand. In terms of 5-on-5 time on ice, this pairing passed Nurse-Russell to become the second pair on the night.
Nurse-Russell went 21-11 in 16:49, 8-5 shots, 2-0 goals and 4-3 HDSC. Nurse had a good game to my eye, Russell gave away the puck a couple of times and double clutched on a pass to 97, but otherwise had a good night. Pairing went 5-7 in 9:33 against Panarin-Duchene-Anderson (no goals) and 7-4 in 6:52 (1-0 goals) against Dzingel-Dubois-Atkinson.
Klefbom-Larsson were 15-21 in 21:48, 4-12 shots, 0-1 goals and 3-4 HDSC. Went 5-10 in 9:55 against Panarin-Duchene-Anderson (no goals) and 3-8 in 7:54 (0-1 goals) against against Dzingel-Dubois-Atkinson.
Mikko Koskinen stopped 18 of 19, .947.
NaturalStatTrick and NHL.com.
FORWARDS, LAST NIGHT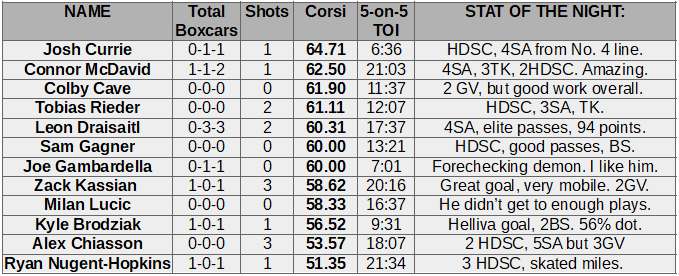 Nuge-McDavid-Kassian were 8-8 in 12 minutes, 3-2 shots, 0-1 goals and 0-3 HDSC. Each man had considerable game success but it did not arrive for this trio.
Lucic-Draisaitl-Chiasson went 7-4 in 8:25, 2-3 shots, no goals and 0-1 HDSC. It's almost like Hitchcock starts the game with these 'false front' lines and then waits to bring out the bullet train later on.
Rieder-Cave-Gagner were 9-4 in 8:10, 2-0 shots and HDSC's. This is a group that is having success, Cave may not be back in the fall but is building a case.
Draisaitl-McDavid-Kassian went 7-4 in 5:51, 4-1 shots, 2-0 goals and 3-0 HDSC. This line is magic.
Lucic-Nuge-Chiasson were 4-4 in 5:25, 1-3 shots, no goals and 1-1 HDSC.
Gambardella-Brodziak-Currie went 9-4 in 3:52, 3-2 shots, 1-0 goals and 0-2 HDSC. That was a huge goal and the possession number reflects dogged forechecking. Music!
Jon did a splendid job in describing the last 24 hours, I agree with him in all areas. The comments by Nicholson are not a surprise, one imagines several or most management people have said that or worse about Rieder, Milan Lucic and various other members of the team. It probably got said about Ryan Strome a lot.
Thing is, Nicholson said it in public. I have, on several occasions (mostly at The Athletic) commented that Nicholson's casual style is a good fit for Edmonton. The one thing he had been able to do (water aside) is avoid a ghastly public moment ala "if you have to ask the question" or "in case that's ever an issue" from past administrations.
We are here. The Oilers are once again exposed as an organization that is run as a throwback business, refusing to adapt and unaware the world around them has discovered new solutions to problems.
I've reached the following conclusion: The next GM is a dead man walking, no matter who it is. I keep mentioning the Jim Devellano book The Road to Hockeytown because there are many parallels. An owner who is aggressive but takes time to learn the nuance of the game and winning; a general manager who makes some of his own mistakes but is also made busy by the work of the owner in areas he shouldn't be operating; additional help that gives the duo direction and more success; ultimate success. Here's what it looked like in chronological order:
Jim Devellano 1982 to 1990, conference finals in 1987 and 1988 (some Oilers stories with those Red Wings teams).
Bryan Murray 1990 to 1994, Red Wings begin the playoff streak that would reach 25 years. Devellano remained in the organization as a vice president.
Jim Devellano and Scotty Bowman, 1994 to 1997, this team won the team's first Stanley in forever.
Ken Holland, 1997 to 2018, Stanley Cups in 1998, 2002 and 2008.
Where are the Oilers currently on this map? Incredibly, over a decade into this nonsense, it's probably at the period where Bryan Murray arrived.
We can discuss Nicholson's future but it's likely he remains in his current post and hires the next general manager (and possibly POHO). In Calgary, management has embraced analytics, built a team and is procuring young talent more than capably. Edmonton? Won the lottery.
The Edmonton Oilers are a team in the National Hockey League.
LOWDOWN WITH LOWETIDE
At 10 this morning, TSN1260. Scheduled to appear:
Steve Lansky, BigMouthSports. Bob Nicholson's comments, Oilers down the stretch.
Frank Seravalli, TSN. How will the Nicholson comments impact the team, and the future?
Matt Iwanyk, TSN1260. Nicholson. I spoke to Iwanyk yesterday about our segment today, suggesting we talk March Madness, Jays, Oil. He said "something'll come up" and he was right.
10-1260 text, @Lowetide on twitter. See you on the radio!