In Game 75 of 82, in a long season that will finish outside the playoffs, Darnell Nurse sent Alex Chiasson in alone with a cherry headman pass. Music! That's the future of the Edmonton Oilers. Now. Who is going to be part of the new tomorrow?
THE ATHLETIC!
The Athletic Edmonton features a fabulous cluster of stories (some linked below, some on the site). Great perspective from a ridiculous group of writers and analysts. Proud to be part of the group. INSANE NEW OFFER IS HERE!
OILERS AFTER 75
Oilers in 2015: 29-39-7, 65 points; goal differential -35
Oilers in 2016: 41-25-9, 91 points; goal differential +28
Oilers in 2017: 34-36-5, 73 points; goal differential -29
Oilers in 2018: 33-34-8, 74 points; goal differential -27
Oilers need five points in the final seven games to become the second best McDavid team among the four. No big deal but worth noting.
OILERS IN MARCH
Oilers in March 2016: 6-5-0, 12 points; goal differential -2
Oilers in March 2017: 7-3-1, 15 points; goal differential +15
Oilers in March 2018: 6-4-1, 13 points; goal differential +8
Oilers in March 2019: 6-4-1, 13 points; goal differential -2
WHAT TO EXPECT IN MARCH
On the road to: Columbus, Buffalo (Expected 0-1-1) (Actual 2-0-0)
At home to: Vancouver, Toronto, NY Rangers, NJD (Expected 2-1-1) (Actual 2-2-0)
On the road to: Arizona, Vegas, St. Louis (Expected: 0-2-1) (Actual 1-2-0)
At home to: Columbus,Ottawa, Los Angeles, Dallas, Anaheim (Expected: 3-1-1) (Actual 1-0-1)
Overall expected result: 5-5-4, 14 points in 14 games
Current results: 6-4-1, 13 points in 11 games
DEFENSE, LAST NIGHT

Sekera-Benning went 15-11 in 13:07, 4-7 shots, no goals but 5-3 HDSC. Impressive numbers from the third pairing, they were 3-2 HDSC with the Nuge line.
Klefbom-Larsson were 13-13 in 16:13, 8-6 shots, 0-1 goals and 2-3 HDSC. The GA is on the forwards, Klefbom was down low (and Larsson was at midway) and no one covered.
Nurse-Russell went 14-23 in 16:53, 9-4 shots, 2-0 goals and 5-2 HDSC, including 3-0 HDSC with the Cave line. That Nurse pass to Chiasson was golden. If he can do that 50 times a year the Oilers cap is screwed.
Mikko Koskinen stopped 31 of 35, .886. I don't blame him on the OT goal, that was a breakaway by the time it was through.
NaturalStatTrick and NHL.com.
FORWARDS, LAST NIGHT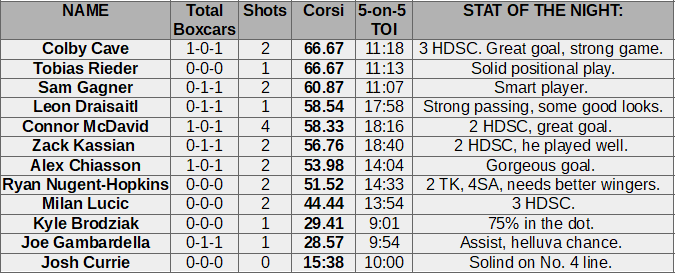 Draisaitl-McDavid-Kassian went 19-14 in 15:28, 8-8 shots, 1-1 goals and 5-3 HDSC. I thought all three played well, although there were five giveaways between 97 and 29. The goal was fantastic, all three men key to the play.
Lucic-Nuge-Chiasson were 9-13 in 10:34, 4-8 shots, 1-0 goals and 4-2 HDSC. Although it was a good night for the Nuge line, it's pretty obvious a better set of wingers (including one who can push the river) is key to a second outscoring line.
Rieder-Cave-Gagner were 10-4 in 6:48, 4-2 shots, no goals and 3-1 HDSC. This line is getting good things done.
Gambardella-Brodziak-Currie went 1-8 in 5:01, 1-4 shots, no goals and 0-1 HDSC.
AUGUST 15, 2019
Hayden Hawkey, JD Dudek and Vincent Desharnais all need to be signed by August 15 or become free agents. Here are the numbers:
Hayden Hawkey: 38, 1.89 .919.
JD Dudek: 39, 7-5-12
Vincent Desharnais: 39, 5-7-12
Providence is going to the dance, selection show is late this afternoon. Hawkey is the key player here, Oilers gave up a fifth rounder for him. Desharnais, also a Providence player, is less likely imo to sign with Peter Chiarelli gone. Based on rumor and hearsay, that may also apply with John Marino, who is eligible for another year of college hockey.
YOUNG GOALIES
If Hawkey is signed, he'll no doubt be a part of a four man minor league prospect group that includes Shane Starrett (36, 2.27 .921 in Bakersfield), Dylan Wells (22, 3.04 .912 in Wichita and 9, 3.01 .902 in the AHL) and Stuart Skinner (33, 3.32 .900 in Wichita and 6, 2.99 .879 in the AHL).
Starrett as a No. 3 goalie (starter in the AHL and first recall) makes sense to me, wonder if the new general manager will feel the same way. My guess for NHL-AHL depth chart next season:
Mikko Koskinen 1A
Anders Nilsson or Brian Elliott 1B
Shane Starrett
Dylan Wells
Stuart Skinner
Hayden Hawkey