The first game between the Oilers and Kings took place December 22, 1979 in Los Angeles (at the Forum). The Kings scored the first seven goals in the game, but things settled down after Wayne Gretzky scored late in the second period. Final 9-3. The Simmer-Dionne-Taylor line posted 13 points in the game, Eddie Mio going the distance for the visitors.
THE ATHLETIC!
The Athletic Edmonton features a fabulous cluster of stories (some linked below, some on the site). Great perspective from a ridiculous group of writers and analysts. Proud to be part of the group. INSANE NEW OFFER IS HERE!
OILERS AFTER 76
Oilers in 2015: 29-40-7, 65 points; goal differential -37
Oilers in 2016: 42-25-9, 93 points; goal differential +29
Oilers in 2017: 34-36-6, 73 points; goal differential -30
Oilers in 2018: 33-34-8, 74 points; goal differential -27
OILERS IN MARCH
Oilers in March 2016: 6-6-0, 12 points; goal differential -3
Oilers in March 2017: 8-3-1, 17 points; goal differential +16
Oilers in March 2018: 7-4-1, 15 points; goal differential +9
Oilers in March 2019: 6-4-1, 13 points; goal differential -2
WHAT TO EXPECT IN MARCH
On the road to: Columbus, Buffalo (Expected 0-1-1) (Actual 2-0-0)
At home to: Vancouver, Toronto, NY Rangers, NJD (Expected 2-1-1) (Actual 2-2-0)
On the road to: Arizona, Vegas, St. Louis (Expected: 0-2-1) (Actual 1-2-0)
At home to: Columbus,Ottawa, Los Angeles, Dallas, Anaheim (Expected: 3-1-1) (Actual 1-0-1)
Overall expected result: 5-5-4, 14 points in 14 games
Current results: 6-4-1, 13 points in 11 games
OILERS FORWARDS IN MARCH

The stretch run for 97 is traditionally absolute fire and we see it again this season.
Leon Draisaitl joins him, it's an impressive run for both, galling it will not result in a playoff series.
Zack Kassian is delivering this month, the best since the playoffs April 2017.
Joe Gambardella is getting his chance and things are looking good good (very) early.
Nuge is on the opposite of a heater. A hooter?
Sam Gagner has been useful since his arrival.
OILERS DEFENSE IN MARCH (vs. elites)

This is DFF percentage of overall time by defenseman and then DFF percentage. All defensive numbers versus elites.
DFF is "Dangerous Fenwick,", a weighted shot metric that takes into account the distance and type of unblocked shot at the net and applies the probability of that type of shot becoming a goal. (Described here).
Oscar Klefbom and Adam Larsson are very close in both percentage of minutes and DFF.
Darnell Nurse is not far off in terms of actual percentage, but isn't in the same range in DFF.
Kris Russell is the distinct No. 4 in the group, it's interesting to compare his numbers with John Gravel.
Andrej Sekera is getting sheltered, Benning less so over the long season. Both clearly third pairing.
My question: If you elevated Benning with Nurse and moved Russell down, would Benning post a better number vs. elites?
LUCK
My article at The Athletic today (about Mark Hunter) is about luck, or at least partly about it. I've been thinking about great lines of my lifetime (no, not "I'll have what she's having") and how much luck is involved in forming successful trios.
Marcel Dionne came over from Detroit in June of 1975, the Red Wings botching a contract with its young star. Jack Kent Cooke, the owner of LAK, signed Kareem Abdul-Jabbar the week before he signed Dionne as a free agent. In those days, you could sign away a player but would have to give compensation.
Charlie Simmer was drafted by the California Golden Seals, who released him when he was still in the minors (Seals were in Cleveland and called the Barons by that time). Simmer arrived in LA and it didn't take long for him to show enough scoring touch to play higher on the depth chart. He scored 50+ goals twice and would have had many more if he could have stayed healthy.
Dave Taylor was drafted from Clarkson College, in the fifteenth round in 1975. He was listed at 6.0, 160 on draft day, but put on weight (he played at 195) and emerged as a power forward. When he arrived in 1977, the ingredients for the Triple Crown Line (although they wouldn't get together for good until January 1979) were in place.
So, it was several years and two strokes of luck (plus I think Bob Berry) to get the line together. Modern times don't have lines so much as pairs, I think 97-29 is going to be a pair every season (at least part of the time) throughout the Edmonton careers of these two men. It's impossible to resist. Clearly.
OILERS PROSPECT TREE 2019 SPRING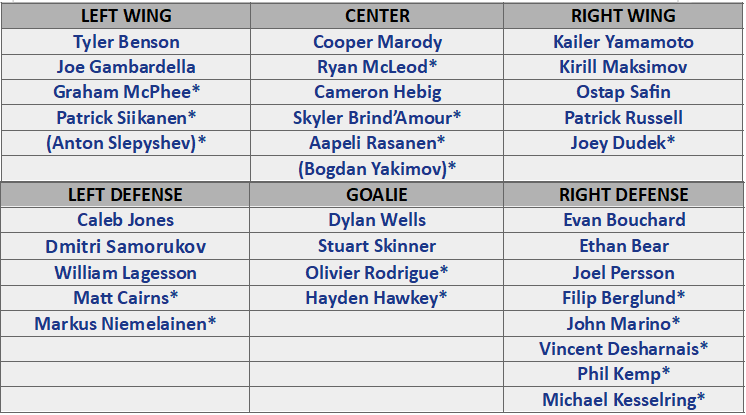 This is an important time of year for lots of these kids. Edmonton needs to make a decision by mid-August on Hawkey, Desharnais and Dudek, or they can walk as free agents. Hawkey is the key.
The two players I see as vitally important signings are Ryan McLeod and John Marino. Both men are legit NHL prospects and both men are now in the range of 'some exposure' to not signing with the team.
I would also like to see Filip Berglund, Olivier Rodrigue and Anton Slepyshev signed. What's your list?
I'm a big fan of Button, primarily because he has the courage of his convictions. His list is fire this year. I love it.
LOWDOWN WITH LOWETIDE
At 10 this morning, TSN1260, we have a great guest list and a new menu! Scheduled to appear:
Jonathan Willis, The Athletic. Oilers GM search, does anything matter now in terms of what we see on the ice?
Simon Boisvert, Prospect Insider. We have a look at the 2019 draft.
We'll also have a basketball guest, still booking show. 10-1260 text, @Lowetide on twitter. See you at 10!